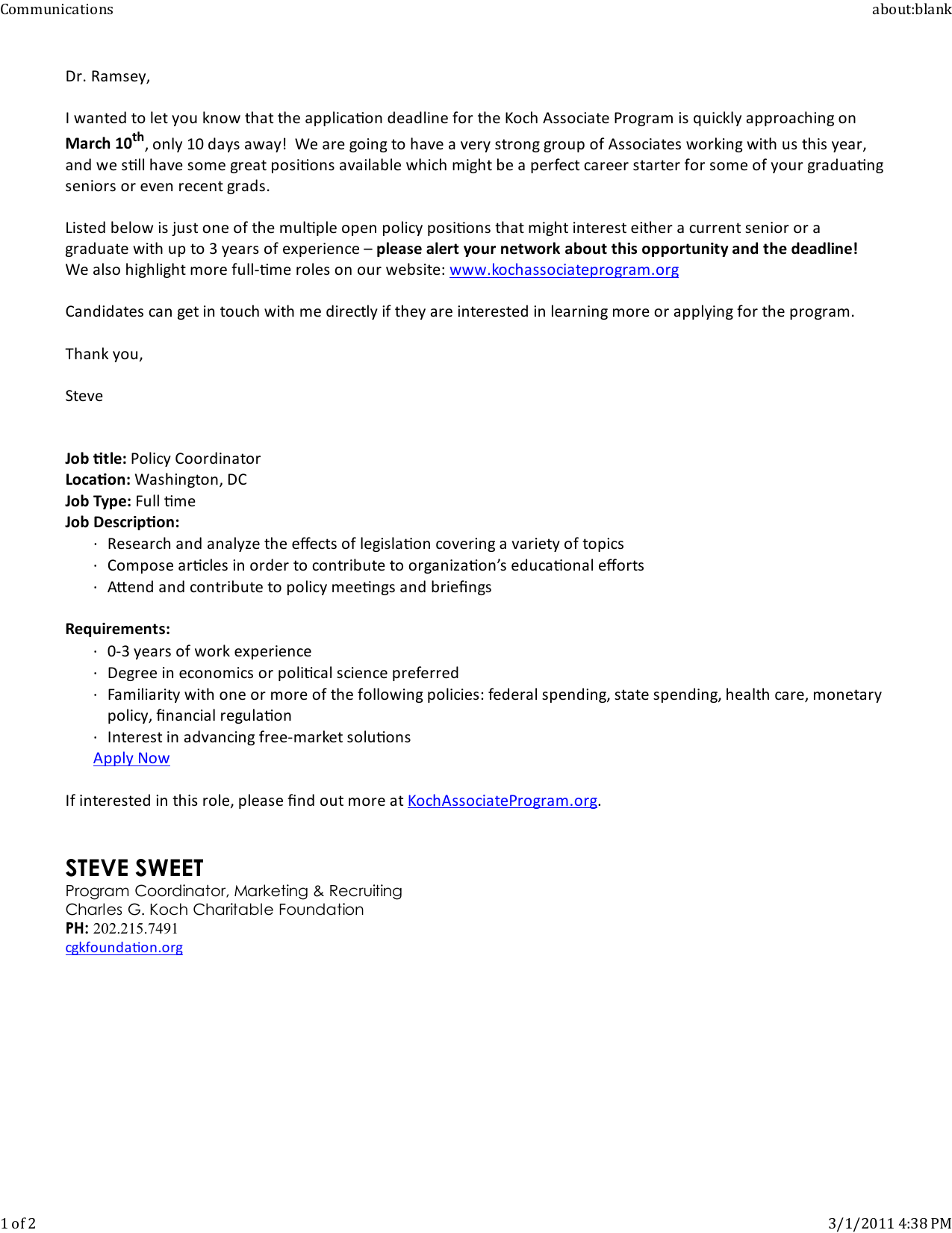 Communications about:blank Dr. Ramsey, I wanted to let you know that the applica on deadline for the Koch Associate Program is quickly approaching on
March 10 th
, only 10 days away! We are going to have a very strong group of Associates working with us this year, and we s ll have some great posi ons available which might be a perfect career starter for some of your gradua ng seniors or even recent grads. Listed below is just one of the mul ple open policy posi ons that might interest either a current senior or a graduate with up to 3 years of experience –
please alert your network about this opportunity and the deadline!
We also highlight more full- me roles on our website: www.kochassociateprogram.org
Candidates can get in touch with me directly if they are interested in learning more or applying for the program.
Thank you, Steve
Job Ɵ tle:
Policy Coordinator
Loca Ɵ on:
Washington, DC
Job Type:
Full me
Job Descrip Ɵ on:
· Research and analyze the e ff ects of legisla on covering a variety of topics · Compose ar cles in order to contribute to organiza on's educa onal e ff orts · A end and contribute to policy mee ngs and brie fi ngs
Requirements:
· 0-3 years of work experience · Degree in economics or poli cal science preferred · Familiarity with one or more of the following policies: federal spending, state spending, health care, monetary policy, fi nancial regula on · Interest in advancing free-market solu ons Apply Now If interested in this role, please fi nd out more at KochAssociateProgram.org
.
STEVE SWEET
Program Coordinator, Marketing & Recruiting Charles G. Koch Charitable Foundation
PH:
202.215.7491
cgkfounda on.org
1 of 2 3/1/2011 4:38 PM
Communications about:blank 2 of 2 3/1/2011 4:38 PM