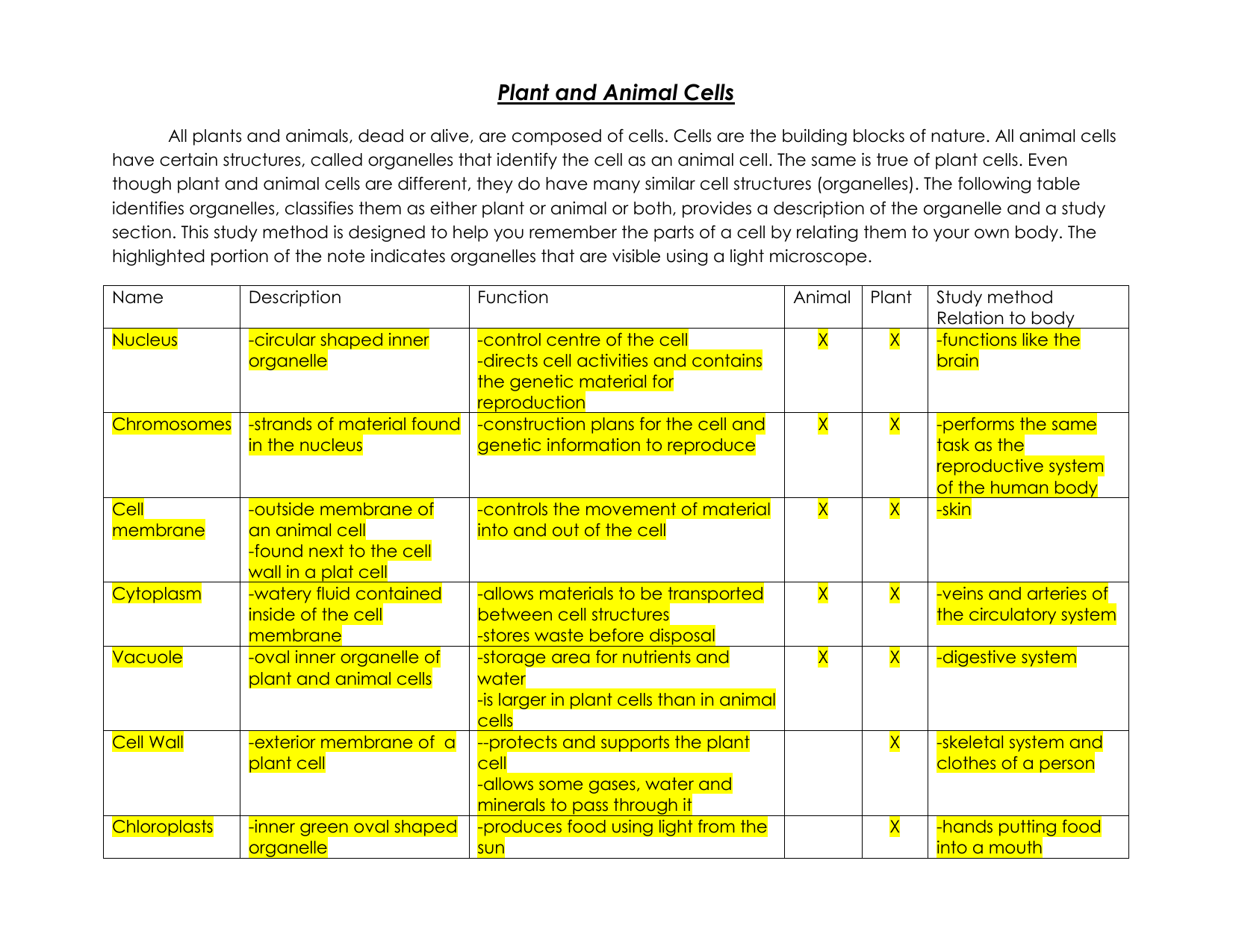 Plant and Animal Cells
All plants and animals, dead or alive, are composed of cells. Cells are the building blocks of nature. All animal cells
have certain structures, called organelles that identify the cell as an animal cell. The same is true of plant cells. Even
though plant and animal cells are different, they do have many similar cell structures (organelles). The following table
identifies organelles, classifies them as either plant or animal or both, provides a description of the organelle and a study
section. This study method is designed to help you remember the parts of a cell by relating them to your own body. The
highlighted portion of the note indicates organelles that are visible using a light microscope.
Name
Description
Nucleus
-circular shaped inner
organelle
Animal
Plant
-control centre of the cell
-directs cell activities and contains
the genetic material for
reproduction
Chromosomes -strands of material found -construction plans for the cell and
in the nucleus
genetic information to reproduce
X
X
X
X
Cell
membrane
-controls the movement of material
into and out of the cell
X
X
-allows materials to be transported
between cell structures
-stores waste before disposal
-storage area for nutrients and
water
-is larger in plant cells than in animal
cells
--protects and supports the plant
cell
-allows some gases, water and
minerals to pass through it
-produces food using light from the
sun
X
X
-veins and arteries of
the circulatory system
X
X
-digestive system
X
-skeletal system and
clothes of a person
X
-hands putting food
into a mouth
Cytoplasm
Vacuole
-outside membrane of
an animal cell
-found next to the cell
wall in a plat cell
-watery fluid contained
inside of the cell
membrane
-oval inner organelle of
plant and animal cells
Cell Wall
-exterior membrane of a
plant cell
Chloroplasts
-inner green oval shaped
organelle
Function
Study method
Relation to body
-functions like the
brain
-performs the same
task as the
reproductive system
of the human body
-skin
Mitochondria
-cylindrical organelle
Endoplasmic
reticulum
Ribosomes
-series of folded
membranes in the cell
-tiny circular organelles
attached to the
endoplasmic reticulum
-folded membranes
inside the cytoplasm
Golgi
Apparatus
Lysosomes
-small sacs inside the
cytoplasm
-provides the cell with energy
through the process of respiration
-carries materials through the cell
X
X
-lungs
X
X
-small intestine
-clean-up crew
-breaks down large proteins to be
reused by the cell
-protein storage
-creates vesicles to carry proteins
out of the cell
-contain proteins to break down
large molecules into smaller
molecules
-kills and digests invading organisms
X
X
-stomach
X
X
-large intestine
X
X
-white blood cell.