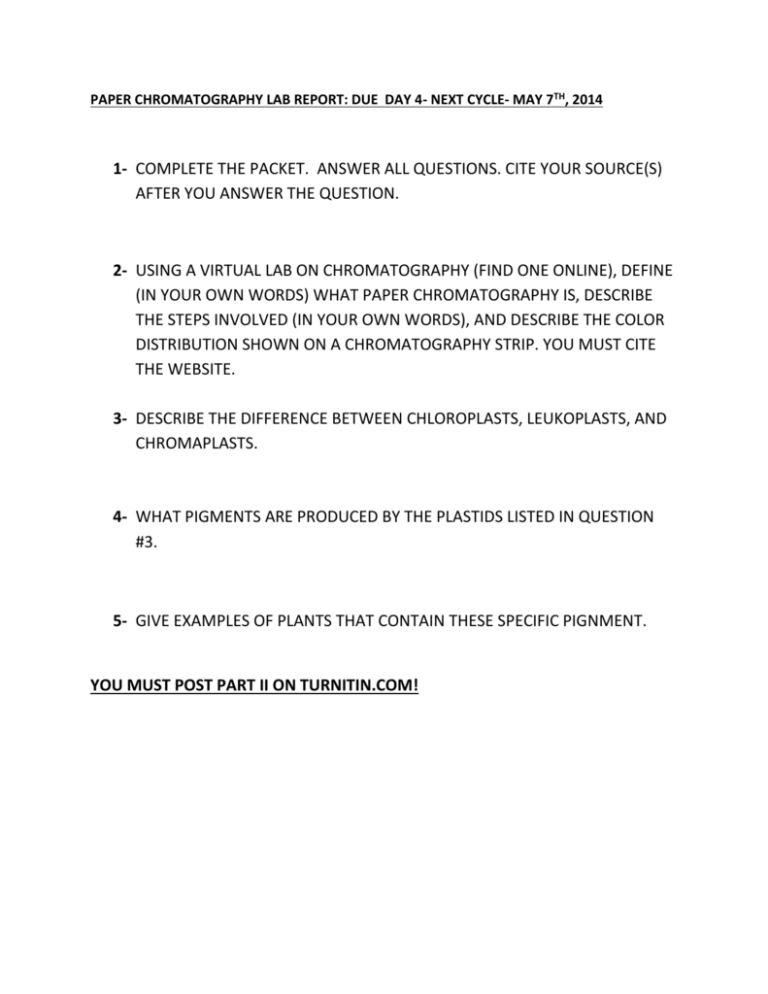 PAPER CHROMATOGRAPHY LAB REPORT: DUE DAY 4- NEXT CYCLE- MAY 7TH, 2014
1- COMPLETE THE PACKET. ANSWER ALL QUESTIONS. CITE YOUR SOURCE(S)
AFTER YOU ANSWER THE QUESTION.
2- USING A VIRTUAL LAB ON CHROMATOGRAPHY (FIND ONE ONLINE), DEFINE
(IN YOUR OWN WORDS) WHAT PAPER CHROMATOGRAPHY IS, DESCRIBE
THE STEPS INVOLVED (IN YOUR OWN WORDS), AND DESCRIBE THE COLOR
DISTRIBUTION SHOWN ON A CHROMATOGRAPHY STRIP. YOU MUST CITE
THE WEBSITE.
3- DESCRIBE THE DIFFERENCE BETWEEN CHLOROPLASTS, LEUKOPLASTS, AND
CHROMAPLASTS.
4- WHAT PIGMENTS ARE PRODUCED BY THE PLASTIDS LISTED IN QUESTION
#3.
5- GIVE EXAMPLES OF PLANTS THAT CONTAIN THESE SPECIFIC PIGNMENT.
YOU MUST POST PART II ON TURNITIN.COM!