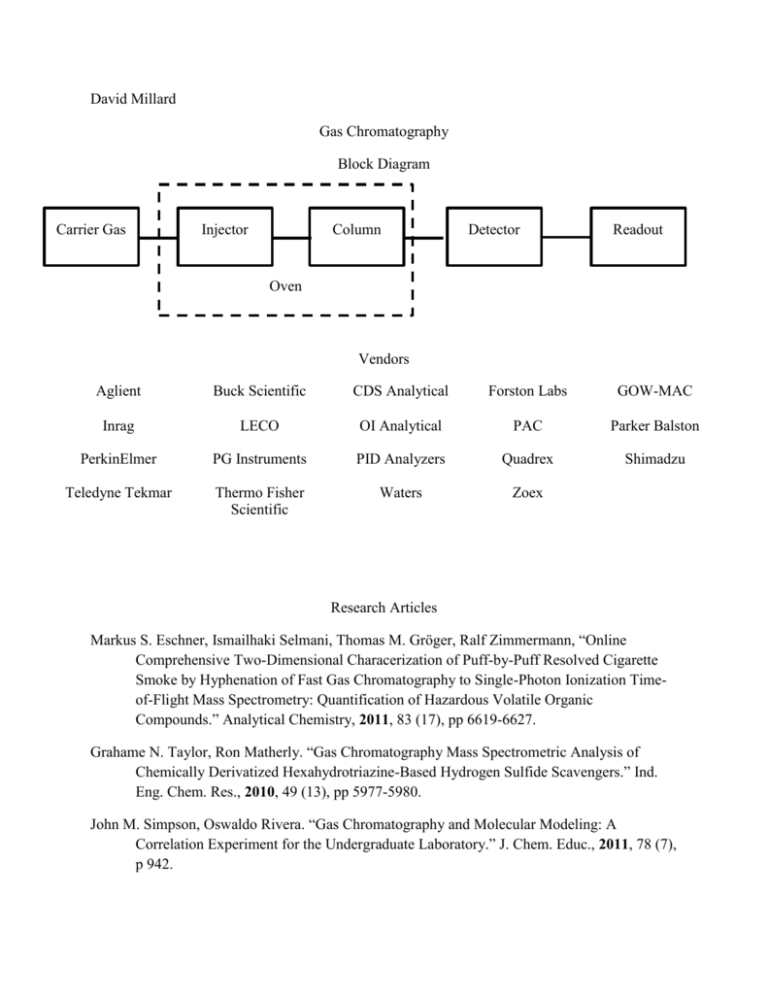 David Millard
Gas Chromatography
Block Diagram
Carrier Gas
Injector
Column
Detector
Readout
Oven
Vendors
Aglient
Buck Scientific
CDS Analytical
Forston Labs
GOW-MAC
Inrag
LECO
OI Analytical
PAC
Parker Balston
PerkinElmer
PG Instruments
PID Analyzers
Quadrex
Shimadzu
Teledyne Tekmar
Thermo Fisher
Scientific
Waters
Zoex
Research Articles
Markus S. Eschner, Ismailhaki Selmani, Thomas M. Grӧger, Ralf Zimmermann, "Online
Comprehensive Two-Dimensional Characerization of Puff-by-Puff Resolved Cigarette
Smoke by Hyphenation of Fast Gas Chromatography to Single-Photon Ionization Timeof-Flight Mass Spectrometry: Quantification of Hazardous Volatile Organic
Compounds." Analytical Chemistry, 2011, 83 (17), pp 6619-6627.
Grahame N. Taylor, Ron Matherly. "Gas Chromatography Mass Spectrometric Analysis of
Chemically Derivatized Hexahydrotriazine-Based Hydrogen Sulfide Scavengers." Ind.
Eng. Chem. Res., 2010, 49 (13), pp 5977-5980.
John M. Simpson, Oswaldo Rivera. "Gas Chromatography and Molecular Modeling: A
Correlation Experiment for the Undergraduate Laboratory." J. Chem. Educ., 2011, 78 (7),
p 942.
Common Uses


In forensics, helps with the determination of organic compounds.
Identification of volatile liquids and gasses.