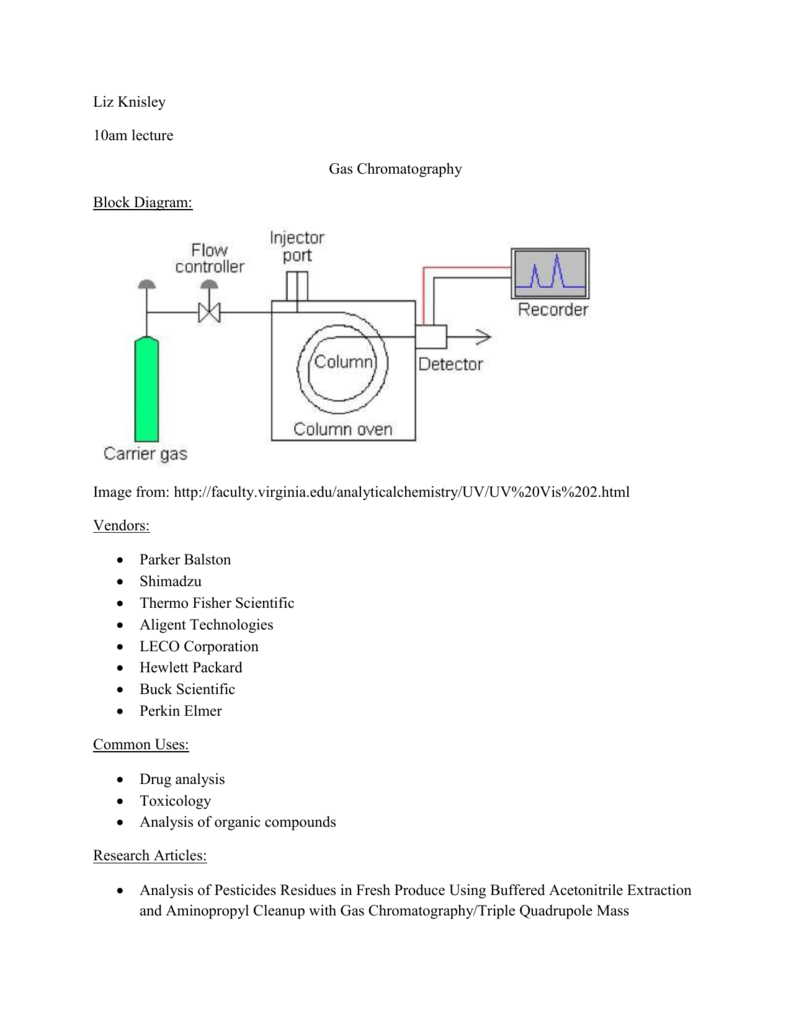 Liz Knisley
10am lecture
Gas Chromatography
Block Diagram:
Image from: http://faculty.virginia.edu/analyticalchemistry/UV/UV%20Vis%202.html
Vendors:








Parker Balston
Shimadzu
Thermo Fisher Scientific
Aligent Technologies
LECO Corporation
Hewlett Packard
Buck Scientific
Perkin Elmer
Common Uses:



Drug analysis
Toxicology
Analysis of organic compounds
Research Articles:

Analysis of Pesticides Residues in Fresh Produce Using Buffered Acetonitrile Extraction
and Aminopropyl Cleanup with Gas Chromatography/Triple Quadrupole Mass


Spectrometry, Liquid Chromatography/Triple Quadrupole Mass Spectrometry, Gas.
(2011). Journal of AOAC International, 94(3), 931-941.
Barry, Eugene.; Grob, Robert.; John Wiley & Sons, Inc.; Columns for Gas
Chromatography: Performance and Selection. J. Am. Chem. Soc., 2007, 129 (32), pp
10043–10043
Aguiar, A.; Aguiar, H.; Azevedo,D.; and F. Neto. Identification of Methylhopane and
Methylmoretane Series in Cear_a Basin Oils, Brazil, Using Comprehensive TwoDimensional Gas Chromatography Coupled to Time-of-Flight Mass Spectrometry.
Journal of American Chemical Society. 2011, 25, 1060-1065.