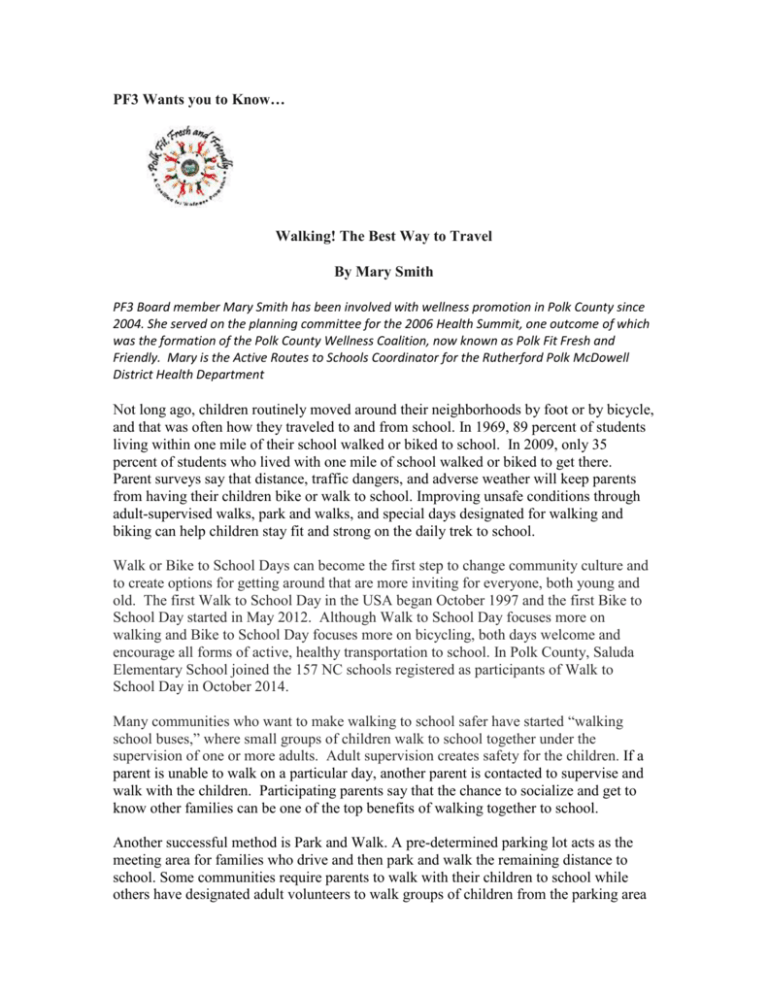 PF3 Wants you to Know…
Walking! The Best Way to Travel
By Mary Smith
PF3 Board member Mary Smith has been involved with wellness promotion in Polk County since
2004. She served on the planning committee for the 2006 Health Summit, one outcome of which
was the formation of the Polk County Wellness Coalition, now known as Polk Fit Fresh and
Friendly. Mary is the Active Routes to Schools Coordinator for the Rutherford Polk McDowell
District Health Department
Not long ago, children routinely moved around their neighborhoods by foot or by bicycle,
and that was often how they traveled to and from school. In 1969, 89 percent of students
living within one mile of their school walked or biked to school. In 2009, only 35
percent of students who lived with one mile of school walked or biked to get there.
Parent surveys say that distance, traffic dangers, and adverse weather will keep parents
from having their children bike or walk to school. Improving unsafe conditions through
adult-supervised walks, park and walks, and special days designated for walking and
biking can help children stay fit and strong on the daily trek to school.
Walk or Bike to School Days can become the first step to change community culture and
to create options for getting around that are more inviting for everyone, both young and
old. The first Walk to School Day in the USA began October 1997 and the first Bike to
School Day started in May 2012. Although Walk to School Day focuses more on
walking and Bike to School Day focuses more on bicycling, both days welcome and
encourage all forms of active, healthy transportation to school. In Polk County, Saluda
Elementary School joined the 157 NC schools registered as participants of Walk to
School Day in October 2014.
Many communities who want to make walking to school safer have started "walking
school buses," where small groups of children walk to school together under the
supervision of one or more adults. Adult supervision creates safety for the children. If a
parent is unable to walk on a particular day, another parent is contacted to supervise and
walk with the children. Participating parents say that the chance to socialize and get to
know other families can be one of the top benefits of walking together to school.
Another successful method is Park and Walk. A pre-determined parking lot acts as the
meeting area for families who drive and then park and walk the remaining distance to
school. Some communities require parents to walk with their children to school while
others have designated adult volunteers to walk groups of children from the parking area
to school.
Park and Walk campaigns can reduce traffic congestion around a school and encourage
physical activity for parents and children. The Park and Walk strategy gives the chance to
walk to school to families who live far from the school or who do not have a safe route to
school.
Walking and bicycling to school offer opportunities for children to get physical activity
as part of their daily routine. Research shows that physical activity helps improve
academic performance in children and teens. Walking and bicycling to school not only
increase people's health, but also help the health of the earth by reducing carbon usage.
A daily walk to school offers fresh air and time in nature. When appropriate and safe,
walking and bicycling to school can help children develop a sense of independence that is
important for development.
If you would like to learn more about Safe Routes to School programs, contact Mary
Smith, Active Routes to School Coordinator, at the Rutherford-Polk-McDowell District
Health Department at 828-460-7328.