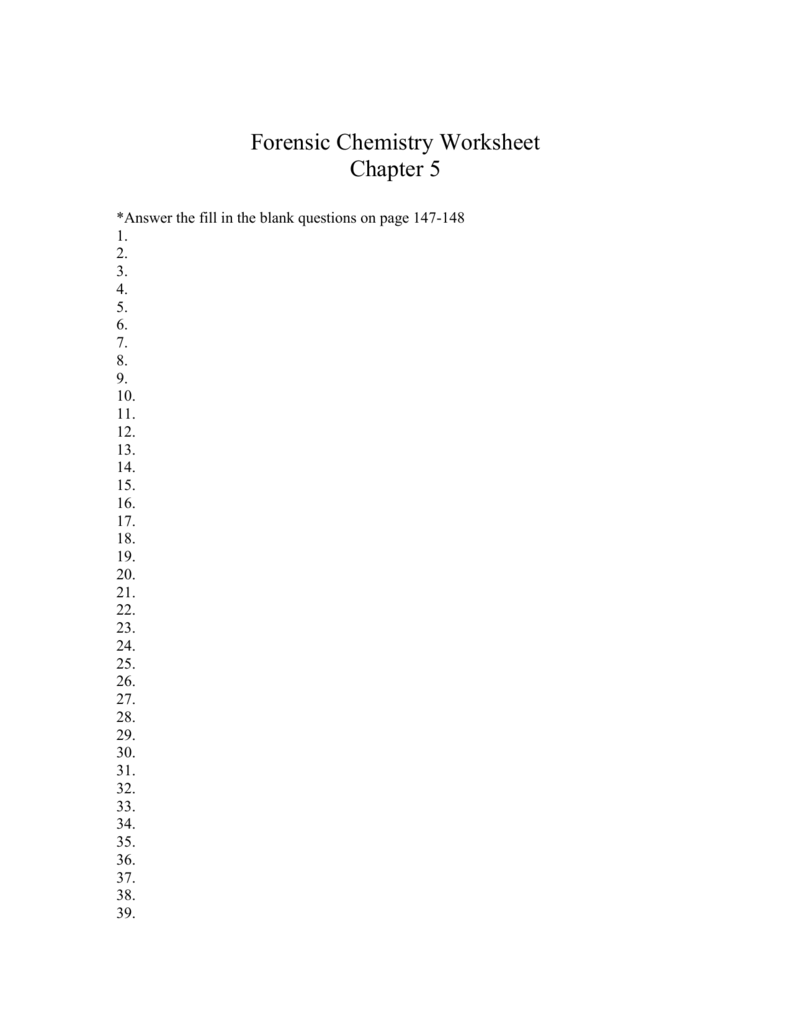 Forensic Chemistry Worksheet
Chapter 5
*Answer the fill in the blank questions on page 147-148
1.
2.
3.
4.
5.
6.
7.
8.
9.
10.
11.
12.
13.
14.
15.
16.
17.
18.
19.
20.
21.
22.
23.
24.
25.
26.
27.
28.
29.
30.
31.
32.
33.
34.
35.
36.
37.
38.
39.
40.
41.
42.
43.
44.
45.
*Answer the following questions:
1. Which of the following is an element?
a. wood
b. water
c. Al
d. air
2. The physical state that has both shape and volume is a:
a. solid
b. liquid
c. gas
d. vapor
3. Which of the following is false?
a. the basic building blocks of all substance are elements
b. elements are composed of atoms
c. two or more elements combine to form compounds
d. at present, 96 compounds have been identified.
4. Organic chemistry is the study of substance containing the element:
a. H
b. O
c. N
d. C
5. A technique for separating and tentatively identifying the components of a mixture is:
a. spectrophotometry
b. infrared
c. chromatography
d. mass spectrometry
6. Which of the following is not part of the gas chromatograph?
a. injection port
b. column
c. slit
d. flame detector
7. Which of the following is not part of the absorption spectrophotometer?
a. slit
b. monochromator
c. recorder
d. carrier gas
8. A compound can tentatively be identified by gas chromatography from its:
a. carrier gas
b. Rf value
c. partition coefficient
d. retention time
9. A single specific test for identification is:
a. infrared spectrophotometry
b. ultraviolet spectrophotometry
c. gas chromatography
d. thin – layer chromatography
10. The last step in a thin – layer chromatographic analysis is:
a. visualization
b. spotting the unknown
c. spotting a standard
d. developing the plate in an enclosed tank
11. The function of a monochromator is to:
a. disperse light into its different wavelengths
b. pass the radiation through a slit
c. select radiation of known frequency or wavelength
d. all of the above
12. The distribution of a substance between a mobile and stationary phase describes:
a. spectrophotometry
b. dispersion
c. density – gradient tubes
d. chromatography
13. The recorder of a spectrophotometer measures:
a. the Rf value of light
b. the retention time of light
c. absorption of light at specific frequencies
d. the refractive index of light
14. Which of the following has higher frequencies and higher energy values in the
electromagnetic spectrum?
a. visible light
b. radio waves
c. ultraviolet radiation
d. x-rays
15. Which of the following statements is false?
a. a gas chromatograph can be coupled to a mass spectrometer
b. gas chromatography cannot produce a specific identification of a chemical
substance
c. in mass spectrometry, a chemical substance enters a chamber where it is
fragmented by high – energy electrons.
d. many chemical substances have similar mass spectra fragmentation patterns.