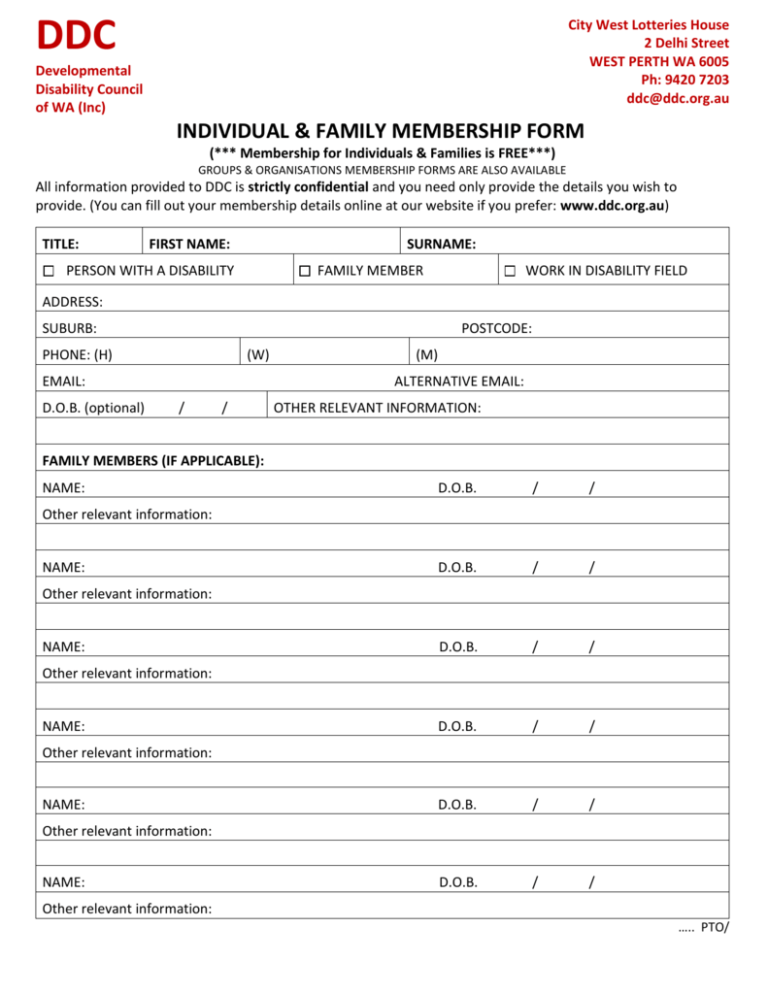 DDC
City West Lotteries House
2 Delhi Street
WEST PERTH WA 6005
Ph: 9420 7203
ddc@ddc.org.au
Developmental
Disability Council
of WA (Inc)
INDIVIDUAL & FAMILY MEMBERSHIP FORM
(*** Membership for Individuals & Families is FREE***)
GROUPS & ORGANISATIONS MEMBERSHIP FORMS ARE ALSO AVAILABLE
All information provided to DDC is strictly confidential and you need only provide the details you wish to
provide. (You can fill out your membership details online at our website if you prefer: www.ddc.org.au)
TITLE:
FIRST NAME:
SURNAME:
PERSON WITH A DISABILITY
FAMILY MEMBER
WORK IN DISABILITY FIELD
ADDRESS:
SUBURB:
POSTCODE:
PHONE: (H)
(W)
EMAIL:
D.O.B. (optional)
(M)
ALTERNATIVE EMAIL:
/
/
OTHER RELEVANT INFORMATION:
FAMILY MEMBERS (IF APPLICABLE):
NAME:
D.O.B.
/
/
D.O.B.
/
/
D.O.B.
/
/
D.O.B.
/
/
D.O.B.
/
/
D.O.B.
/
/
Other relevant information:
NAME:
Other relevant information:
NAME:
Other relevant information:
NAME:
Other relevant information:
NAME:
Other relevant information:
NAME:
Other relevant information:
….. PTO/
Please let us know your particular areas of interest so we can ensure we provide you with information that is
relevant to you – news, updates and details about events , seminars, workshops - eg. education, employment,
health, self direction, recreation, specific disabilities, NDIS, Politician Adoption Scheme, housing, other.
Or, more generally, tell us a little about you/your family.
Membership to DDC is FREE for individuals and families
As a member you will:
 receive newsletters, information & publications;
 invitations to workshops and seminars with free registration
for people with a disability and family members;
 be entitled to vote at the Annual General Meeting
 have the opportunity to connect with a wider network of
individuals, families, support organizations, service
providers, government departments and agencies to share
information or gather support;
 have access to the experience and informed advice that DDC
as a leader in the sector has provided for over 25 years.
Donations are always appreciated and are tax deductible.
Donation amount $_______________
Card Number.......................................................................
Visa
Mastercard
Expiry Date: …. /….. /……….
Signature: .................................................Date: .........................
Make sure you receive DDC's
emails by whitelisting us to
make sure we don't go into
your spam or junk mail.
Electronic deposit can be made to DDC
(ABN 61 889 503 484) BSB: 036003 Account: 103325
(please note your name and description eg. A Jones donation)
Donations by cheque can be made payable to:
Developmental Disability Council of WA Inc.