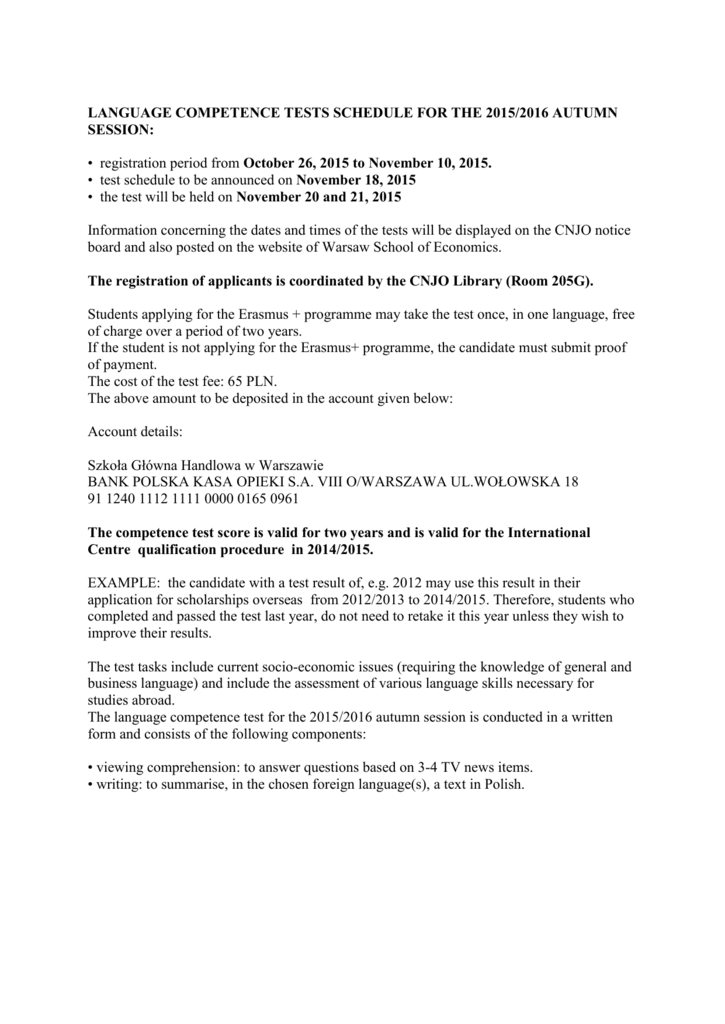 LANGUAGE COMPETENCE TESTS SCHEDULE FOR THE 2015/2016 AUTUMN
SESSION:
• registration period from October 26, 2015 to November 10, 2015.
• test schedule to be announced on November 18, 2015
• the test will be held on November 20 and 21, 2015
Information concerning the dates and times of the tests will be displayed on the CNJO notice
board and also posted on the website of Warsaw School of Economics.
The registration of applicants is coordinated by the CNJO Library (Room 205G).
Students applying for the Erasmus + programme may take the test once, in one language, free
of charge over a period of two years.
If the student is not applying for the Erasmus+ programme, the candidate must submit proof
of payment.
The cost of the test fee: 65 PLN.
The above amount to be deposited in the account given below:
Account details:
Szkoła Główna Handlowa w Warszawie
BANK POLSKA KASA OPIEKI S.A. VIII O/WARSZAWA UL.WOŁOWSKA 18
91 1240 1112 1111 0000 0165 0961
The competence test score is valid for two years and is valid for the International
Centre qualification procedure in 2014/2015.
EXAMPLE: the candidate with a test result of, e.g. 2012 may use this result in their
application for scholarships overseas from 2012/2013 to 2014/2015. Therefore, students who
completed and passed the test last year, do not need to retake it this year unless they wish to
improve their results.
The test tasks include current socio-economic issues (requiring the knowledge of general and
business language) and include the assessment of various language skills necessary for
studies abroad.
The language competence test for the 2015/2016 autumn session is conducted in a written
form and consists of the following components:
• viewing comprehension: to answer questions based on 3-4 TV news items.
• writing: to summarise, in the chosen foreign language(s), a text in Polish.