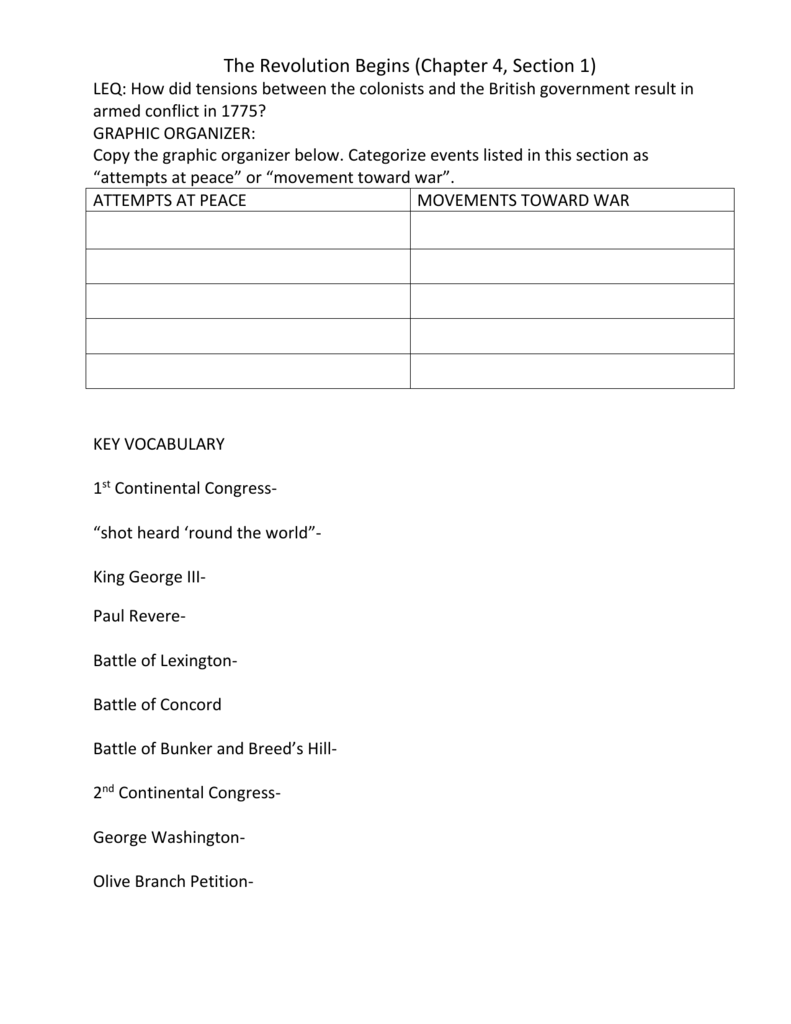 The Revolution Begins (Chapter 4, Section 1)
LEQ: How did tensions between the colonists and the British government result in
armed conflict in 1775?
GRAPHIC ORGANIZER:
Copy the graphic organizer below. Categorize events listed in this section as
"attempts at peace" or "movement toward war".
ATTEMPTS AT PEACE
MOVEMENTS TOWARD WAR
KEY VOCABULARY
1st Continental Congress"shot heard 'round the world"King George IIIPaul RevereBattle of LexingtonBattle of Concord
Battle of Bunker and Breed's Hill2nd Continental CongressGeorge WashingtonOlive Branch Petition-
Learning Activity 1 ASSESSMENT PROMPT: First Continental Congress
Imagine you are a newspaper reporter interviewing Patrick Henry. WORKING IN
PAIRS, write three to five questions to ask Patrick Henry about the discussions and
proposals of the 1st Continental Congress. Also, write the answers you think Henry
would have given to your questions.
LEARNING ACTIVITY 2 ASSESSMENT
REGULAR CLASSES ONLY (Periods 1,4,5)
LEARNING ACTIVITY ASSESSMENT PROMPT #2 (after reading "Shot Heard 'Round the
World" section of text) copy and complete the following concept web by entering key
people, dates, and events associated with Lexington and Concord
Lexington
Concord
ADVANCED CLASSES
The phrase the "shot heard 'round the world" has become famous in American
history. The phrase originated in an 1837 poem by Ralph Waldo Emerson
"By the rude bridge that arched the flood,
Their flag to April's breeze unfurled,
Here once the embattled farmers stood
And fired the shot heard round the world. "
- Concord Hymn
With your shoulder partner discuss and answer the following:
- How does your textbook explanation of the phrase different from its
originators?
- What do you think this phrase means? Can it mean something else?
LESSON ACTIVITY #3 ASSESSMENT (after reading 2nd Continental Congress, p.
114)
REGULAR CLASSES (Periods 1,4,5)
1. Summarize the accomplishments of the 2nd Continental Congress.
2. Making Judgements: Do you think the 2nd Continental Congress was wise in
having Washington prepare for war while at the same time it sought peace with
England?
ADVANCED CLASSES (Periods 2,3,6)
1. Summarize the accomplishments of the 2nd Continental Congress.
2. EVALUATE: Defend King George III's response to both the Declaration of
Rights and the Olive Branch Petition.
LESSON ACTIVITY #4 ASSESSMENT (after reading/discussing "Early Battles, pages 115116 of text) THINK/PAIR/SHARE
REGULAR CLASSES (Periods 1,4,5)
MAKING INFERENCES: Why do you think re-taking Boston was important to the
Patriots?
ADVANCED CLASSES (Periods 2,3,6)
EVALUATE: How would you evaluate the performance of the Continental army
in the early battles of the war? Explain your answer.
FINAL ASIGNMENT (ALL CLASSES)
You are preparing an oral report on the Revolutionary War which is supposed to last
five minutes. You have decided to devote only a minute or two about the beginning of
the war. What are the TWO MOST IMPORTANT THINGS you want to say about the
beginning of the war?