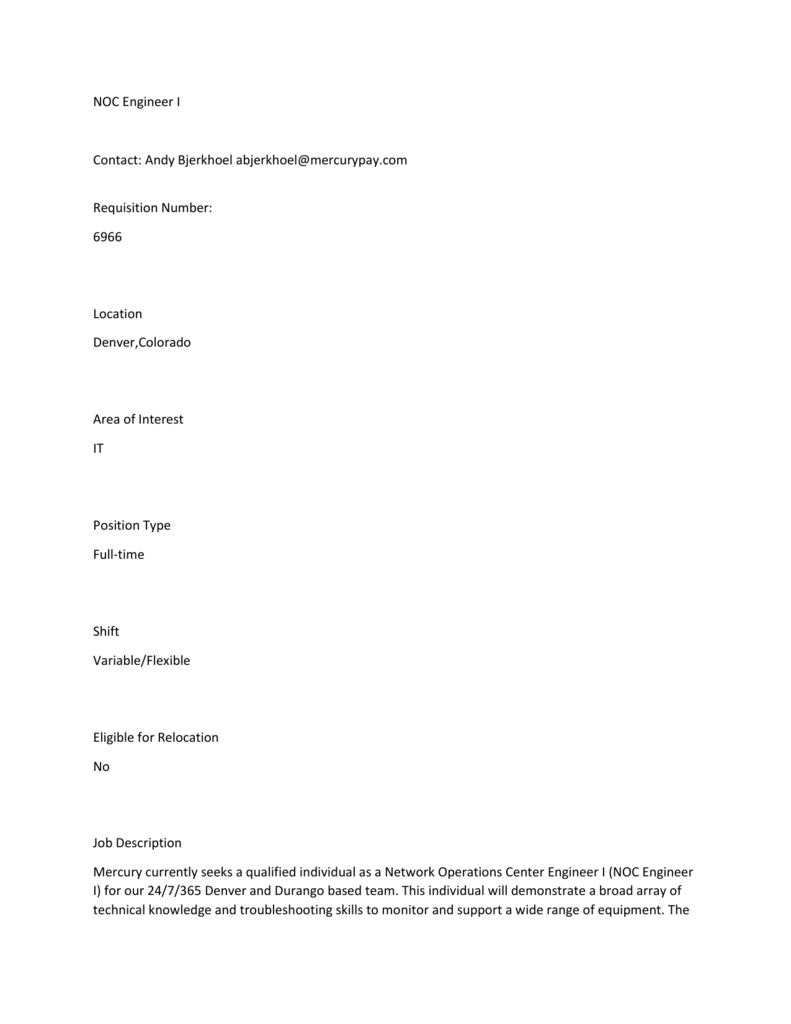 NOC Engineer I
Contact: Andy Bjerkhoel [email protected]
Requisition Number:
6966
Location
Denver,Colorado
Area of Interest
IT
Position Type
Full-time
Shift
Variable/Flexible
Eligible for Relocation
No
Job Description
Mercury currently seeks a qualified individual as a Network Operations Center Engineer I (NOC Engineer
I) for our 24/7/365 Denver and Durango based team. This individual will demonstrate a broad array of
technical knowledge and troubleshooting skills to monitor and support a wide range of equipment. The
NOC Engineer will be responsible for monitoring infrastructure, responding to system alerts and
technology incidents, performing troubleshooting, standard change implementation and data center
management for Mercury's IT infrastructure.
Core Responsibilities
•
Administration and maintenance of internal corporate network infrastructure and computing
systems.
•
Infrastructure monitoring and surveillance.
•
Coordinate resource engagement and escalation during incidents.
•
Support server updates, patches and regular maintenance.
•
Direct command and control activities for high-risk or high visibility change activities.
•
Implement emergency impact mitigation procedures.
•
Identify and remediate system security vulnerabilities.
•
Perform initial device build, deployment, and decommission.
•
Assist with alarm suppression during planned change activities.
•
Assist with the incident related documentation for event-analysis efforts and review.
•
May be required to perform other related duties as assigned.
Qualifications:
•
1-3 years NOC (Network Operations Center) or related 24/7 IT experience.
•
Bachelor's Degree in Computer Science or equivalent related experience.
•
Solid knowledge of Windows and Unix/Linux server design, implementation and
troubleshooting.
•
Solid understanding of TCP/IP network environments including design, implementation and
troubleshooting.
•
Firm grasp of VMware infrastructure design, implementation and troubleshooting.
•
Hands-on experience with Cisco ASA Firewall and VPN design and support.
•
Excellent customer service skills.
•
Excellent interdepartmental collaboration and teaming abilities.
•
Strong organizational and multitasking ability.
•
Strong written, verbal, and listening communication skills.
•
Ability to work in a fast paced, highly dynamic environment, with irregular working hours
including non-business hours and weekends.
•
Preferred Qualifications include CCENT or CCNA, MCSA, VCA-DCV.
•
+/- 10% travel.