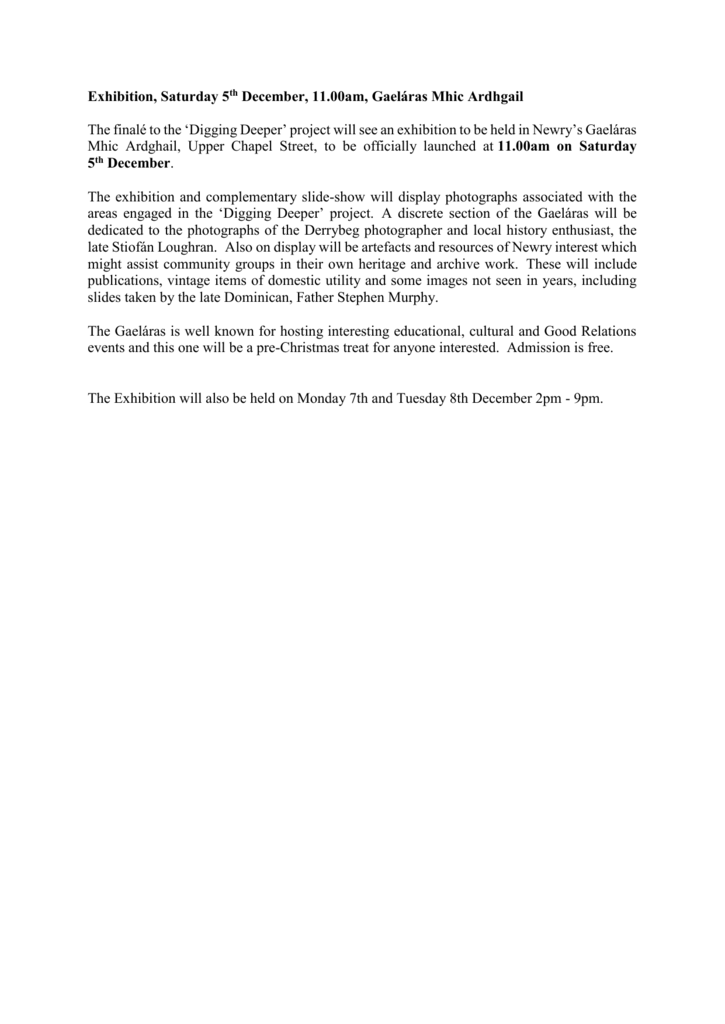 Exhibition, Saturday 5th December, 11.00am, Gaeláras Mhic Ardhgail
The finalé to the 'Digging Deeper' project will see an exhibition to be held in Newry's Gaeláras
Mhic Ardghail, Upper Chapel Street, to be officially launched at 11.00am on Saturday
5th December.
The exhibition and complementary slide-show will display photographs associated with the
areas engaged in the 'Digging Deeper' project. A discrete section of the Gaeláras will be
dedicated to the photographs of the Derrybeg photographer and local history enthusiast, the
late Stiofán Loughran. Also on display will be artefacts and resources of Newry interest which
might assist community groups in their own heritage and archive work. These will include
publications, vintage items of domestic utility and some images not seen in years, including
slides taken by the late Dominican, Father Stephen Murphy.
The Gaeláras is well known for hosting interesting educational, cultural and Good Relations
events and this one will be a pre-Christmas treat for anyone interested. Admission is free.
The Exhibition will also be held on Monday 7th and Tuesday 8th December 2pm - 9pm.