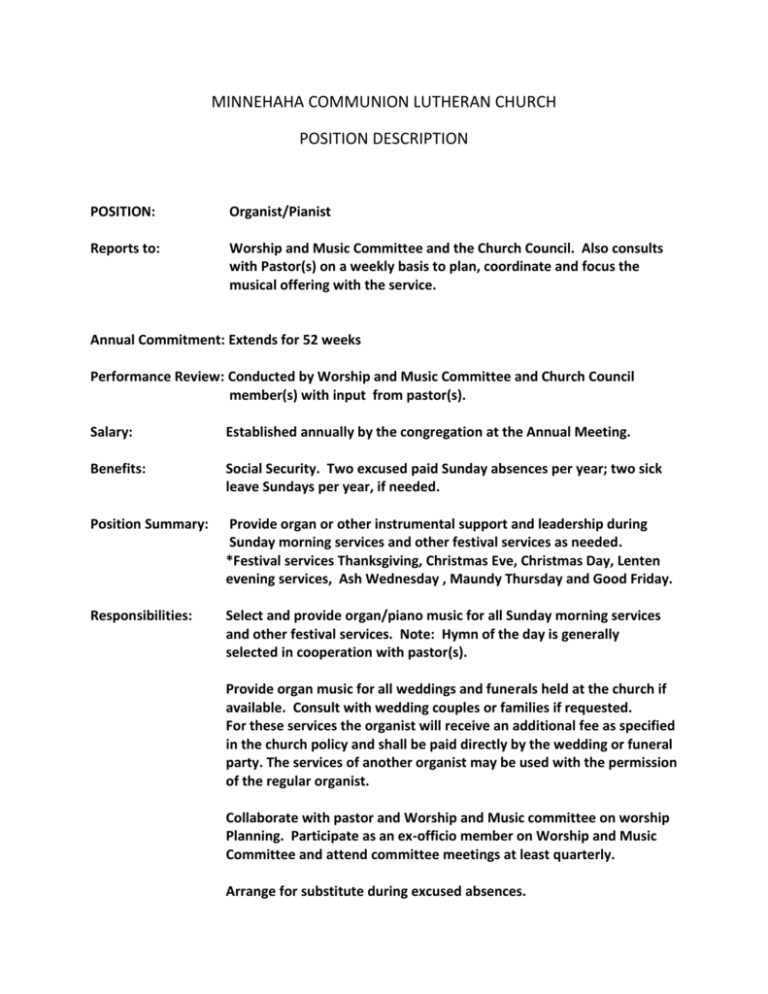 MINNEHAHA COMMUNION LUTHERAN CHURCH
POSITION DESCRIPTION
POSITION:
Organist/Pianist
Reports to:
Worship and Music Committee and the Church Council. Also consults
with Pastor(s) on a weekly basis to plan, coordinate and focus the
musical offering with the service.
Annual Commitment: Extends for 52 weeks
Performance Review: Conducted by Worship and Music Committee and Church Council
member(s) with input from pastor(s).
Salary:
Established annually by the congregation at the Annual Meeting.
Benefits:
Social Security. Two excused paid Sunday absences per year; two sick
leave Sundays per year, if needed.
Position Summary:
Provide organ or other instrumental support and leadership during
Sunday morning services and other festival services as needed.
*Festival services Thanksgiving, Christmas Eve, Christmas Day, Lenten
evening services, Ash Wednesday , Maundy Thursday and Good Friday.
Responsibilities:
Select and provide organ/piano music for all Sunday morning services
and other festival services. Note: Hymn of the day is generally
selected in cooperation with pastor(s).
Provide organ music for all weddings and funerals held at the church if
available. Consult with wedding couples or families if requested.
For these services the organist will receive an additional fee as specified
in the church policy and shall be paid directly by the wedding or funeral
party. The services of another organist may be used with the permission
of the regular organist.
Collaborate with pastor and Worship and Music committee on worship
Planning. Participate as an ex-officio member on Worship and Music
Committee and attend committee meetings at least quarterly.
Arrange for substitute during excused absences.
If additional vacation time is required, the Organist/Pianist will consult
with the pastor(s) and Worship and Music Committee and will be
responsible for arranging for the substitute.
Report to the Worship Committee and/or Property Committee on the
condition and needs of the church's musical instruments. The church
shall provide funds for the proper care and maintenance of these
instruments.
Facility Use:
The Organist/Pianist is permitted to use the facilities (organ/piano )
for private teachings. Times of lessons and use of facilities must be
scheduled in advance with the church office to avoid a conflict with
church program needs.
Guest organists or performers shall not use the church's instruments
without the approval of the Organist/Pianist, Worship and Music
Committee or Church Council.
Continuing Ed:
The Organist/Pianist will be reimbursed for an amount determined
annually as part of the church budget for expenses incurred by his/her
attendance at music conferences, workshops, and other forms of
approved continuing musical education.
Termination:
The Organist/Pianist is required to give 60 days advance notice to the
Pastor on termination of employment. The Church Council or
congregation is required to give a minimum of 60 days advance notice
on termination of employment.
Required Skills:
Knowledge of the instrument and keyboard ability sufficient to play
hymns, liturgy and easy anthem accompaniments at sight. Knowledge
of the Lutheran Church (ELCA), matching appropriate keyboard music
themes with the Church year. Bachelor of Music and/or Bachelor of
Organ Performance.
Estimated Hours:
2 hrs weekly Sunday preparation and music selection; 2 hrs weekly
Sunday service; 4 hrs weekly practice. TOTAL = 8
Currently there is no choir in place.
SPECIAL NOTE:
This job description, hours, salary and position will be reviewed 6
months from hire by all parties.