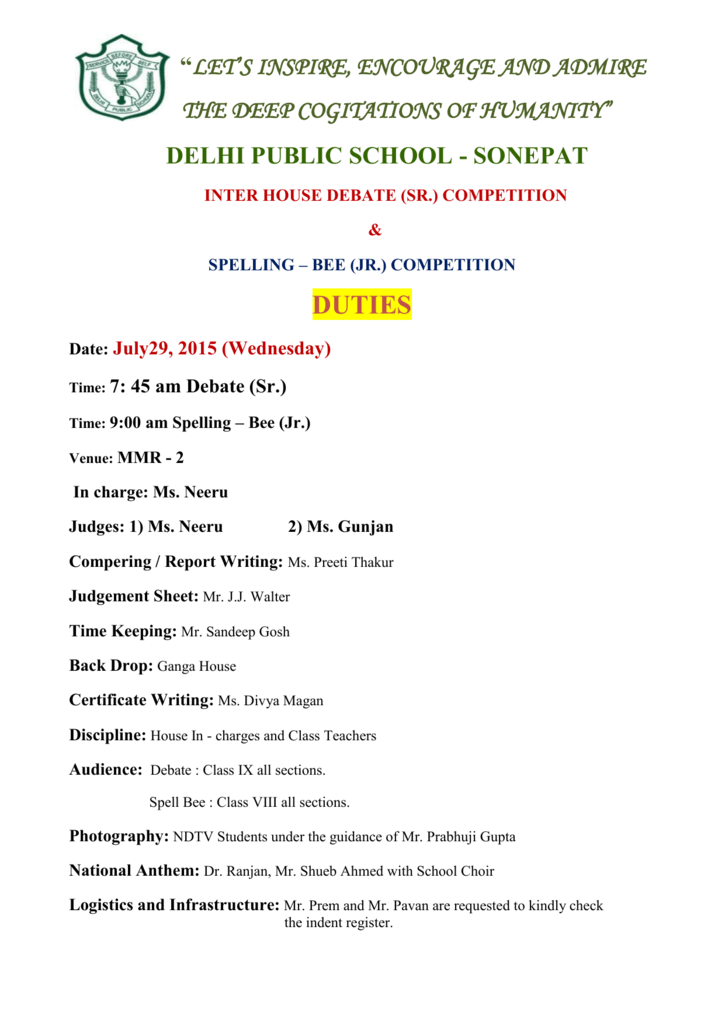 "LET'S INSPIRE, ENCOURAGE AND ADMIRE
THE DEEP COGITATIONS OF HUMANITY"
DELHI PUBLIC SCHOOL - SONEPAT
INTER HOUSE DEBATE (SR.) COMPETITION
&
SPELLING – BEE (JR.) COMPETITION
DUTIES
Date: July29, 2015 (Wednesday)
Time: 7:
45 am Debate (Sr.)
Time: 9:00 am Spelling – Bee (Jr.)
Venue: MMR - 2
In charge: Ms. Neeru
Judges: 1) Ms. Neeru
2) Ms. Gunjan
Compering / Report Writing: Ms. Preeti Thakur
Judgement Sheet: Mr. J.J. Walter
Time Keeping: Mr. Sandeep Gosh
Back Drop: Ganga House
Certificate Writing: Ms. Divya Magan
Discipline: House In - charges and Class Teachers
Audience: Debate : Class IX all sections.
Spell Bee : Class VIII all sections.
Photography: NDTV Students under the guidance of Mr. Prabhuji Gupta
National Anthem: Dr. Ranjan, Mr. Shueb Ahmed with School Choir
Logistics and Infrastructure: Mr. Prem and Mr. Pavan are requested to kindly check
the indent register.