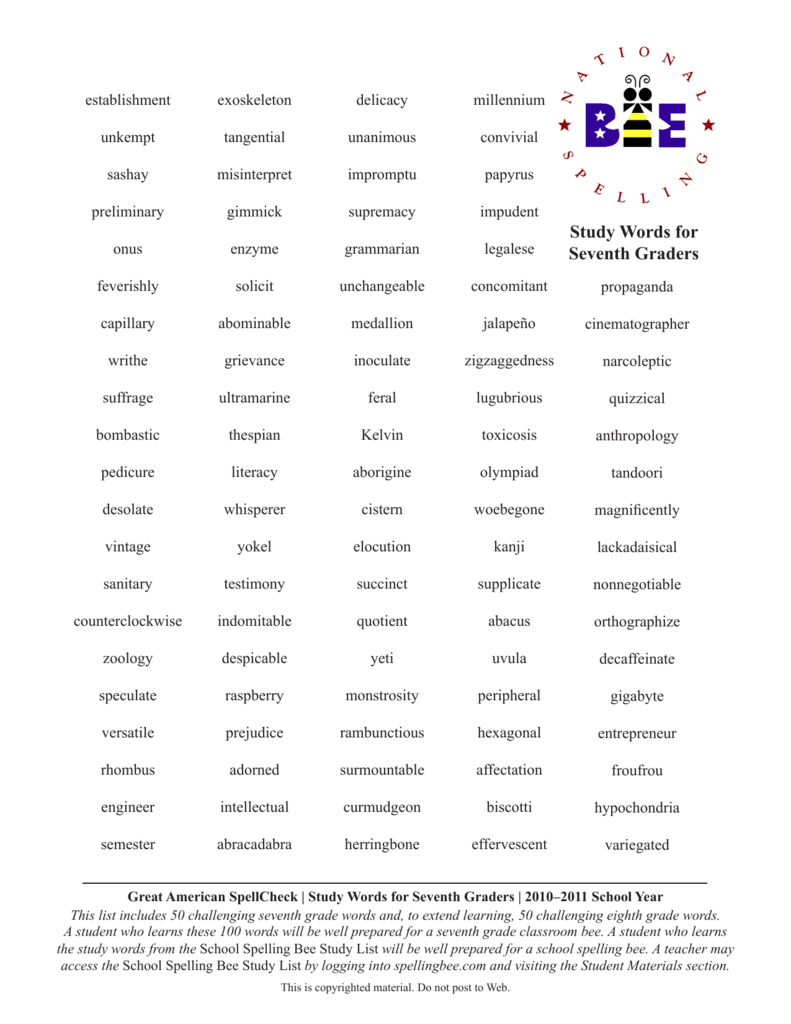 establishment
exoskeleton
delicacy
millennium
unkempt
tangential
unanimous
convivial
sashay
misinterpret
impromptu
papyrus
preliminary
gimmick
supremacy
impudent
onus
enzyme
grammarian
legalese
Study Words for
Seventh Graders
feverishly
solicit
unchangeable
concomitant
propaganda
capillary
abominable
medallion
jalapeño
cinematographer
writhe
grievance
inoculate
zigzaggedness
narcoleptic
suffrage
ultramarine
feral
lugubrious
quizzical
bombastic
thespian
Kelvin
toxicosis
anthropology
pedicure
literacy
aborigine
olympiad
tandoori
desolate
whisperer
cistern
woebegone
magnificently
vintage
yokel
elocution
kanji
lackadaisical
sanitary
testimony
succinct
supplicate
nonnegotiable
counterclockwise
indomitable
quotient
abacus
orthographize
zoology
despicable
yeti
uvula
decaffeinate
speculate
raspberry
monstrosity
peripheral
gigabyte
versatile
prejudice
rambunctious
hexagonal
entrepreneur
rhombus
adorned
surmountable
affectation
froufrou
engineer
intellectual
curmudgeon
biscotti
hypochondria
semester
abracadabra
herringbone
effervescent
variegated
Great American SpellCheck | Study Words for Seventh Graders | 2010–2011 School Year
This list includes 50 challenging seventh grade words and, to extend learning, 50 challenging eighth grade words.
A student who learns these 100 words will be well prepared for a seventh grade classroom bee. A student who learns
the study words from the School Spelling Bee Study List will be well prepared for a school spelling bee. A teacher may
access the School Spelling Bee Study List by logging into spellingbee.com and visiting the Student Materials section.
This is copyrighted material. Do not post to Web.