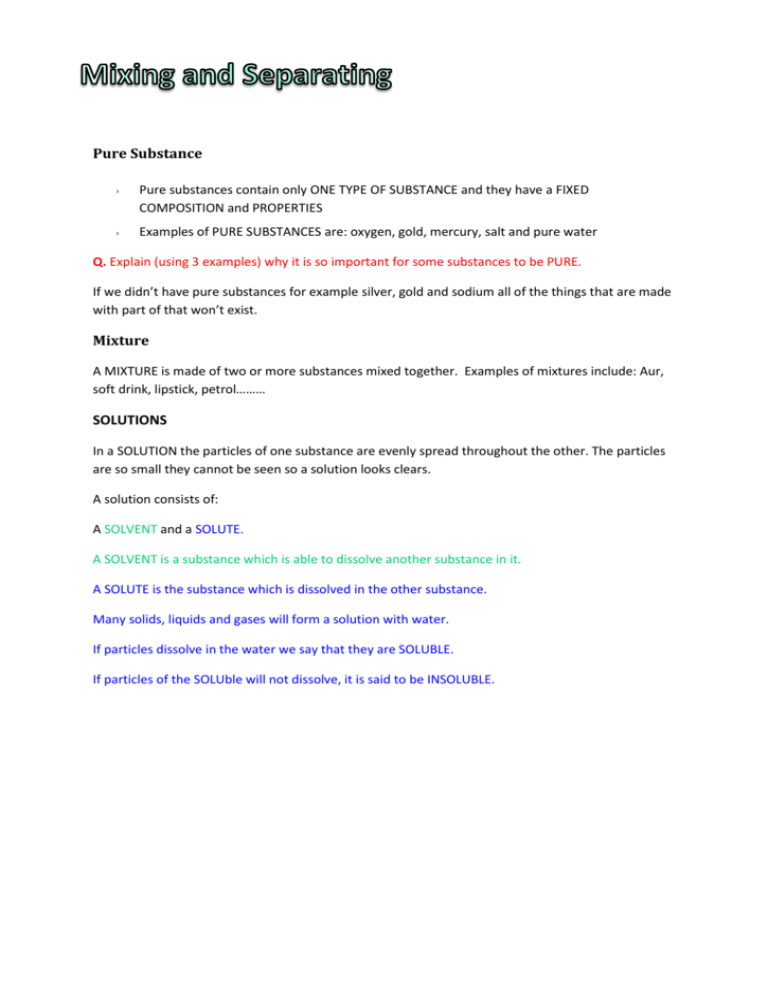 Pure Substance
›
Pure substances contain only ONE TYPE OF SUBSTANCE and they have a FIXED
COMPOSITION and PROPERTIES
›
Examples of PURE SUBSTANCES are: oxygen, gold, mercury, salt and pure water
Q. Explain (using 3 examples) why it is so important for some substances to be PURE.
If we didn't have pure substances for example silver, gold and sodium all of the things that are made
with part of that won't exist.
Mixture
A MIXTURE is made of two or more substances mixed together. Examples of mixtures include: Aur,
soft drink, lipstick, petrol………
SOLUTIONS
In a SOLUTION the particles of one substance are evenly spread throughout the other. The particles
are so small they cannot be seen so a solution looks clears.
A solution consists of:
A SOLVENT and a SOLUTE.
A SOLVENT is a substance which is able to dissolve another substance in it.
A SOLUTE is the substance which is dissolved in the other substance.
Many solids, liquids and gases will form a solution with water.
If particles dissolve in the water we say that they are SOLUBLE.
If particles of the SOLUble will not dissolve, it is said to be INSOLUBLE.