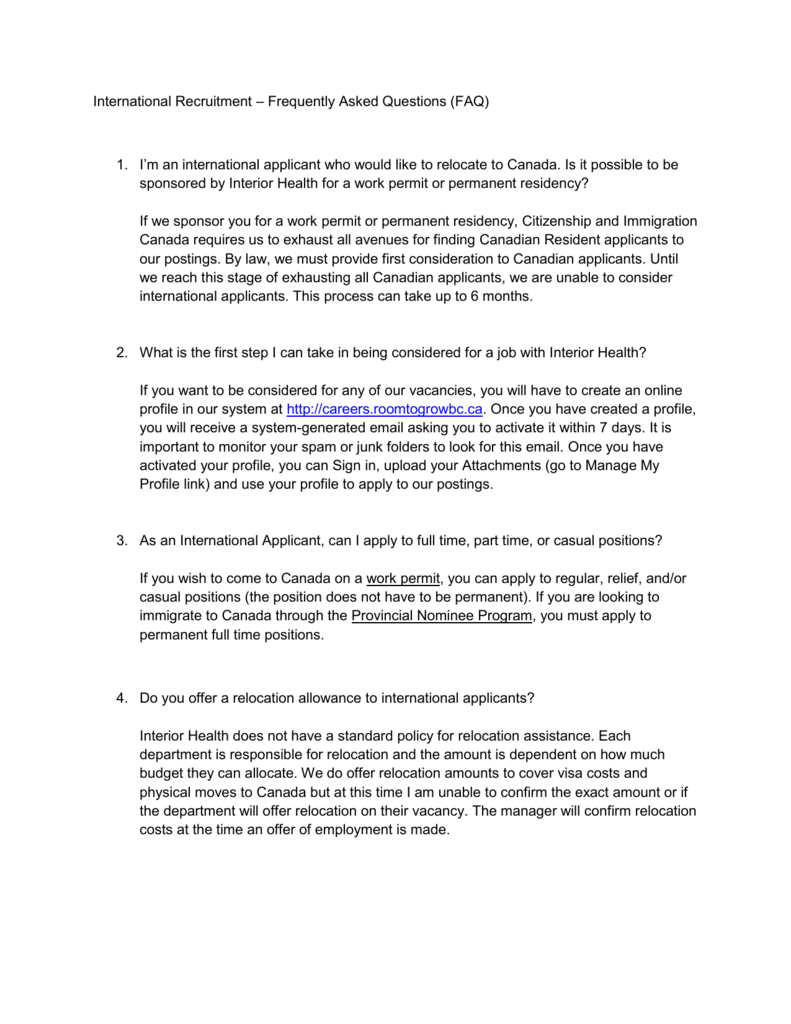 International Recruitment – Frequently Asked Questions (FAQ)
1. I'm an international applicant who would like to relocate to Canada. Is it possible to be
sponsored by Interior Health for a work permit or permanent residency?
If we sponsor you for a work permit or permanent residency, Citizenship and Immigration
Canada requires us to exhaust all avenues for finding Canadian Resident applicants to
our postings. By law, we must provide first consideration to Canadian applicants. Until
we reach this stage of exhausting all Canadian applicants, we are unable to consider
international applicants. This process can take up to 6 months.
2. What is the first step I can take in being considered for a job with Interior Health?
If you want to be considered for any of our vacancies, you will have to create an online
profile in our system at http://careers.roomtogrowbc.ca. Once you have created a profile,
you will receive a system-generated email asking you to activate it within 7 days. It is
important to monitor your spam or junk folders to look for this email. Once you have
activated your profile, you can Sign in, upload your Attachments (go to Manage My
Profile link) and use your profile to apply to our postings.
3. As an International Applicant, can I apply to full time, part time, or casual positions?
If you wish to come to Canada on a work permit, you can apply to regular, relief, and/or
casual positions (the position does not have to be permanent). If you are looking to
immigrate to Canada through the Provincial Nominee Program, you must apply to
permanent full time positions.
4. Do you offer a relocation allowance to international applicants?
Interior Health does not have a standard policy for relocation assistance. Each
department is responsible for relocation and the amount is dependent on how much
budget they can allocate. We do offer relocation amounts to cover visa costs and
physical moves to Canada but at this time I am unable to confirm the exact amount or if
the department will offer relocation on their vacancy. The manager will confirm relocation
costs at the time an offer of employment is made.
5. Do I need to register with my profession's regulatory body prior to relocation?
Yes, before we can consider you for employment Interior Health will require proof of
registration with the appropriate body showing you can practice in British Columbia.
6. Can I apply to postings prior to completing registration or receiving my work permit?
No. If you apply prematurely to any of our postings prior to completion of registration or
receipt of your immigration visa, your applications will not be forwarded to managers
because we require confirmation of your registration before we can consider you for
employment. Make sure you change your demographic information on your profile to
reflect your most current status.
7. What is Health Match BC?
Health Match BC is a free health professional recruitment service funded by the
Government of British Columbia. They have successfully recruited thousands of
Canadian and internationally educated health care professionals to BC and currently
assist BC health care facilities in their recruitment needs. You can visit their website for
more information http://www.healthmatchbc.org
8. Is there someone I can contact?
Please email our International Help Desk at [email protected] if
you have specific questions.