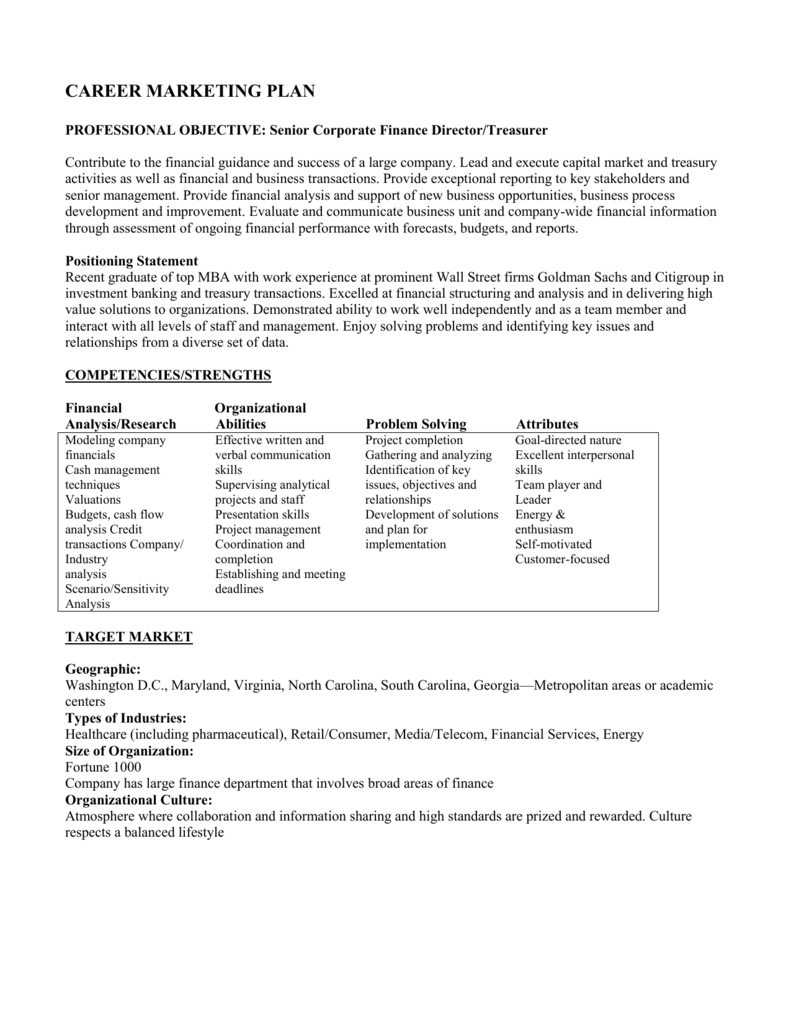 CAREER MARKETING PLAN
PROFESSIONAL OBJECTIVE: Senior Corporate Finance Director/Treasurer
Contribute to the financial guidance and success of a large company. Lead and execute capital market and treasury
activities as well as financial and business transactions. Provide exceptional reporting to key stakeholders and
senior management. Provide financial analysis and support of new business opportunities, business process
development and improvement. Evaluate and communicate business unit and company-wide financial information
through assessment of ongoing financial performance with forecasts, budgets, and reports.
Positioning Statement
Recent graduate of top MBA with work experience at prominent Wall Street firms Goldman Sachs and Citigroup in
investment banking and treasury transactions. Excelled at financial structuring and analysis and in delivering high
value solutions to organizations. Demonstrated ability to work well independently and as a team member and
interact with all levels of staff and management. Enjoy solving problems and identifying key issues and
relationships from a diverse set of data.
COMPETENCIES/STRENGTHS
Financial
Analysis/Research
Organizational
Abilities
Modeling company
financials
Cash management
techniques
Valuations
Budgets, cash flow
analysis Credit
transactions Company/
Industry
analysis
Scenario/Sensitivity
Analysis
Effective written and
verbal communication
skills
Supervising analytical
projects and staff
Presentation skills
Project management
Coordination and
completion
Establishing and meeting
deadlines
Problem Solving
Attributes
Project completion
Gathering and analyzing
Identification of key
issues, objectives and
relationships
Development of solutions
and plan for
implementation
Goal-directed nature
Excellent interpersonal
skills
Team player and
Leader
Energy &
enthusiasm
Self-motivated
Customer-focused
TARGET MARKET
Geographic:
Washington D.C., Maryland, Virginia, North Carolina, South Carolina, Georgia—Metropolitan areas or academic
centers
Types of Industries:
Healthcare (including pharmaceutical), Retail/Consumer, Media/Telecom, Financial Services, Energy
Size of Organization:
Fortune 1000
Company has large finance department that involves broad areas of finance
Organizational Culture:
Atmosphere where collaboration and information sharing and high standards are prized and rewarded. Culture
respects a balanced lifestyle
TARGET LIST
Healthcare
Retail/Consumer
Media/Telecom
Energy
Regional
Clear Channel
Financial
Services
Capitol One
GlaxoSmithKline
Williams-Sonoma
Duke Energy
UPS
Quintiles
Trigon Healthcare
Ukrop's
Circuit City
Media General
BellSouth
Jefferson
Bank of America
Marriott
Delta
Home Depot
Washington Post
Fannie Mae
Southern Co.
Dominion
Resources
Progress Energy
Coventry
Healthcare
Anthem
Lowe's
Discovery
Communications
Freddie Mac
ExxonMobil
Norfolk Southern
CSX Corp.
Marketing Plan example used with permission from the Armstrong Center for Alumni Career Services at the University of Virginia Darden
School Foundation.