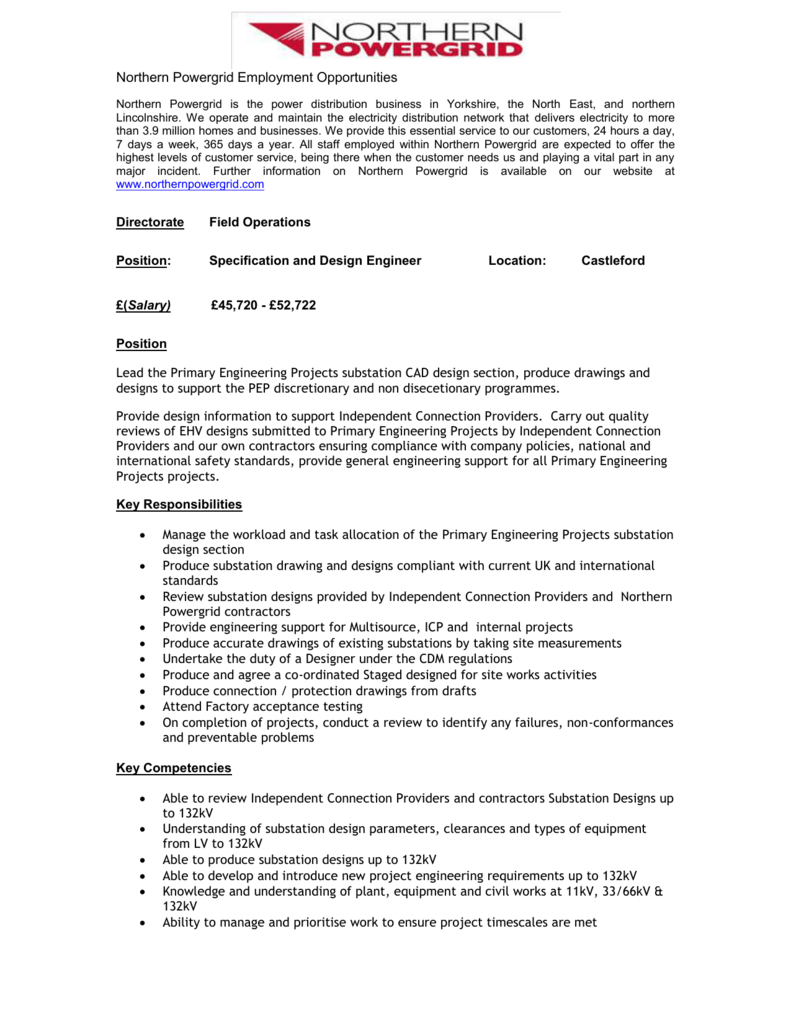 Northern Powergrid Employment Opportunities
Northern Powergrid is the power distribution business in Yorkshire, the North East, and northern
Lincolnshire. We operate and maintain the electricity distribution network that delivers electricity to more
than 3.9 million homes and businesses. We provide this essential service to our customers, 24 hours a day,
7 days a week, 365 days a year. All staff employed within Northern Powergrid are expected to offer the
highest levels of customer service, being there when the customer needs us and playing a vital part in any
major incident. Further information on Northern Powergrid is available on our website at
www.northernpowergrid.com
Directorate
Field Operations
Position:
Specification and Design Engineer
£(Salary)
£45,720 - £52,722
Location:
Castleford
Position
Lead the Primary Engineering Projects substation CAD design section, produce drawings and
designs to support the PEP discretionary and non disecetionary programmes.
Provide design information to support Independent Connection Providers. Carry out quality
reviews of EHV designs submitted to Primary Engineering Projects by Independent Connection
Providers and our own contractors ensuring compliance with company policies, national and
international safety standards, provide general engineering support for all Primary Engineering
Projects projects.
Key Responsibilities










Manage the workload and task allocation of the Primary Engineering Projects substation
design section
Produce substation drawing and designs compliant with current UK and international
standards
Review substation designs provided by Independent Connection Providers and Northern
Powergrid contractors
Provide engineering support for Multisource, ICP and internal projects
Produce accurate drawings of existing substations by taking site measurements
Undertake the duty of a Designer under the CDM regulations
Produce and agree a co-ordinated Staged designed for site works activities
Produce connection / protection drawings from drafts
Attend Factory acceptance testing
On completion of projects, conduct a review to identify any failures, non-conformances
and preventable problems
Key Competencies






Able to review Independent Connection Providers and contractors Substation Designs up
to 132kV
Understanding of substation design parameters, clearances and types of equipment
from LV to 132kV
Able to produce substation designs up to 132kV
Able to develop and introduce new project engineering requirements up to 132kV
Knowledge and understanding of plant, equipment and civil works at 11kV, 33/66kV &
132kV
Ability to manage and prioritise work to ensure project timescales are met
Qualifications & Attributes
Essential Qualifications and Experience






Minimum HNC electrical engineering
Current driving licence and passport
Knowledge of EHV power systems, safety procedures and engineering requirements
Knowledge and understanding of UK and international standards relating to the design
of substation buildings and compounds containing live exposed conductors
Knowledge of Standards associated with EHV plant
Ability to lead a team and work individually to enable effective delivery of project
requirements
Desirable Qualifications and Experience






Degree in electrical or mechanical engineering
Design of substations up to and including 132kV
Practical understanding of substation switchgear and plant up to and including 132kV
Use of CAD and drawing management systems
Knowledge of civil engineering aspects of substation construction
Power system protection experience
Closing date: 20 January 2016
Please visit our careers website to download an application
[email protected] quoting reference number R1870
form
and
return
to
Applications are invited from women and men with appropriate experience and qualifications. Applicants are
considered on the basis of their suitability for the post irrespective of sex, marriage and civil partnership,
sexual orientation, gender re-assignment, race, age, disability, religion or belief and pregnancy and
maternity. Northern Powergrid recruit on ability and ability alone.