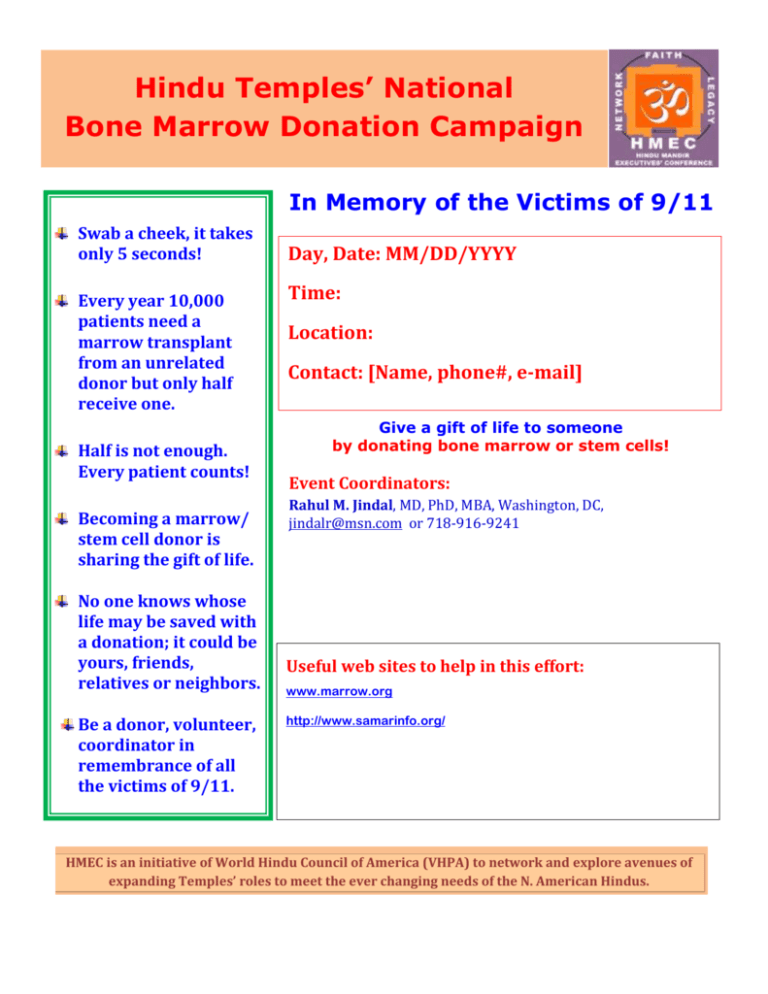 Hindu Temples' National
Bone Marrow Donation Campaign
In Memory of the Victims of 9/11
Swab a cheek, it takes
only 5 seconds!
Every year 10,000
patients need a
marrow transplant
from an unrelated
donor but only half
receive one.
Half is not enough.
Every patient counts!
Becoming a marrow/
stem cell donor is
sharing the gift of life.
No one knows whose
life may be saved with
a donation; it could be
yours, friends,
relatives or neighbors.
Be a donor, volunteer,
coordinator in
remembrance of all
the victims of 9/11.
Day, Date: MM/DD/YYYY
Time:
Location:
Contact: [Name, phone#, e-mail]
Give a gift of life to someone
by donating bone marrow or stem cells!
Event Coordinators:
Rahul M. Jindal, MD, PhD, MBA, Washington, DC,
jindalr@msn.com or 718-916-9241
Useful web sites to help in this effort:
www.marrow.org
http://www.samarinfo.org/
HMEC is an initiative of World Hindu Council of America (VHPA) to network and explore avenues of
expanding Temples' roles to meet the ever changing needs of the N. American Hindus.