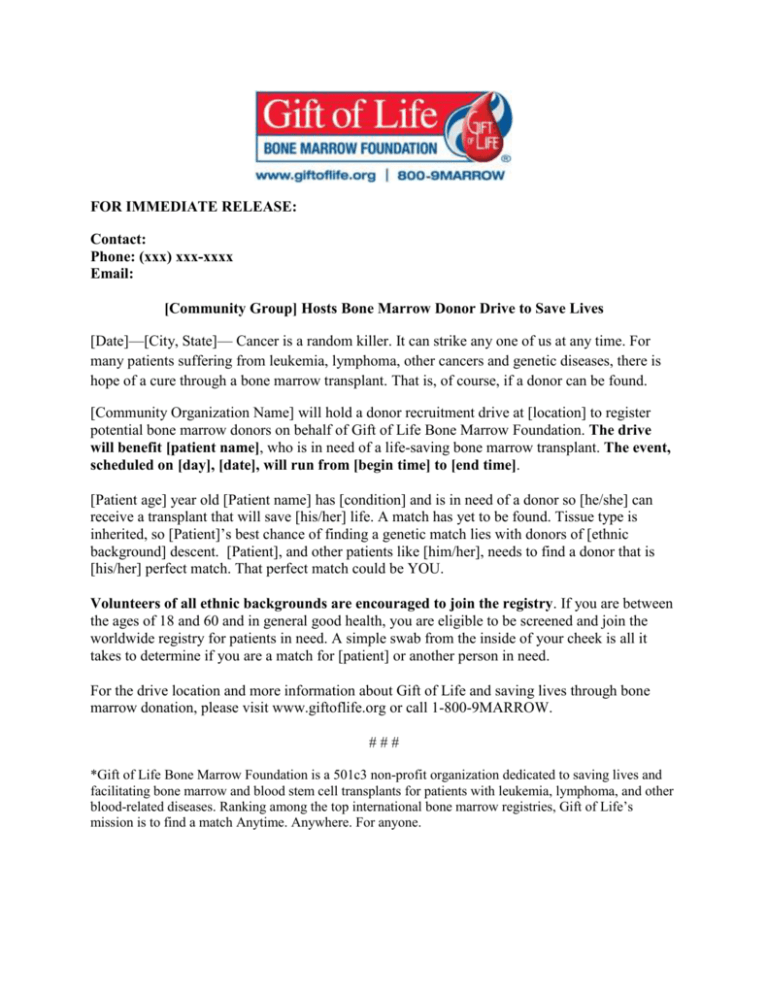 FOR IMMEDIATE RELEASE:
Contact:
Phone: (xxx) xxx-xxxx
Email:
[Community Group] Hosts Bone Marrow Donor Drive to Save Lives
[Date]—[City, State]— Cancer is a random killer. It can strike any one of us at any time. For
many patients suffering from leukemia, lymphoma, other cancers and genetic diseases, there is
hope of a cure through a bone marrow transplant. That is, of course, if a donor can be found.
[Community Organization Name] will hold a donor recruitment drive at [location] to register
potential bone marrow donors on behalf of Gift of Life Bone Marrow Foundation. The drive
will benefit [patient name], who is in need of a life-saving bone marrow transplant. The event,
scheduled on [day], [date], will run from [begin time] to [end time].
[Patient age] year old [Patient name] has [condition] and is in need of a donor so [he/she] can
receive a transplant that will save [his/her] life. A match has yet to be found. Tissue type is
inherited, so [Patient]'s best chance of finding a genetic match lies with donors of [ethnic
background] descent. [Patient], and other patients like [him/her], needs to find a donor that is
[his/her] perfect match. That perfect match could be YOU.
Volunteers of all ethnic backgrounds are encouraged to join the registry. If you are between
the ages of 18 and 60 and in general good health, you are eligible to be screened and join the
worldwide registry for patients in need. A simple swab from the inside of your cheek is all it
takes to determine if you are a match for [patient] or another person in need.
For the drive location and more information about Gift of Life and saving lives through bone
marrow donation, please visit www.giftoflife.org or call 1-800-9MARROW.
###
*Gift of Life Bone Marrow Foundation is a 501c3 non-profit organization dedicated to saving lives and
facilitating bone marrow and blood stem cell transplants for patients with leukemia, lymphoma, and other
blood-related diseases. Ranking among the top international bone marrow registries, Gift of Life's
mission is to find a match Anytime. Anywhere. For anyone.