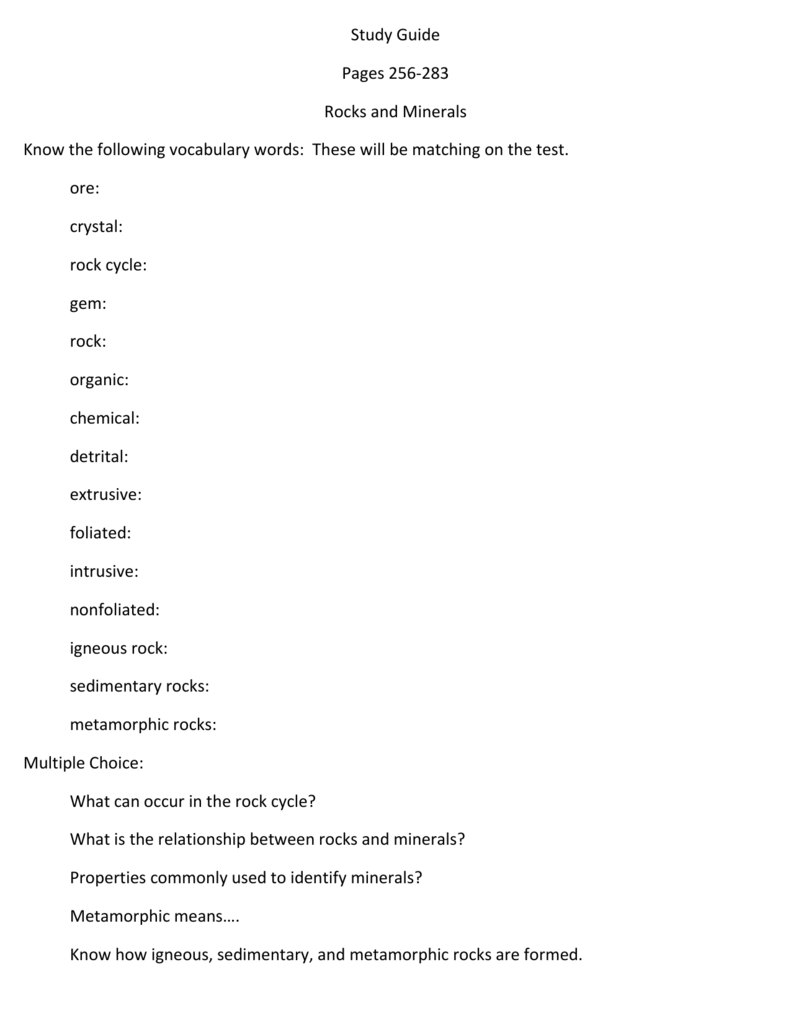 Study Guide
Pages 256-283
Rocks and Minerals
Know the following vocabulary words: These will be matching on the test.
ore:
crystal:
rock cycle:
gem:
rock:
organic:
chemical:
detrital:
extrusive:
foliated:
intrusive:
nonfoliated:
igneous rock:
sedimentary rocks:
metamorphic rocks:
Multiple Choice:
What can occur in the rock cycle?
What is the relationship between rocks and minerals?
Properties commonly used to identify minerals?
Metamorphic means….
Know how igneous, sedimentary, and metamorphic rocks are formed.
Is the rock cycle going all the time?
What does the size of mineral crystals in igneous rocks depend on?
What kind of rocks are foliated and nonfoliated rocks?
Be able to identify the type of rock described, tell why you think so, and tell the special name
for the type of rock.
Formed from magma with large crystals
Has many fossils of sea organisms
Formed from minerals heated and squeezed together has distinct bands of layered minerals
Short Answers:
Make a prediction what will happen next when there is a glob of magma. What kind of rock?
What is the difference between a mineral and a rock?
What are 3 things in the school made of minerals?
How would you find out what kind of mineral you have?
What does sedimentary mean?
What is the relationship between ores and minerals?