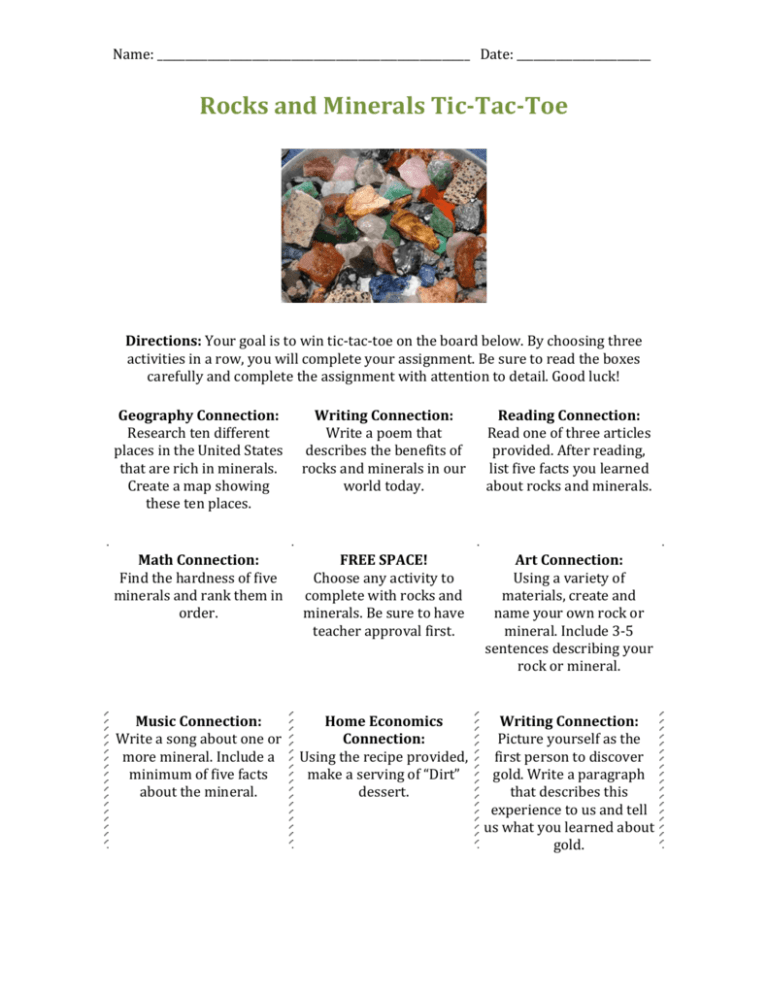 Name: ________________________________________________________ Date: ________________________
Rocks and Minerals Tic-Tac-Toe
Directions: Your goal is to win tic-tac-toe on the board below. By choosing three
activities in a row, you will complete your assignment. Be sure to read the boxes
carefully and complete the assignment with attention to detail. Good luck!
Geography Connection:
Research ten different
places in the United States
that are rich in minerals.
Create a map showing
these ten places.
Writing Connection:
Write a poem that
describes the benefits of
rocks and minerals in our
world today.
Reading Connection:
Read one of three articles
provided. After reading,
list five facts you learned
about rocks and minerals.
Math Connection:
Find the hardness of five
minerals and rank them in
order.
FREE SPACE!
Choose any activity to
complete with rocks and
minerals. Be sure to have
teacher approval first.
Art Connection:
Using a variety of
materials, create and
name your own rock or
mineral. Include 3-5
sentences describing your
rock or mineral.
Music Connection:
Write a song about one or
more mineral. Include a
minimum of five facts
about the mineral.
Home Economics
Connection:
Using the recipe provided,
make a serving of "Dirt"
dessert.
Writing Connection:
Picture yourself as the
first person to discover
gold. Write a paragraph
that describes this
experience to us and tell
us what you learned about
gold.