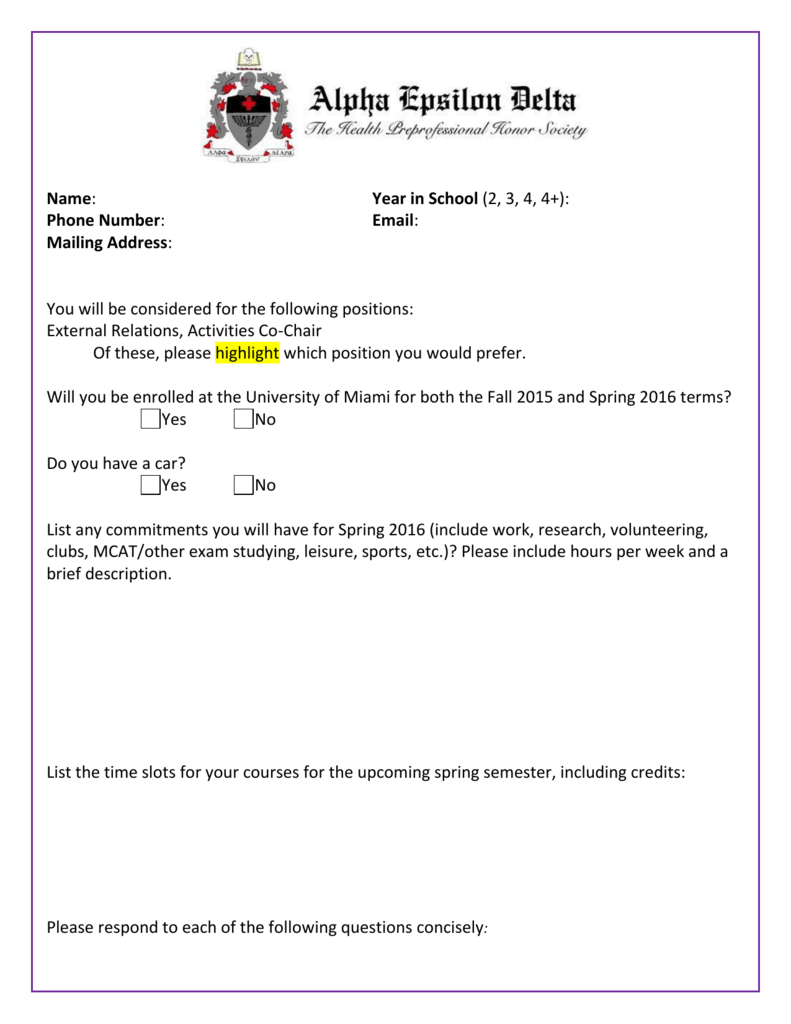 Name:
Phone Number:
Mailing Address:
Year in School (2, 3, 4, 4+):
Email:
You will be considered for the following positions:
External Relations, Activities Co-Chair
Of these, please highlight which position you would prefer.
Will you be enrolled at the University of Miami for both the Fall 2015 and Spring 2016 terms?
Yes
No
Do you have a car?
Yes
No
List any commitments you will have for Spring 2016 (include work, research, volunteering,
clubs, MCAT/other exam studying, leisure, sports, etc.)? Please include hours per week and a
brief description.
List the time slots for your courses for the upcoming spring semester, including credits:
Please respond to each of the following questions concisely:
If you were cereal, which type would you be?
Why do you want to pursue a career in medicine?
You see a $20 bill on the sidewalk, what do you do?
Someone gives you a million dollars to launch an entrepreneurial idea, what is it?
____________
On a scale of 1-10, how much do you want to be on the AED E-board? And briefly explain why.
1
2
3
4
5
6
7
8
9
10
1. Welcome to the AED E-board, what do you want to do with your new position (with
respect to your first-choice position, please answer in 250 words or less)?
2. What are the three most important characteristics or virtues that make you who you
are?
3. What are your two favorite non-academic, non-health related activities to do? Why?
4. You have a 17 year old patient who has been fighting cancer for 2 years with you. His
test results just came in and there is a strong chance in your expert opinion that he is
likely going to pass away within two weeks. He asks you how the test results came back.
What do you tell him. His parents call you that day as well and they ask you how the
results came back. What do you tell the parents?
Please submit this application to [email protected] with the subject "EBOARD 2015".
Feel free to email us should you have any questions.