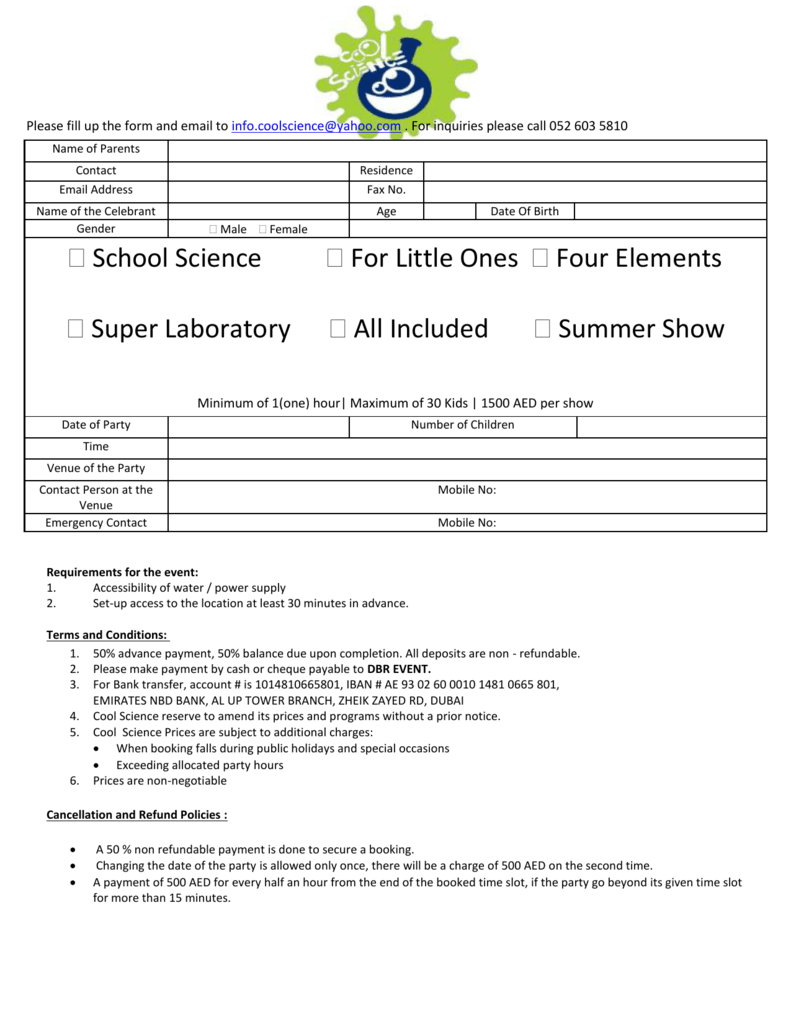 Please fill up the form and email to [email protected] . For inquiries please call 052 603 5810
Name of Parents
Contact
Email Address
Residence
Fax No.
Name of the Celebrant
Gender
Age
Date Of Birth
Male  Female
School Science
Super Laboratory
For Little Ones Four Elements
All Included
Summer Show

Minimum of 1(one) hour| Maximum of 30 Kids | 1500 AED per show
Date of Party
Number of Children
Time
Venue of the Party
Contact Person at the
Venue
Emergency Contact
Mobile No:
Mobile No:
Requirements for the event:
1.
Accessibility of water / power supply
2.
Set-up access to the location at least 30 minutes in advance.
Terms and Conditions:
1. 50% advance payment, 50% balance due upon completion. All deposits are non - refundable.
2. Please make payment by cash or cheque payable to DBR EVENT.
3. For Bank transfer, account # is 1014810665801, IBAN # AE 93 02 60 0010 1481 0665 801,
EMIRATES NBD BANK, AL UP TOWER BRANCH, ZHEIK ZAYED RD, DUBAI
4. Cool Science reserve to amend its prices and programs without a prior notice.
5. Cool Science Prices are subject to additional charges:
 When booking falls during public holidays and special occasions
 Exceeding allocated party hours
6. Prices are non-negotiable
Cancellation and Refund Policies :



A 50 % non refundable payment is done to secure a booking.
Changing the date of the party is allowed only once, there will be a charge of 500 AED on the second time.
A payment of 500 AED for every half an hour from the end of the booked time slot, if the party go beyond its given time slot
for more than 15 minutes.