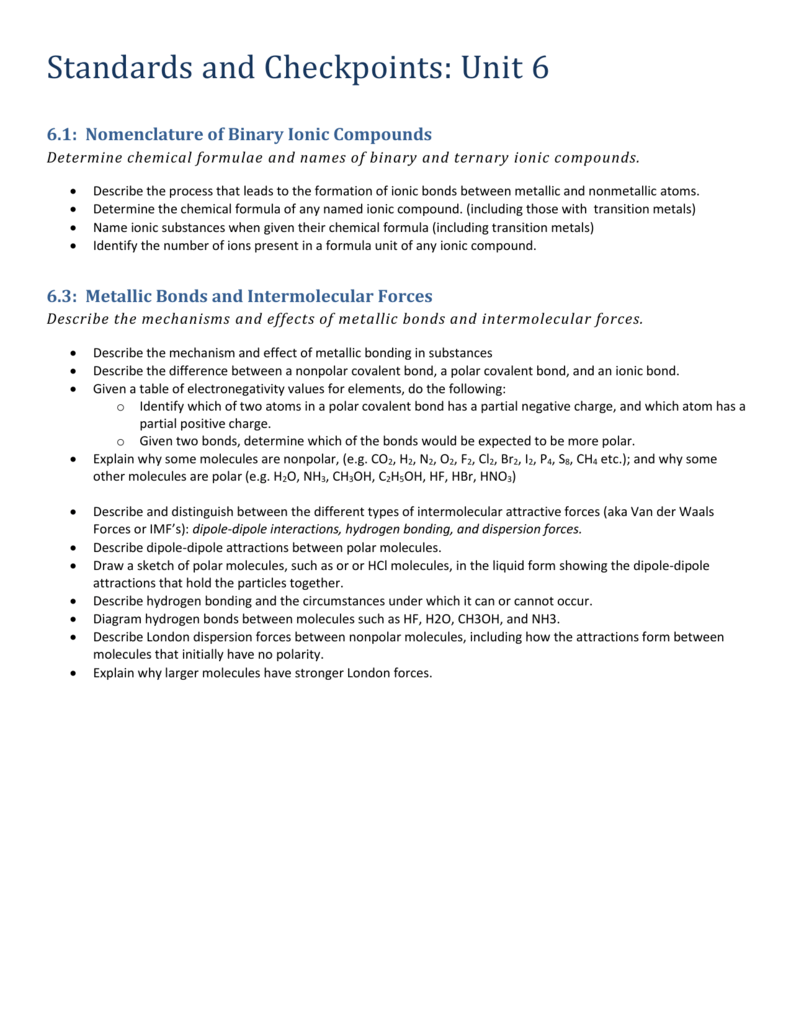 Standards and Checkpoints: Unit 6
6.1: Nomenclature of Binary Ionic Compounds
Determine chemical formulae and names of binary and ternary ionic compounds.




Describe the process that leads to the formation of ionic bonds between metallic and nonmetallic atoms.
Determine the chemical formula of any named ionic compound. (including those with transition metals)
Name ionic substances when given their chemical formula (including transition metals)
Identify the number of ions present in a formula unit of any ionic compound.
6.3: Metallic Bonds and Intermolecular Forces
Describe the mechanisms and effects of metallic bonds and intermolecular forces.











Describe the mechanism and effect of metallic bonding in substances
Describe the difference between a nonpolar covalent bond, a polar covalent bond, and an ionic bond.
Given a table of electronegativity values for elements, do the following:
o Identify which of two atoms in a polar covalent bond has a partial negative charge, and which atom has a
partial positive charge.
o Given two bonds, determine which of the bonds would be expected to be more polar.
Explain why some molecules are nonpolar, (e.g. CO2, H2, N2, O2, F2, Cl2, Br2, I2, P4, S8, CH4 etc.); and why some
other molecules are polar (e.g. H2O, NH3, CH3OH, C2H5OH, HF, HBr, HNO3)
Describe and distinguish between the different types of intermolecular attractive forces (aka Van der Waals
Forces or IMF's): dipole‐dipole interactions, hydrogen bonding, and dispersion forces.
Describe dipole-dipole attractions between polar molecules.
Draw a sketch of polar molecules, such as or or HCl molecules, in the liquid form showing the dipole-dipole
attractions that hold the particles together.
Describe hydrogen bonding and the circumstances under which it can or cannot occur.
Diagram hydrogen bonds between molecules such as HF, H2O, CH3OH, and NH3.
Describe London dispersion forces between nonpolar molecules, including how the attractions form between
molecules that initially have no polarity.
Explain why larger molecules have stronger London forces.