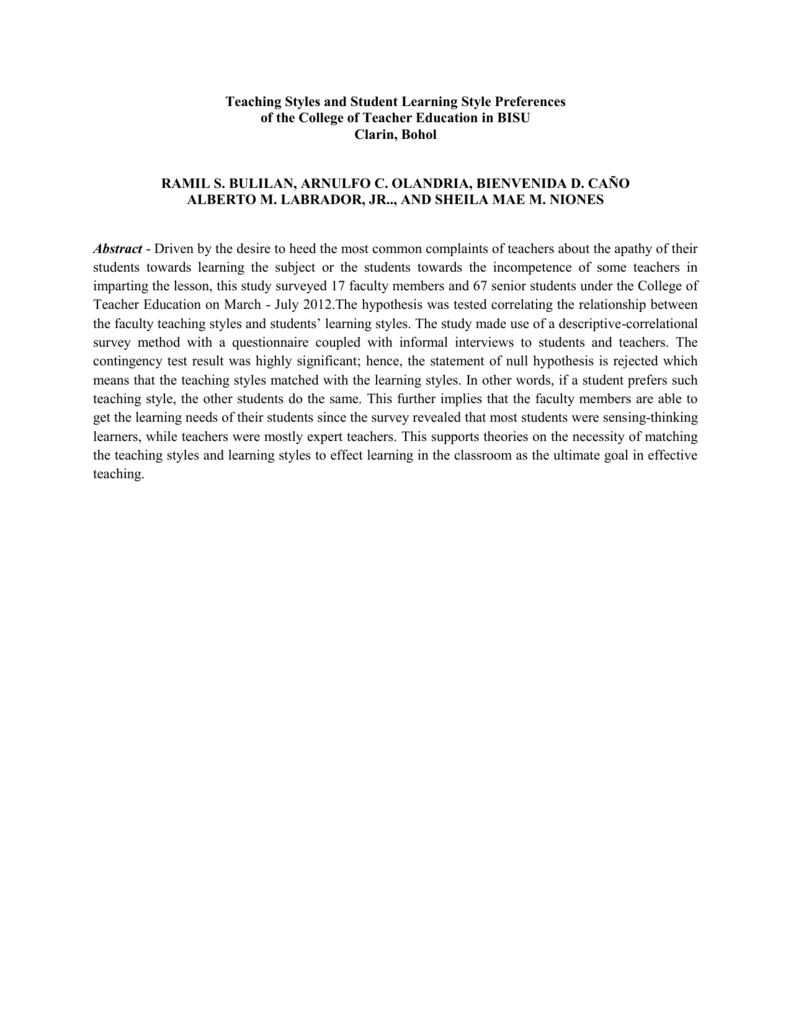 Teaching Styles and Student Learning Style Preferences
of the College of Teacher Education in BISU
Clarin, Bohol
RAMIL S. BULILAN, ARNULFO C. OLANDRIA, BIENVENIDA D. CAÑO
ALBERTO M. LABRADOR, JR.., AND SHEILA MAE M. NIONES
Abstract - Driven by the desire to heed the most common complaints of teachers about the apathy of their
students towards learning the subject or the students towards the incompetence of some teachers in
imparting the lesson, this study surveyed 17 faculty members and 67 senior students under the College of
Teacher Education on March - July 2012.The hypothesis was tested correlating the relationship between
the faculty teaching styles and students' learning styles. The study made use of a descriptive-correlational
survey method with a questionnaire coupled with informal interviews to students and teachers. The
contingency test result was highly significant; hence, the statement of null hypothesis is rejected which
means that the teaching styles matched with the learning styles. In other words, if a student prefers such
teaching style, the other students do the same. This further implies that the faculty members are able to
get the learning needs of their students since the survey revealed that most students were sensing-thinking
learners, while teachers were mostly expert teachers. This supports theories on the necessity of matching
the teaching styles and learning styles to effect learning in the classroom as the ultimate goal in effective
teaching.