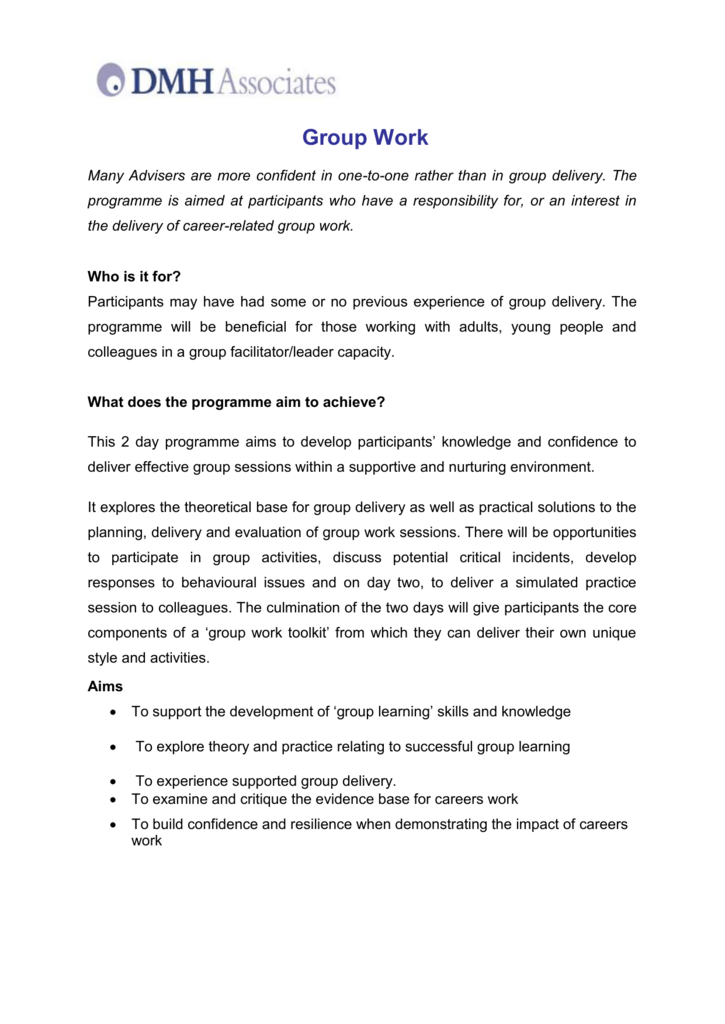 Group Work
Many Advisers are more confident in one-to-one rather than in group delivery. The
programme is aimed at participants who have a responsibility for, or an interest in
the delivery of career-related group work.
Who is it for?
Participants may have had some or no previous experience of group delivery. The
programme will be beneficial for those working with adults, young people and
colleagues in a group facilitator/leader capacity.
What does the programme aim to achieve?
This 2 day programme aims to develop participants' knowledge and confidence to
deliver effective group sessions within a supportive and nurturing environment.
It explores the theoretical base for group delivery as well as practical solutions to the
planning, delivery and evaluation of group work sessions. There will be opportunities
to participate in group activities, discuss potential critical incidents, develop
responses to behavioural issues and on day two, to deliver a simulated practice
session to colleagues. The culmination of the two days will give participants the core
components of a 'group work toolkit' from which they can deliver their own unique
style and activities.
Aims

To support the development of 'group learning' skills and knowledge

To explore theory and practice relating to successful group learning


To experience supported group delivery.
To examine and critique the evidence base for careers work

To build confidence and resilience when demonstrating the impact of careers
work
Learning Outcomes
By the end of the two-day programme participants will know how to:
•
use theories relating to group dynamics, group learning and individual
learning styles in their everyday practice;
•
apply knowledge necessary to plan effective group sessions;
•
sample and implement in a range of methods for use in group learning
activities;
•
share good and interesting practice;
•
identify appropriate evaluation methodologies for group learning;
•
make use of a structured model for planning group work;
•
apply a range of learning styles and appropriate delivery; and
•
analyse their own and their peers delivery using constructive feedback and
evaluation.
Programme Overview
Positive and negative experiences of group learning
Why use group work?
Key benefits in a career context
Planning Cycle for Group Work
Learning Styles
Lesson Planning
Group activities / methods
Behaviour issues / Group Dynamics
Hierarchy of response
Briefing for Day 2
Evaluation
This module relates to required elements specified within QCF Level 6.