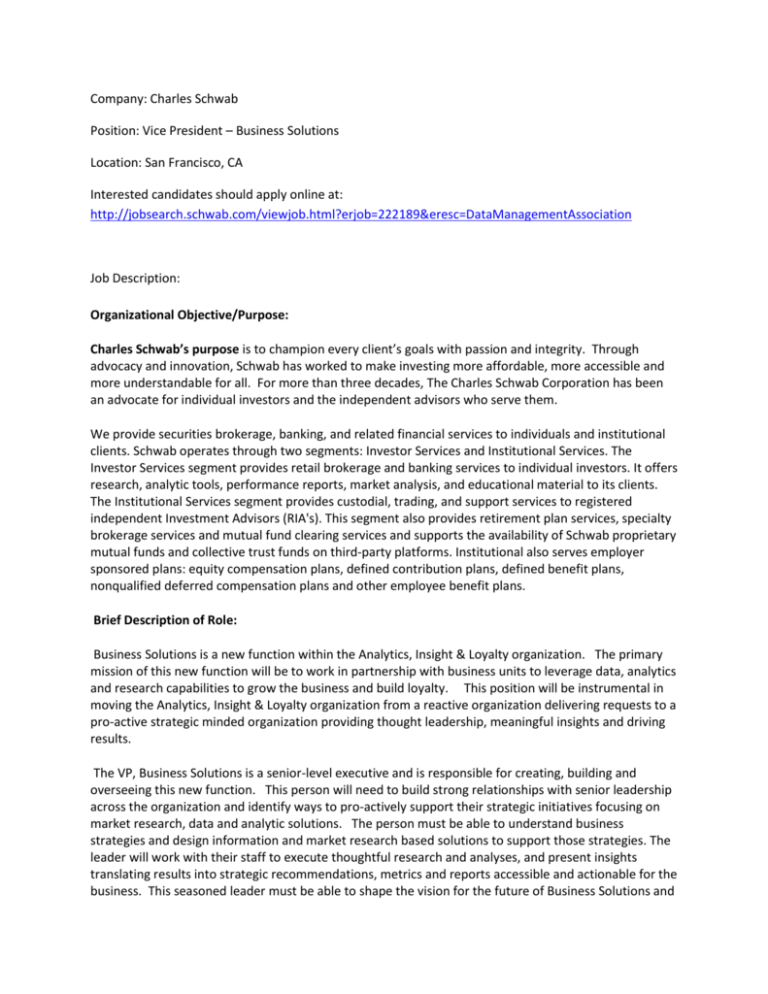 Company: Charles Schwab
Position: Vice President – Business Solutions
Location: San Francisco, CA
Interested candidates should apply online at:
http://jobsearch.schwab.com/viewjob.html?erjob=222189&eresc=DataManagementAssociation
Job Description:
Organizational Objective/Purpose:
Charles Schwab's purpose is to champion every client's goals with passion and integrity. Through
advocacy and innovation, Schwab has worked to make investing more affordable, more accessible and
more understandable for all. For more than three decades, The Charles Schwab Corporation has been
an advocate for individual investors and the independent advisors who serve them.
We provide securities brokerage, banking, and related financial services to individuals and institutional
clients. Schwab operates through two segments: Investor Services and Institutional Services. The
Investor Services segment provides retail brokerage and banking services to individual investors. It offers
research, analytic tools, performance reports, market analysis, and educational material to its clients.
The Institutional Services segment provides custodial, trading, and support services to registered
independent Investment Advisors (RIA's). This segment also provides retirement plan services, specialty
brokerage services and mutual fund clearing services and supports the availability of Schwab proprietary
mutual funds and collective trust funds on third-party platforms. Institutional also serves employer
sponsored plans: equity compensation plans, defined contribution plans, defined benefit plans,
nonqualified deferred compensation plans and other employee benefit plans.
Brief Description of Role:
Business Solutions is a new function within the Analytics, Insight & Loyalty organization. The primary
mission of this new function will be to work in partnership with business units to leverage data, analytics
and research capabilities to grow the business and build loyalty. This position will be instrumental in
moving the Analytics, Insight & Loyalty organization from a reactive organization delivering requests to a
pro-active strategic minded organization providing thought leadership, meaningful insights and driving
results.
The VP, Business Solutions is a senior-level executive and is responsible for creating, building and
overseeing this new function. This person will need to build strong relationships with senior leadership
across the organization and identify ways to pro-actively support their strategic initiatives focusing on
market research, data and analytic solutions. The person must be able to understand business
strategies and design information and market research based solutions to support those strategies. The
leader will work with their staff to execute thoughtful research and analyses, and present insights
translating results into strategic recommendations, metrics and reports accessible and actionable for the
business. This seasoned leader must be able to shape the vision for the future of Business Solutions and
influence a wide range of stakeholders, providing clear rationale and strategic thinking on multiple
enterprise level initiatives, with extensive cross-functional collaboration and leadership.
This position will initially oversee a small team of market research, analytics and loyalty professionals
and will focus on the most critical strategic priority business areas. In addition, this person will provide
leadership to assigned resources in a cross-functional manner from the Analytics, Insight & Loyalty and
other supporting organizations.
Over time, we expect this function to grow in importance and take on additional responsibilities in
support of other business units across Schwab.
JOB RESPONSIBILITIES
The VP, Business Solutions will collaborate with senior executives and business partners to understand
their needs for data, analytics, research and loyalty services, defining information, research and marketbased solutions, and ensuring projects are delivered as planned. This includes:





Building relationships with senior leadership to identify opportunities to uncover prospect and
consumer insights with quantitative and qualitative research and analysis, supporting a factdriven (and client-driven) decision making culture throughout Charles Schwab.
Showing thought leadership by identifying new ways to apply research and analytics to grow the
business.
Working with support teams to scope and prioritize projects based on the needs of the business,
efforts and resources required and obtainable insights.
Presenting results and recommendations to senior executives to ensure complex
work is accessible and actionable.
Creating full visibility and transparency in the results learned throughout the complete project
lifecycle.
The VP directly leads and directly manages an initial staff of approximately 6 professionals in addition to
a larger team cross-functionally. Specific responsibilities include:







Providing strong business acumen and foresight anticipating obstacles and challenges, promptly
implementing tactical plans to mitigate risks.
Create accountability within and across the teams ensuring a shared purpose and value for the
team and our clients.
Coordinating tactical work flow and analytical resources ensuring project objectives are met on
schedule and in-line with planned effort.
Leading the teams in evaluating various research/loyalty/analytic approaches and helping to
determine the approach best positioned to address the business objective.
Resolving challenges including resource constraints, competing priorities, changes to project
objectives, requirements, and scope.
Building support with cross-functional resources including analysts, statisticians, market
researchers, loyalty professionals, strategy team, marketers, finance, etc.
Ensuring full visibility across the organization through executive-level communication and
internal PR efforts of the team's activities and accomplishments
The VP will build a high performance team by developing existing talent, recruiting high caliber
professionals and ensuring the team is a highly-engaged group delivering results and demonstrating the
importance of their work to the larger strategic picture. Responsibilities include:




Recruiting the talent necessary to evolve the team to the needs of the organization and scale
operations to improve efficiencies.
Leading the development and engagement of the team through strengths-based leadership so
the team feels valued and wants to work for them and Schwab.
Understanding each individual's strengths, background, and career plans in order to identify
development opportunities through internal/external training and one-on-one
mentoring/coaching.
Respects, values and embraces differences creating an inclusive environment.
Technical/Functional Qualifications:
The ideal candidate is a highly intelligent, strategically-minded customer-focused individual who is
creative, innovative and execution focused. This person will be an outstanding communicator and have
the self-confidence to work comfortably at the most senior levels of the organization. He/she will have
an exceptional track record of accomplishment across complex business environments and a
demonstrated ability to create organizational change for improved performance. This individual must be
willing to roll up his/her sleeves, be comfortable making critical decisions, able to drive flawless
execution and work in a cross-functional manner across business units









Significant experience in strategy and/or business consulting roles leveraging both quantitative
and qualitative inputs to impact business strategies and growth.
Proven experience in driving strategic analytical and market research projects by working in
collaboration with business leaders.
Track record of driving strategic change at a senior organization level serving as a trusted advisor
and content expert.
Experience with financial services; investment services preferred.
Superior leadership skills with 10+ years' experience managing, directing, and mentoring teams
of professionals.
Deep consulting expertise with the ability to frame and interpret data as it relates to business
strategy.
Strong marketing analytics experience with background in segmentation, targeting,
performance tracking and evaluation, offer testing, and building analytical reports to measure
results.
Very strong business acumen with an understanding how analytics and data ties to the
profitability of a company.
MBA or similar advanced degree preferred.