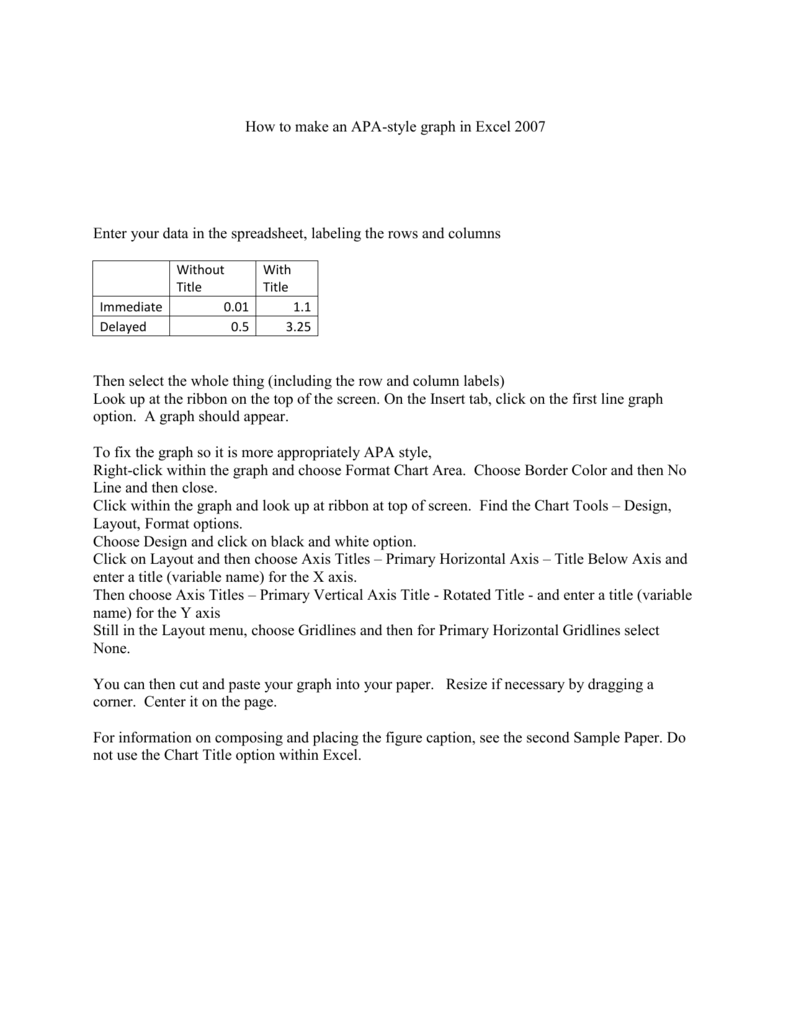 How to make an APA-style graph in Excel 2007
Enter your data in the spreadsheet, labeling the rows and columns
Without
With
Title
Title
Immediate
0.01
1.1
Delayed
0.5
3.25
Then select the whole thing (including the row and column labels)
Look up at the ribbon on the top of the screen. On the Insert tab, click on the first line graph
option. A graph should appear.
To fix the graph so it is more appropriately APA style,
Right-click within the graph and choose Format Chart Area. Choose Border Color and then No
Line and then close.
Click within the graph and look up at ribbon at top of screen. Find the Chart Tools – Design,
Layout, Format options.
Choose Design and click on black and white option.
Click on Layout and then choose Axis Titles – Primary Horizontal Axis – Title Below Axis and
enter a title (variable name) for the X axis.
Then choose Axis Titles – Primary Vertical Axis Title - Rotated Title - and enter a title (variable
name) for the Y axis
Still in the Layout menu, choose Gridlines and then for Primary Horizontal Gridlines select
None.
You can then cut and paste your graph into your paper. Resize if necessary by dragging a
corner. Center it on the page.
For information on composing and placing the figure caption, see the second Sample Paper. Do
not use the Chart Title option within Excel.