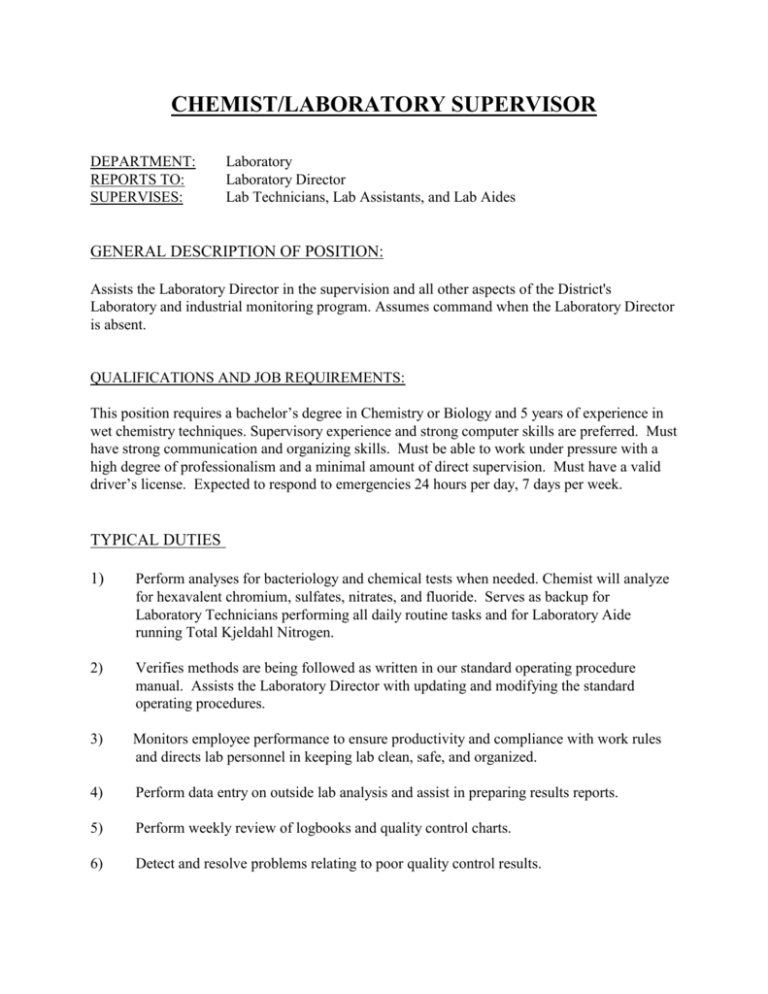 CHEMIST/LABORATORY SUPERVISOR
DEPARTMENT:
REPORTS TO:
SUPERVISES:
Laboratory
Laboratory Director
Lab Technicians, Lab Assistants, and Lab Aides
GENERAL DESCRIPTION OF POSITION:
Assists the Laboratory Director in the supervision and all other aspects of the District's
Laboratory and industrial monitoring program. Assumes command when the Laboratory Director
is absent.
QUALIFICATIONS AND JOB REQUIREMENTS:
This position requires a bachelor's degree in Chemistry or Biology and 5 years of experience in
wet chemistry techniques. Supervisory experience and strong computer skills are preferred. Must
have strong communication and organizing skills. Must be able to work under pressure with a
high degree of professionalism and a minimal amount of direct supervision. Must have a valid
driver's license. Expected to respond to emergencies 24 hours per day, 7 days per week.
TYPICAL DUTIES
1)
Perform analyses for bacteriology and chemical tests when needed. Chemist will analyze
for hexavalent chromium, sulfates, nitrates, and fluoride. Serves as backup for
Laboratory Technicians performing all daily routine tasks and for Laboratory Aide
running Total Kjeldahl Nitrogen.
2)
Verifies methods are being followed as written in our standard operating procedure
manual. Assists the Laboratory Director with updating and modifying the standard
operating procedures.
3)
Monitors employee performance to ensure productivity and compliance with work rules
and directs lab personnel in keeping lab clean, safe, and organized.
4)
Perform data entry on outside lab analysis and assist in preparing results reports.
5)
Perform weekly review of logbooks and quality control charts.
6)
Detect and resolve problems relating to poor quality control results.
7)
Trains new employees.
8)
Supervise the monthly Laboratory Safety and training program.
9)
Perform monthly purchasing for general operating supplies.
10)
Have a general understanding of the Industrial Pretreatment program.
11)
Supervise and assist lab personnel with problem solving and troubleshooting lab
equipment.
12)
Perform general administrative work
13)
Other duties as assigned by the Lab Director.
WORK ENVIRONMENT:
Works in the treatment plant and laboratory with their related hazards. Must be able to inspect
plant equipment and make evaluations. Works with minimal direct supervision.
As a public employee in a position of major responsibility, the individual is expected to display
the appropriate public conduct.
DISCLAIMER:
This job description is intended to serve as a guide and does not constitute an employment
contract or provide assurance of continued employment. This is a salaried, supervisory position
and serves at the will of the District management and Board of Trustees.