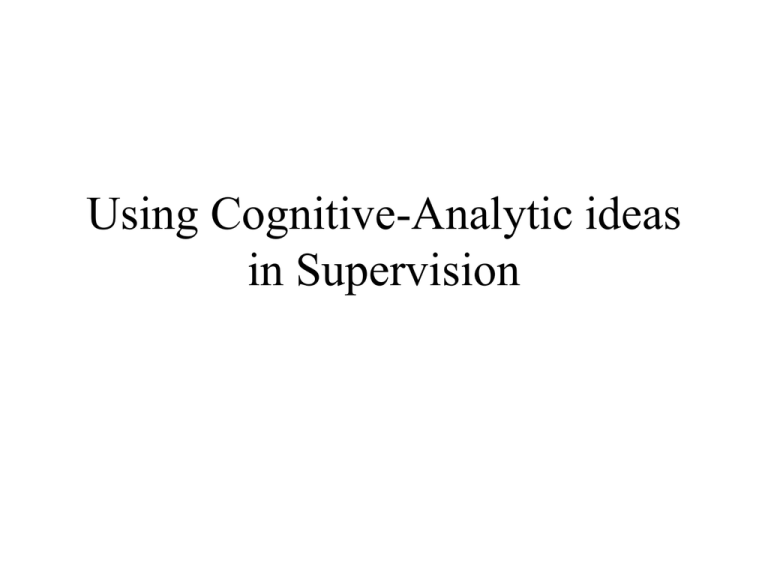 Using Cognitive-Analytic ideas
in Supervision
The Supervisory Relationship
• Supervisory relationship (SR) is a key factor in the
success or otherwise of supervision (Ellis &
Ladany, 1997; Beinart, 2004)
• Closely related to therapeutic relationship
(Norcross, 2002)
• Attachment style can be reflected in the SR
(Pistole & Watkins, 1995; Riggs & Bretz, 2006;
Dickson et al 2011)
• Supervision outcome closely related to quality of
SR (Ladany et al. 1999)
• Emerging evidence that SR related to the success
of therapy (Bambling et. al, 2006)
CAT in a nutshell
•
•
•
•
Integrated model
Collaborative
Time limited
Core concepts – Target problems; reciprocal roles;
core pain, unmet need, target problem
'procedures'. Transference and
countertransference
• CAT 'tools' – Psychotherapy file, reformulation
and ending letters, 'sequential diagrammatic
reformulation' (relational 'maps')
.
'big person, little person'
Putting it all together….
Reciprocal role procedures (1)
• 'A stable pattern of interaction originating
in relationships with caretakers in early life,
determining current patterns of relationship
with others and self-management. Playing a
role always implies an 'other', or the
internalised 'voice' of another, whose
reciprocation is sought or experienced'
(Ryle and Kerr, 2002)
Reciprocal role procedures (2)
(With thanks to Liz
Fawkes)
Exercise
• In pairs, reflect on a situation where you
have found supervisory relationship with a
trainee (or other supervisee) challenging in
some way.
• Reflect on the relationship between you what might have been 'playing out' in the
way of 'reciprocal role procedures'?
Other useful concepts for
supervision
• The zone of proximal development – 'the
gap between current performance and the
level that could be achieved with the
assistance of a more competent other.
• To paraphrase Vygotsky - what a supervisor
does with a supervisee today, the supervisee
will do on their own tomorrow….