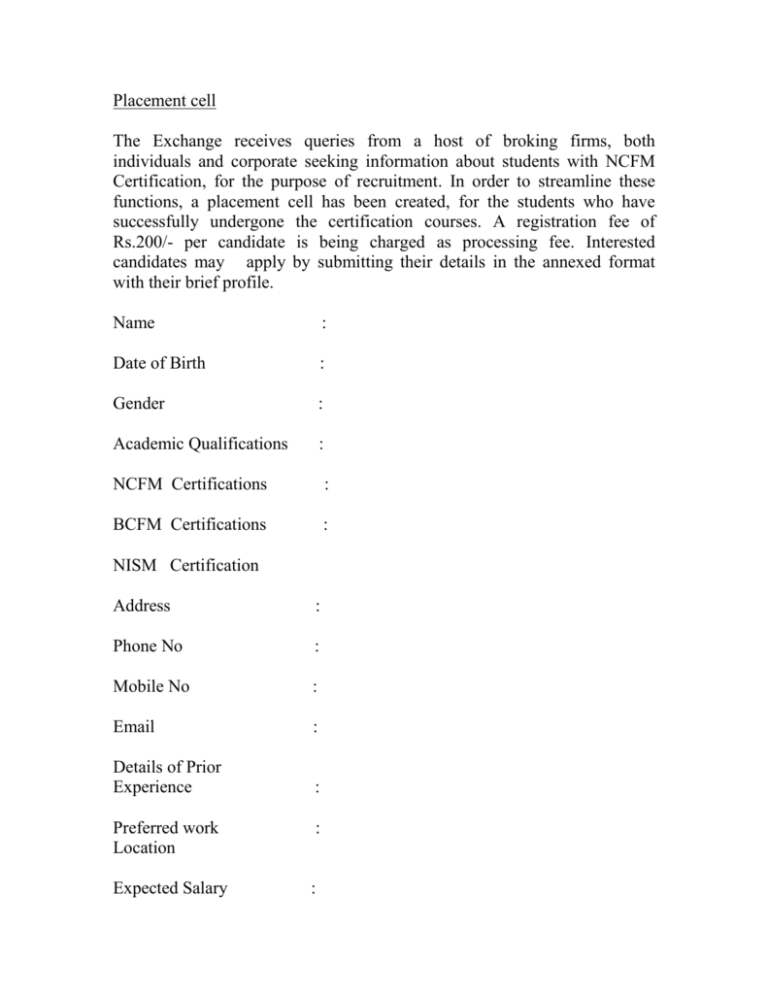 Placement cell
The Exchange receives queries from a host of broking firms, both
individuals and corporate seeking information about students with NCFM
Certification, for the purpose of recruitment. In order to streamline these
functions, a placement cell has been created, for the students who have
successfully undergone the certification courses. A registration fee of
Rs.200/- per candidate is being charged as processing fee. Interested
candidates may apply by submitting their details in the annexed format
with their brief profile.
Name
:
Date of Birth
:
Gender
:
Academic Qualifications
:
NCFM Certifications
:
BCFM Certifications
:
NISM Certification
Address
:
Phone No
:
Mobile No
:
Email
:
Details of Prior
Experience
:
Preferred work
Location
:
Expected Salary
:
Career Opportunities
There exists excellent career opportunities in the rapidly growing Financial
Sectors in India as well as in foreign countries in fields of:









Equity, Derivatives & Commodities
Investment & Research Industry
Fund & Portfolio Management
Financial Risk Management
Consulting & Advisory Services
Operations & process Management
Product Development & Distribution
Business process Outsourcing (BPO) & Knowledge Process
Outsourcing (KPO)
Dealers, Depositories & Depository Participants.