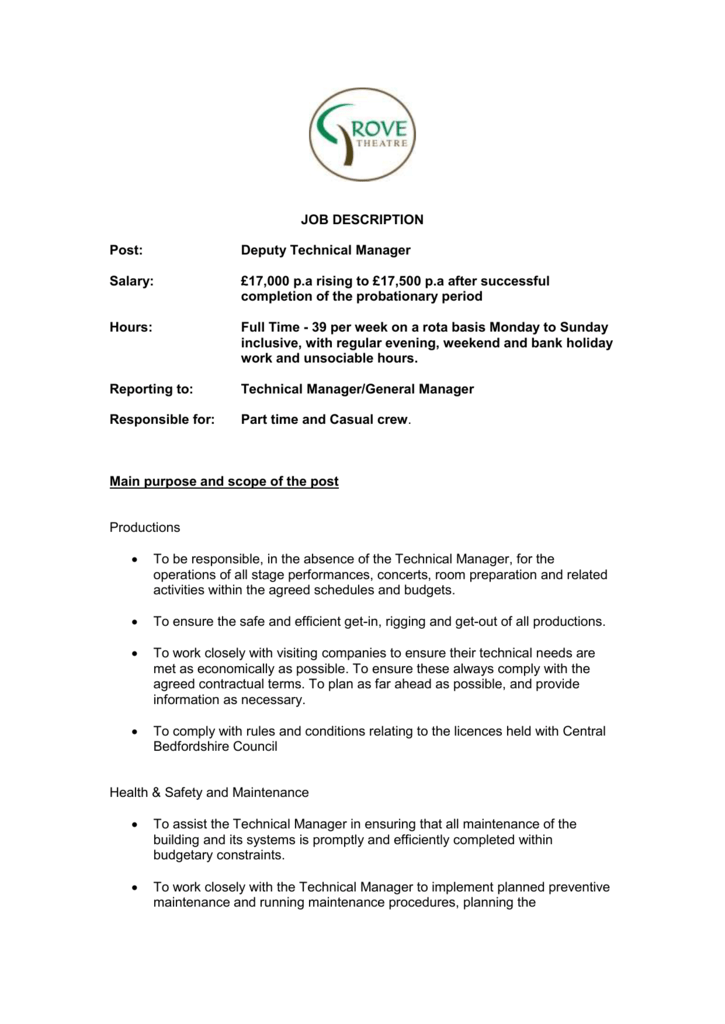 JOB DESCRIPTION
Post:
Deputy Technical Manager
Salary:
£17,000 p.a rising to £17,500 p.a after successful
completion of the probationary period
Hours:
Full Time - 39 per week on a rota basis Monday to Sunday
inclusive, with regular evening, weekend and bank holiday
work and unsociable hours.
Reporting to:
Technical Manager/General Manager
Responsible for:
Part time and Casual crew.
Main purpose and scope of the post
Productions

To be responsible, in the absence of the Technical Manager, for the
operations of all stage performances, concerts, room preparation and related
activities within the agreed schedules and budgets.

To ensure the safe and efficient get-in, rigging and get-out of all productions.

To work closely with visiting companies to ensure their technical needs are
met as economically as possible. To ensure these always comply with the
agreed contractual terms. To plan as far ahead as possible, and provide
information as necessary.

To comply with rules and conditions relating to the licences held with Central
Bedfordshire Council
Health & Safety and Maintenance

To assist the Technical Manager in ensuring that all maintenance of the
building and its systems is promptly and efficiently completed within
budgetary constraints.

To work closely with the Technical Manager to implement planned preventive
maintenance and running maintenance procedures, planning the
maintenance schedule, co-ordinating maintenance cover and overseeing
maintenance contracts and contractors.

To assist with the management the implementation and monitoring of
procedures and facilities in accordance with the Management of Health &
Safety at Work Regulations (1999) for all theatre employees, visiting
companies and patrons.

To ensure the safe, tidy & efficient use of the storage areas within the theatre.

To ensure the safe and efficient operation, maintenance and PAT testing of
all electrical equipment located in the theatre.

To assist completing Risk Assessments where necessary

To ensure that lamping and general maintenance of the building is carried out
within the agreed parameters.

To monitor energy use and advise on possible savings.

To attend training courses as required in order to further self-development.

To complete any other delegated task that may assist the smooth running of
the department and to undertake other relevant duties as reasonably
correspond to the nature of the post.
General

To support the Technical Manager in all other aspects of the technical
departments' activities and be responsible for managing the department in
his/her absence.
KNOWLEDGE/EXPERIENCE/SKILLS REQUIRED –
Essential
 Experience of a similar type of role.
 Knowledge of Lighting Sound and Stage equipment
 Experience of Maintenance work.
 Flexible approach to work.
Desirable
 1st Aid Certificate.
 Experience of supervision.
 Full Clean Driving Licence.