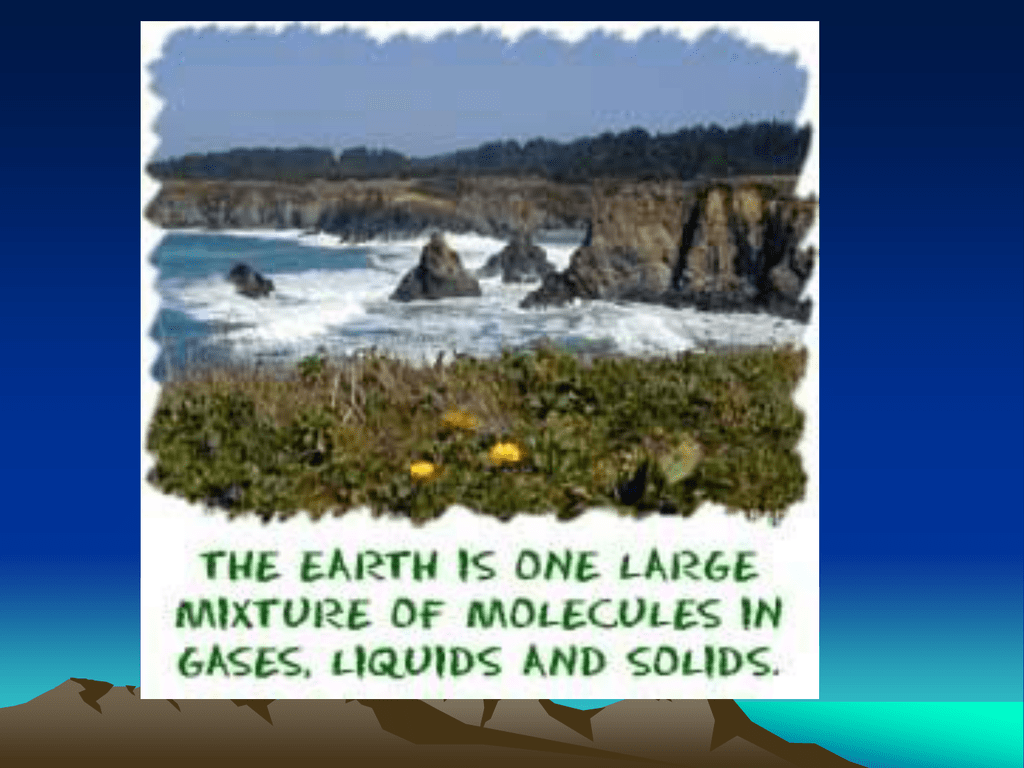 Class Starter
Use a concept map and/ or drawings to
show your understanding of the following
terms relating to the material world.
matter
mixture
atom
molecule
heterogeneous mixture
pure substance
compound
homogeneous mixture
element
What is MATTER?
• Matter is anything that has mass and
takes up space (volume).
• All matter is made up of tiny particles
called atoms.
– These particles are constantly moving, they
are never stable.
– This is known as the particle theory of matter
What is an ATOM?
• An atom is the
smallest particle of
matter.
• Atoms are composed
of subatomic particles:
– protons (+)
– neutrons (neutral)
– electrons (-)
All about ATOMS
• Atoms rarely exist alone in
nature, instead they
combine with other atoms
to form MOLECULES.
• Molecules consist of atoms
bonded together by
chemical forces.
Example: Water (H2O)
Complex Molecules
What is the difference between…
a pure substance, heterogeneous mixture
and homogeneous mixture?
Pure Substance
Homonegenous Mixture
Heterogenous Mixture
Pure Substances
• There are two types of pure substances,
elements and compounds.
• An ELEMENT is a substance that cannot
be separated into simpler substances by
chemical reactions.
• IT IS COMPOSED OF ONLY 1 TYPE OF
ATOM!
– Examples: gold, carbon
Gold
Elements
• Each element is represented by a symbol:
– the first letter is always a capital
– if there is a 2nd or 3rd letter it will always be
lower-case.
• There are over 100 elements known to
man but only 25 of them are essential to
life
• carbon (C), oxygen (O), hydrogen (H) and
nitrogen (N) alone make up 96% of all the
matter on Earth
Periodic Table
Pure Substances
• A COMPOUND is a
chemical substance of
two or more different
chemically bonded
(attached) elements.
• It consists
of more than 1 type
of atom
Example: salt (NaCl)
What is a MIXTURE?
• A mixture is any substance that contains
at least 2 different types of substances or
particles.
• There are two types of mixtures:
– Homogeneous
– Heterogeneous
Heterogeneous Mixtures
• You can visibly see the 2
particles.
– ex: vegetable soup, granite
• The substances can be
separated physically
(mechanically).
Homogenous Mixtures
• You cannot visibly
distinguish the two
particles.
– ex: apple juice, tap
water
• The substances
can be separated
chemically
Homogenous Mixtures
• A solution is homogeneous mixtures in the
liquid phase.
• A colloid is homogeneous mixtures in
which the substances that compose it can
be distinguished using a microscope.