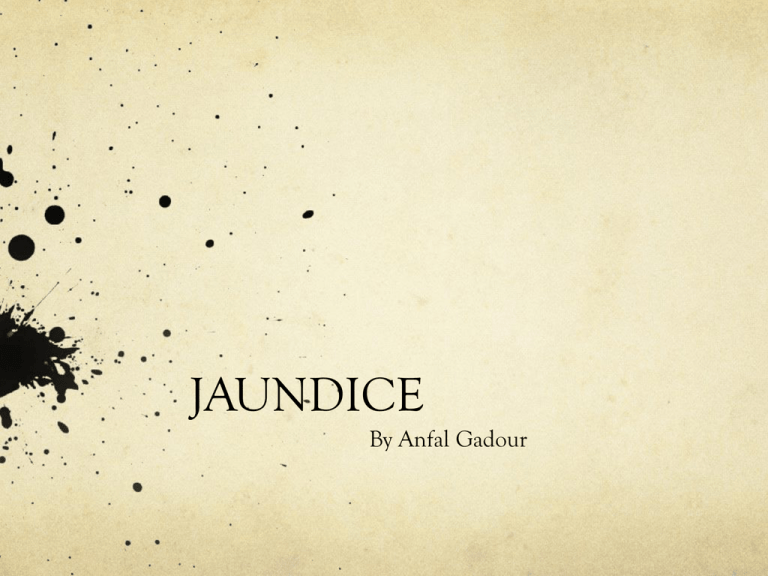 JAUNDICE
By Anfal Gadour
Objectives
•
Definition of Jaundice
•
Bilirubin Metabolism
•
Investigations
•
Categories
•
Common causes and management
What do you already know?
How would you define jaundice?
What is the difference between conjugated and
unconjugated bilirubin?
How would you class the different causes of jaundice?
What would you ask about in the history?
What would you look for on examination?
What is corvorsiers law?
What are the most important investigations?
Jaundice (icterus)
Definition: Yellow discoloration of the skin and
mucous membranes
Due to increased Bilirubin concentration in the body
Detectable when plasma levels are greater than 50
micromol/l (normal 3-17)
Bilirubin Metabolism
Haemoglobin
GLOBIN
FE 2+
LIVER
BILE
SI
Investigations
•
LFTS: Bilirubin, ALP, AST, ALT, GGT
USS abdo: GB, Cystic Duct, mass
ERCP/MRCP: Stone, Biliary system
Categories
Prehepatic
Hepatic
Posthepatic
Prehepatic
Due to Haemolysis causing increased bilirubin
production
Decreased uptake by liver
Decreased conjugation
 unconjugated bilirubin builds up in blood
Water insoluble – therefore doesn't enter urine
Causes: Physiological (neonates), haemolysis, Gilberts
syndrome
Hepatic/Hepatocellular
Hepatocyte Damage
Causes: hepatitis, alcoholic hepatitis, liver cirrhosis,
liver metastases, rarer: haemochromatosis, AIH
Posthepatic
Obstructive jaundice
Common bile duct is blocked
Bilirubin overspills into blood – build up of conjugated
bilirubin
Water soluble – excreted in urine – dark
Less conjugated bilirubin can reach the bowel – pale stools
If severe – pruritus
Causes: common bile duct stones, pancreatic cancer
Gallstones
Present in 10-20% of population
Cholesterol and mixed
Usually asymptomatic
Risk factors: 4F's
Complications..
Biliary colic
Pain associated with temporary obstruction of cystic or
CBD by a stone
Severe constant pain, subsides over several hours
Pain radiates to right shoulder. Vomiting
Examination normal
Diagnosis: hx, raised ALP and bilirubin. ABSENCE
OF INFLAMMATORY FEATURES.
Manage: analgesia, elective cholecystectomy
Acute Cholecystitis
Stone in cystic duct or GB neck
Hx similar to biliary colic.
However, progresses to constant severe pain in RUQ
Fever, tenderness and guarding
Murphys sign
INFLAMMATORY FEATURES – rasied WCC, fever, deranged
LFTS, USS
Manage conservatively: NBM, IV fluids, Analgesia, IV abx
Cholecystectomy
Ascending Cholangitis
Infection on biliary tree
Charcots triad – RUQ pain, Fever, Jaundice
Dark urine, pale stools, pruritus
Inv: raised WCC, Blood cultures, Deranged LFTS,
USS, CT, ERCP
Manage: Fluid resus, Analgesia, IV abx, ERCP
Pancreatic cancer
•
Painless Jaundice
•
Older
•
Pale stools, dark urine
•
Weight loss
•
Palpable GB?
•
Usually head of the pancreas
•
Diagnosed on CT
•
Poor prognosis
Any Questions?