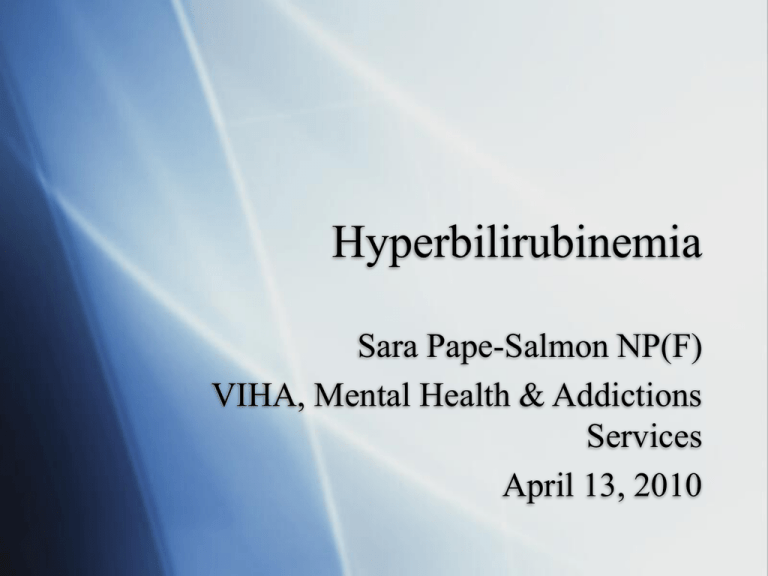 Hyperbilirubinemia
Sara Pape-Salmon NP(F)
VIHA, Mental Health & Addictions
Services
April 13, 2010
Demographics
 H.H.
 64 year-old female
 Eastern European descent
 Resides in Victoria
PMHx:
 Paranoid schizophrenia
 Obesity
 Over-flow incontinence likely
PSHx:
 Tubal ligation
Medications & Allergies:





Loxapine 25 mg OD
Multivitamin
Folic Acid
Vitamin B12
NKDA
Social Hx:
 Lives alone
 No ETOH, currently non-smoker (remote
20 yr hx), no IVD/illicit drug use
 Receives intensive MHAS out-reach
services
 Family hx is not known
Chief Concern
 Serum icterus, slight (incidental finding)
 Fatigue?
Lab Findings:





Serum indices = slight icterus
ALT, AST = normal
Total bilirubin = high (29 umol/L)
Conjugated bilirubin = normal (3 umol/L)
? Unconjugated bilirubin (was not
obtained/tested)
Dx & Pathophysiology
 Gilbert Syndrome
 Pathophysiology
 Most common inherited cause of unconjugated
hyperbilirubinemia (recessive trait UGT1 gene)
 Underactivity of the conjugating enzyme
system (diphospate glucuronyl transferase)
 Benign condition
Physiology Review
 Bilirubin conjugation
 Bilirubin = byproduct of RBC destruction
 In plasma bilirubin binds to albumin & is lipid
soluble = "unconjugated bilirubin"
 Unconjugated bilirubin can cross biologic
membranes
Physiology Continued
 Bilirubin conjugation cont:
 Unconjugated bilirubin moves into sinusoids in the
hepatocyte & joins with glucuronic acid & becomes
water soluble = "conjugated bilirubin"
 Conjugated bilirubin, now H2O soluble, can be
excreted
 Excreted in urine (sm amt as urobininogen) and in feces
(mostly)
Signs & Symptoms
 Usually dx around puberty
 Often precipitated by intercurrent illness,
dehydration, menstrual periods, stress, fasting
states
 Abdominal cramps
 Fatigue
 Malaise
 Mild jaundice intermittently in some
 Many people are asymptomatic
Differentials







Hemolysis
Hematoma
Rhabdomyolysis
Acute or chronic liver disease
Infections
Cardiac disease
Medications (e.g. Atazanavir, probenicid, some
antibiotics)
 Thyrotoxicosis
Laboratory Studies
 CBC including retics and blood smear (exclude
hemolysis, RBC abnormalities)
 Lactate dehydrogenase
 LFT's
 Conjugated and unconjugated bilirubin
 Dx: Normal CBC, retic, blood smear, LFT's, +
unconjugated hyperbilirubinemia on several
occasions, + absence of other disease process.
Treatment




Reassurance of benign nature
Normal life expectancy
No dietary or activity restrictions
No medications for treatment
References:
 McCance, K.L., & Huether, S.E. (2002).
Pathophysiology: The biologic basis for disease in
adults and children. (4th ed). Mosby Inc. St.
Louis, Missouri.
 Mukherjee, S. (2009). Gilbert Syndrome. Found
on-line at
http://emedicine.medscape.com/article/176822overview.