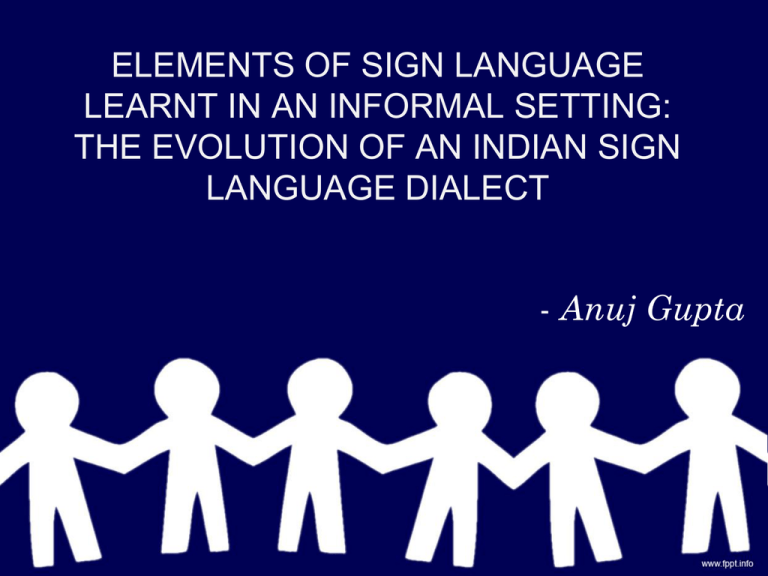 ELEMENTS OF SIGN LANGUAGE
LEARNT IN AN INFORMAL SETTING:
THE EVOLUTION OF AN INDIAN SIGN
LANGUAGE DIALECT
- Anuj Gupta
Introduction
• Learning of Sign Language in an informal
setting rather than study of non standard
elements.
• Basic approach is similar to observing
Colloquialism in any Language.
• The distinct elements should better be
characterized as 'colloquial' rather than 'non
standard'.
Motivation
• Nicaraguan Sign language development.
For the first time the evolution of a new
Language was observed.
• Researchers got interested only after
about 25 years of actual evolution.
• I tried to investigate the very grass root
level elements that initiate development
of a new word or phrase in sign
language.
Elements of Dataset
•
•
•
•
•
Alphabets
Words: nouns, verbs, Adjectives, Adverbs
Phrases: nouns with adjectives and adverbs.
Sentences: tenses
Event telling and paragraphs: description of
small incidents
• Story telling: understanding a story,
reconstruction
• Drawing Inference from other sign
language.
Observation
• As proposed by Noam Chomsky that all
languages are governed by a 'universal
grammar'. The Sign Language (both
standard and non standard) follow it.
• Sentiments such as suspicion though
difficult to express to them but were
identifiable.
• The elements that were different were
(according to the data that I could
evaluate) due to alien nature of the
element rather than their vocabulary.
All such elements were related to the
nearest similarity in their knowledge.
Side observations
• Highly developed observation skills.
• Understanding and inference drawing
skills were highly developed.
• Better understanding by combination of
picture and keywords rather than using
only sentences.
• Street smartness and practical outlook.
Limitation
• Subjects were exposed to verbal
training.
• Very low education level. Experienced
kids were trained and the less
experienced ones were not able to
express themselves to us.
• Tests were performed in very much
formal settings rather than in natural
environment.