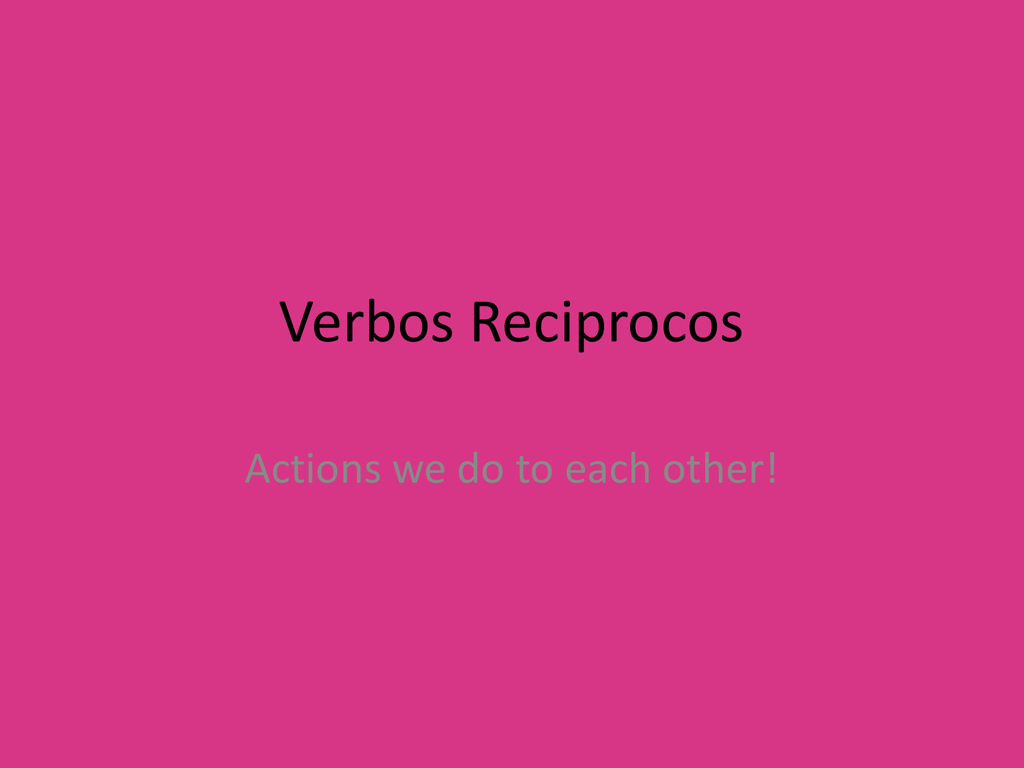 Verbos Reciprocos
Actions we do to each other!
Reciprocal Actions
• Get conjugated like reflexive verbs.
• Only happen in Nosotros, Vosotros and Ellos
forms. (Because you need 2 to reciprocate)
• USE: NOS OS SE as reciprocal pronouns.
Some examples:
El año pasado, mis tíos se casaron.
(Last year, my aunt and uncle got married)
Cuando los invitados llegaron a la boda, se
saludaron.
(When the guests arrived, they greeted each
other.
Rules of pronoun placement
• Same old, same old:
1 verb, pronoun goes in front of the verb.
• Two verbs, pronoun goes before the 1st verb
or on the end of the 2nd verb.
• Present progressives (-ANDO, -IENDO) same
rules as verb pairs.
Common reciprocal verbs…
CASARSE = to get married
ABRAZARSE
BESARSE
DARSE LA MANO
LLEVARSE BIEN
LLEVARSE MAL
PELEARSE
SALUDARSE
DESPEDIRSE
ENAMORARSE
DIVORCIARSE
Sometimes regular verbs can be used
as reciprocals
• Actions that you do on your own can also be
reciprocal.
• To show the difference just add the correct
pronoun.
EX: Se escriben  They write (to each other)
Practica
Escribe en su tablero
•
•
•
•
•
•
•
They shake hands
We say goodbye
Y'all fall in love
The boys fight
We get along well
They get divorced
The guests greet each other
Practica
•
•
•
•
•
•
•
They are going to kiss each other.
We need to hug each other.
They are kissing each other
Y'all are falling in love.
We get along well.
My brothers fought.
Y'all got married.