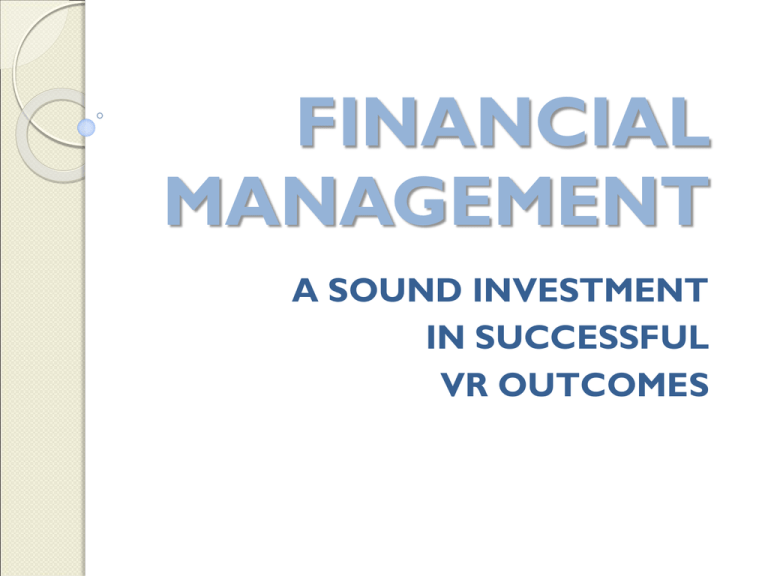 FINANCIAL
MANAGEMENT
A SOUND INVESTMENT
IN SUCCESSFUL
VR OUTCOMES
Fiscal Controls and
Contract Management
INTERNAL AND EXTERNAL
FISCAL CONTROL
Presenters:
Phil Maestri, Director, Risk Management Services,
U.S. Department of Education,
phil.maestri@ed.gov, (202) 245-8278
Bruce Snethen, Deputy Director, Iowa Department for the
Blind, Bruce.Snethen@blind.state.ia.us, (515) 281-1293
David Steele, Chief SMPID Fiscal Unit,
U.S. Department of Education,
Rehabilitation Services Administration,
david.steele@ed.gov, (202) 245-6520
Fundamental Concepts
What is the definition of
internal controls?
GAO definition…
An integral component of an organization's
management that provides reasonable
assurance that the following objectives are
being achieved:
• effectiveness and efficiency of operations,
• reliability of reporting, and
• compliance with applicable laws and
regulations.
Management Controls = Internal Controls
Fundamental Concepts
Examples from your personal
life…
Controls
Reduce
Risks
Achieve
Objectives
Balance your
checkbook
Fraud, Mistakes
Account for
Cash
Lockup valuable
personal
belongings
Stolen property
Protect
belongings
Keep copies of
tax returns
Unable to provide
evidence of filing
Comply with
requirement to
file tax return
Fundamental Concepts
Examples from your business
life…
Controls
Reduce
Risks
Achieve
Objectives
Monitor grantee or
contractor
performance
Fraud, waste
and abuse
Use funds
efficiently and
effectively
Keep records to
track property
Stolen property
Protect assets
Implement & track
performance
measures
Nonachievement of
critical goals
Achieve
strategic plan
Fundamental Concepts
Why controls?
Management Attention and Attitude
Controls
Reactive
Proactive
Risk Management
Unmitigated Risks
Controls
Mitigated Risks
Time to Uncover
Slow
Controls
Faster
Cost to Fix
High
Controls
Lower
Operational Efficiency
Low
Controls
High
Fundamental Concepts
What do you need to do?
Be proactive by:
• Setting the right tone for internal
controls in your operation
• Making internal controls an
integral part of your day-to-day
responsibilities
•
Providing reasonable assurance
on the adequacy of your controls
You are key to the success of the goal
'improve controls' !!!!
Fundamental Concepts
Internal controls…
Span across all aspects of an organization
Increase the likelihood that goals will be achieved
Help the organization be more proactive
Can be used as a tool by managers to improve
operations
Are the responsibility of everyone
Managers must set a positive tone for others!
Standards of Internal Controls
Control Activities – Types of Control
Type
Definition
Example
Preventive
Deters risk from
being realized
Eligibility requirements are
verified against
independent party
information prior to award
Detective
Finds if risk does
get realized
Data mining to detect
fraud patterns
Corrective
Detects if risk
realized and
reacts
Thermostat in computer
room that protects
valuable equipment
Standards of Internal Controls
Five Standards of
Effective Internal
Controls
Information
Communication
n
io
at
Risk
Activities
ic
un
In
fo
rm
Control
m
at
io
n
m
Co
Control environment
Risk assessment
Control activities
Information and
communication
5. Monitoring
1.
2.
3.
4.
Monitoring
Assessment
Control Environment
Standards of Internal Controls
Risk Assessment –
Risk Identification Questions







How could we fail?
What must go right for us to succeed?
Where are we vulnerable?
What assets do we need to protect?
Do we have liquid assets or assets with
alternative uses?
How could someone steal from the
organization?
How could someone disrupt our
operations?
Standards of Internal Controls
Guide for Evaluating Risks
Likelihood
High
II
Area of Minimal
Concern
IV
Area of Most
Concern
Low
I
Area of Least
Concern
III
Area of Most
Concern
Low
High
Impact
Standards of Internal Control
Risk Assessment – Risk Management
Once risks are analyzed, consider how to:
 Manage risks; i.e., accept, mitigate
 How to schedule periodic re-evaluation
of risks and evaluation of the
effectiveness of risk mitigation
mechanisms; i.e., control activities
Standards of Internal Control
Example of Control Activities
Approvals (proper person)
 Authorization (proper usage)
 Verification
 Reconciliation
 Independent checks on performance
 Access controls
 Recording/documenting

Standards of Internal Control
Information and Communication
Factors
Factors to be considered
 Internal and external information on
operational performance provided to
management
 Information distributed to the "right"
people at the right time
 Effective communications
Standards of Internal Control
Monitoring Factors
Factors to be considered:
 Monitoring should be ongoing
 Separate evaluations take place
 Findings are resolved
Standards of Internal Control
Monitoring Ongoing Examples
Monitoring of grantees by reviewing and
using the Single Audit reports to help
assess grantee performance
 Monitoring contractor performance
against terms and conditions of contract
 Monitoring usage of cell phones,
purchase/phone cards

FY 2010 RSA MONITORING
INTERNAL CONTROLS
States
Monitored
= 13
Number of
Corrective
Actions That
Include
Internal
Controls = 20
2010
States With
Internal
Control
Findings = 10
(77%)
INTERNAL CONTROL
FINDINGS
CONTRACT MONITORING
Contract specifications and budget are
not detailed enough to allow for
determination of cost allowability.
 Contractor's performance with the terms,
conditions, and specifications of the
contract is not monitored and
documented.

POTENTIAL CONTROL ACTIVITIES
• Contract procedures ensure
specifications, and budget are
sufficient to allow for
determination of allowability.
• Contractor's performance with
the terms, conditions, and
specifications of the contract is
monitored and documented.
INTERNAL CONTROL
FINDINGS
CONTRACT PAYMENTS


Paying invoices without any supporting basis to
ensure services provided are allowable under
the VR program, or that the services are
provided in accordance with the individual's IPE.
Grantee does not have fiscal controls in place
that enable it to expend and account for funds
to such a degree that it can trace the funds for
each activity to ensure that the funds were
expended in accordance with Federal
requirements.
POTENTIAL CONTROL ACTIVITIES
• Supporting documentation compared to list of
acceptable documentation, allowable and
unallowable expenditures.
• Computation checked for accuracy.
• Adjustments to unallowable costs are made ,
where appropriate, and follow-up action taken
to determine the cause.
• Any changes made to invoices include date
change was made and information necessary
to identify individual who made the change.
• Policy for how rates are established
(reasonableness).
-Including indirect
costs in contract
budgets.
-Contractor costs
not being allocated.
-Line Item Budgets
for contract
services.
SEGREGATION OF DUTIES
The same individual:
 Enters the services to be provided for
consumers;
 Chooses the provider of those services;
 Authorizes the services, which obligates
agency to make payment for those
services; and
 Approves payment for the services.
POTENTIAL CONTROL ACTIVITIES
• Establish segregation of duties between
employees responsible for authorization
and reimbursement of services.
• Supervisors review procurement and
contracting decisions for compliance.
• Accountability for authorization is fixed
in an individual who is knowledgeable of
the requirements for determining
activities allowed and allowable costs.
Summary







Be proactive…
Participate in risk and self-assessments.
Ensure sound controls are in place, such as by
conducting management reviews.
Take action: prevent, detect, and correct issues.
Follow established policies and procedures and
discipline others for not following them.
Report fraud, waste and abuse.
Speak up if you notice opportunities for
improvement outside of your area.
Education Department General Administrative Regulations
(EDGAR) - http://www.ed.gov/policy/fund/reg/edgarReg/edgar.html
U.S. General Accountability Office Website: www.gao.gov
Search on "standards for internal control"
Federal Audit Clearing House: http://harvester.census.gov/sac
OMB Circular A133 Compliance Supplement:
www.whitehouse.gov/omb/circulars/a-133-compliance/06/06yoc.html
QUESTIONS?