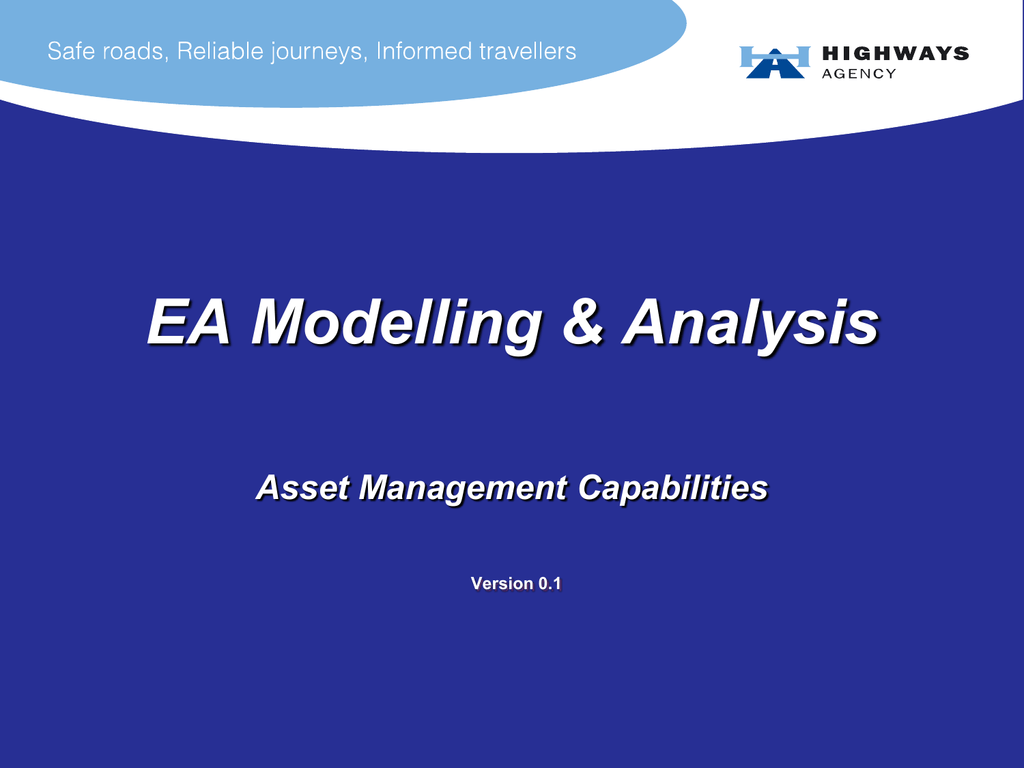 EA Modelling & Analysis
Asset Management Capabilities
Version 0.1
A High Level Capability Map links
Internal Capabilities with External
Capabilities
A. Customers
B. Customer Facing Channel Partners
1. Asset
Management
C. Suppliers
2. Network
Management
5. Collaborate
3. Collect
information
E. Financial Providers
(Treasury, PFI)
D. Other
Partners
4. Disseminate
information
F. Infrastructure & Compliance
Government: OGD's, DfT, EU
PAS-55: ASSET MANAGEMENT APPLIED
TO THE WHOLE LIFE OF ASSETS
PAS-55: IDEALISED MANAGEMENT
HIERARCHY
Asset Management Framework
Key Business Drivers
Maintenance
• HA's largest item of
expenditure
• About 1/3 of our
£6.5Bn budget
• Improved targeting
of interventions
• NAO's
recommendations
Scope of Maintenance
Systems/Services
HA PAVEMENT MANAGEMENT
SYSTEM (HAPMS)
As-Is (MapInfo Confirm
COTS) Capabilities
HAGDMS
System Features:
•
Access over the Internet via a standard web browser.
•
A map based interface and a comprehensive text search
•
•
•
•
•
•
•
facility.
A national database of all highways related geotechnical
reports and boreholes held by the HA and its Agents.
A repository for long term electronic records complying with
HA document management and Public Records Office
requirements.
Procedures for managing both the technical and financial
aspects of the geotechnical maintenance process.
Maps showing identified geotechnical hazards to allow
proactive and strategic asset management.
Complete Ordnance Survey mapping for the HA network.
A repository for remotely sensed data (e.g. aerial
photographs and LIDAR).
A database of geotechnical contacts within the HA and their
Agents.