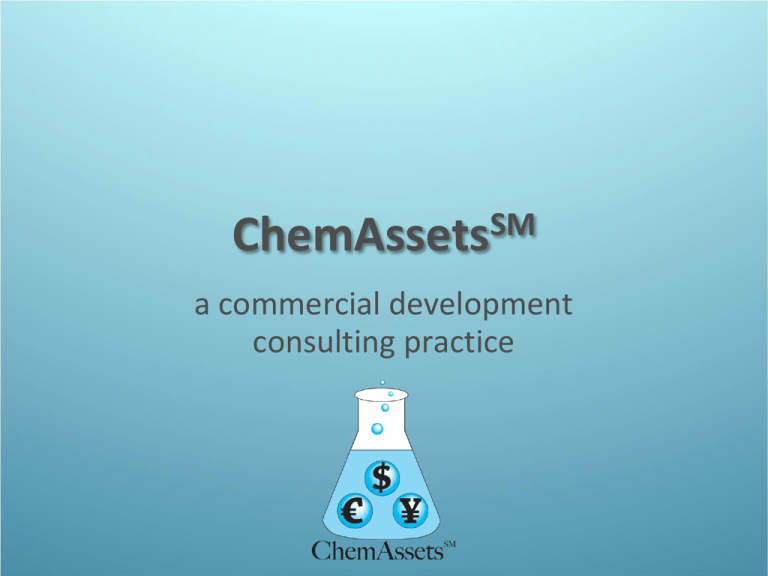 ChemAssetsSM
a commercial development
consulting practice
SM
ChemAssets
– Our Vision
ChemAssetsSM will SUCCESSFULLY DEVELOP the
market for our clients undervalued chemical
technologies and products.
SM
ChemAssets
– Our Mission
The launch and market development of your valuable property will
become the responsibility of ChemAssetsSM.
 We will assume the accountability for your valuable innovative
property.
 We will either collaborate with your staff or
 We can work independently
 We will achieve the commercial success you envisioned for your
technology.
 YOU will realize the anticipated profit on the otherwise idle
asset.
SM
ChemAssets
– What We Will Do
 Successfully bring underperforming chemical assets to the market.
 Independently undertake the commercial development function,
thereby allowing your staff to continue its operational functions.
 Seek appropriate partners, who will provide positive motivation to the
success of the product/technology.
 Complete value development of the assigned asset within an agreed
upon timeframe.
 Fit the asset to the company's commercial needs.
 Provide positive value for the asset's inventor.
ChemAssetsSM – What the
Economic Benefits Are
 A commercial development plan reducing your costs to a
fraction of anticipated level.
 Assist in exploring sustainable technologies with only
minimal financial and resources expenditures by you.
 Charges are based on rate of success with small upfront
costs to cover expenses.
 Objective assessment so you can realize a bottom line gain
from the commercialization of technology or sale of the
asset.
SM
ChemAssets
Personal Care
 preservatives
 delivery systems
 anti-aging actives
 rheology modifiers
Food/Nutrition
 anti oxidants
 nutraceuticals
 weight reduction actives
Materials Protection
 anti-fouling agents
 dry film microbial control
 nano particles
– Our Target Markets
Water Treatment
sustainable products for
recreational uses
potable water reclamation
Hygiene
curatives for sick building
syndrome
hygienic coatings
microbial control technologies
SM
ChemAssets
– Who We Are

ALLAN KUSHINS is a skilled marketing and corporate/ commercial development executive with
45 years experience for major corporate entities in Life Sciences and Specialty Chemicals
industries. Allan has had responsibilities for acquisitions from initiation to closing, licensing of
new technologies, implementation of market development programs, negotiation of alliance
agreements, and management of major growth programs. Armed with MBA and engineering
degrees, he is ready to apply his passion to launching your dormant assets.

STEPHEN HINDEN is a results-driven executive with over 40 years of broad based Commercial
Development experience in the Chemical Specialties, Ingredient Supply and Consumer Package
Goods Industries. He has a proven track record in New Product Development, Strategic and
Opportunistic Market Development, Technology Alliances, Licensing and Acquisition. With an
MBA in Marketing and an MS in Pharmacy, he has successfully launched and grown major
Consumer, Household and Personal Care brands.

ASSOCIATES include a group of chemists, microbiologists, pharmacists, formulators and business
professionals.