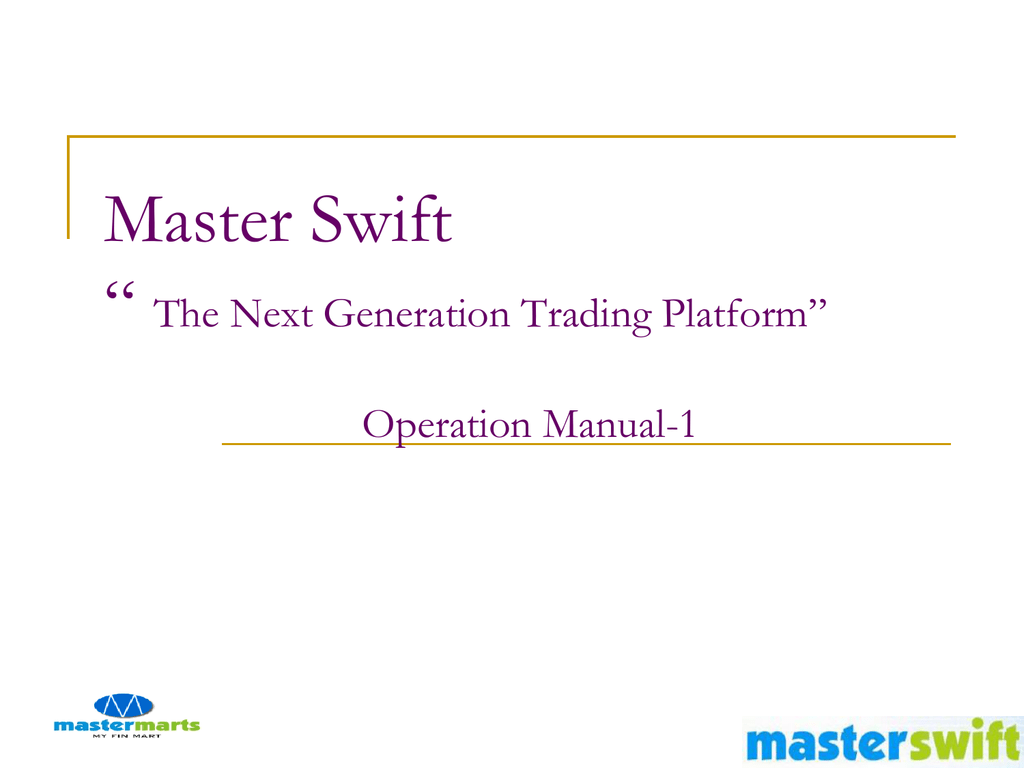 Master Swift
" The Next Generation Trading Platform"
Operation Manual-1
Key Differentiating Features:
1.
2.
3.
4.
5.
6.
7.
8.
9.
10.
11.
12.
13.
14.
Immediate credit for sale of pool stock and POA stock
Allows short selling in third party DP stock
Real time stock collateral valuation benefit
Multiple connectivity across VSAT or internet reducing downtime
High broadcast of rates even on VSAT
Automatic family wise limits
Live Candlestick charts for advanced technical analysis
Client global position view for the client apart from dealer position
Order level spread margining for spread trades without using the spread order window
Anywhere net position/trade book/order book
Risk Control of Online Clients at Branch Level
Online client trades at branch level
Real time live news from Dow Jones integrated with market watch – a first in India
AMO and basket orders allowed by default
To be released shortly:
1.
2.
3.
4.
5.
Timer based square off of agri and non agri commodities allowing intra-day trades in MCX and NCDEX
Timer based square off in currency segments of MCX-SX and NSE
Higher intra-day leverages in cash, FNO , currency and commodity through "cover order" product
Mobile Trading
EOD trade confirmation/net position on client's mobile at the end of trading session
Main functions in Master Swift










Adding market watch profile
Placing order (F1, F2)
Product Types
Snap Quotes
Order book
Trade book
Net Position
Holding view
Report generation
User settings
For new user : Click on the question mark sign ( ? )
for your login password
Enter your user name that is login ID, E-mail and PAN Card No.
to request for your password and password will be sent on your
given e-mail id.
Adding market watch profile
Order entry –buy ("F1" ,"+")
Order entry- Sell ("F2, "-")
Product Types

CNC:- ALL DELIVERY ORDER OF BUY AND SELL
ORDER OF POOL STOCKS AND MASTER DP STOCKS
SHOULD BE PLACED IN 'CNC' PRODUCT TYPE.

MIS:- ALL INTRADAY BUY AND SELL ORDERS (cash)
SHOULD BE PLACED IN "MIS" PRODUCT TYPE AND IT WILL
BE SQUARED OFF 15 MINUTES BEFORE MARKET
CLOSING AUTOMATICALLY.

NRML:-
SELL ORDERS OF OTHER THAN MASTER DP
SHOULD BE PLACED IN "NRML" PRODUCT TYPE. F&O
ORDER WHICH YOU WANT TO TRADE SHOULD ALSO BE
PLACED IN "NRML" TAG.
ORDER STATUS (F-3)
TRADE BOOK ("F8")
SNAP QUOTE OR MARKET PICTURE ("F6")
NET POSITON ("ALT"+"F6")
ADMIN POSITON ("F11")- For Global client position across
internet platform, dealer platform, call center and mobile
HOLDING VIEW
GET HOLDING (ENTER CLIENT CODE AND PRESS GET HOLDING TO VIEW
POOL STOCK AND MASTER DP HOLDING )
TO VIEW RMS LIMITS (CTRL+SHIFT+V)
CLICK USER SETTING IN PREFERENCES FOR ANY TYPE OF
USER SETTING (RMS, EVENT, ORDER, APPEARANCE ETC)
REPORT GENERATION FOR TAKING BACKUP
Note:- All trades done in MIS tag will be automatically squared at
15 minutes prior to market closing or any other time as may be
communicated from time to time by the company. Position can be
converted from MIS to CNC or NRML or vice-versa before 20
minutes before market closing by selecting trade(s) from trade
book (F8) and clicking on position conversion.
Any direct or indirect loss arising on account of non square off due
to any reason including but not limited to system failures etc. shall
be borne by the client. This applies to not only timer based square
off but any type of square off which the company does from time
to time.