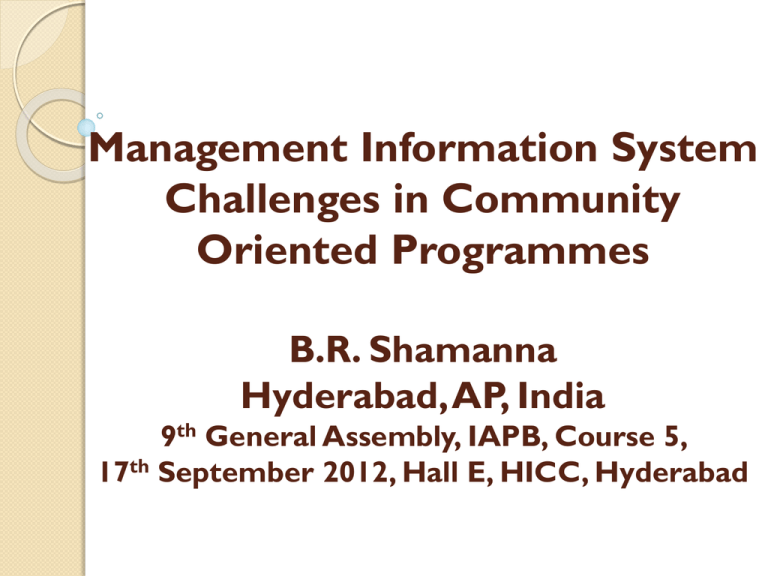 Management Information System
Challenges in Community
Oriented Programmes
B.R. Shamanna
Hyderabad, AP, India
9th General Assembly, IAPB, Course 5,
17th September 2012, Hall E, HICC, Hyderabad
Acknowledgements
Dr. G.V.S. Murthy, India
Dr. Hans Limburg, Netherlands
"Those who have the
data make the rules"
Management Information System
(MIS)
MIS is an organized method of
providing accurate, timely,
relevant data to
leadership/managers
Components of MIS
Data
Collection
Dissemination
Data Flow
Data
Compilation
Interpretation
Evaluation
Analysis
Why do we need MIS for eye care?
Adequate eye care infrastructure
 Adequate equipment
 Adequate staffing
 Good professional knowledge and skills
 High output and good quality of care

NOT a clinical MIS to control individual
patient care!
Current situation & Challenges
WHO standardised indicators (2002)
 No standardised MIS software
 Some countries developed own
systems
 NGOs often have their own system
and hence incompatibilities
 Difficult to evaluate achievements
within and across countries

Need for a robust, standardised MIS
Requirements:
 Standardised indicators
 Standardised protocol for data
collection and reporting
 Emphasis on management of eye care
services in country
 No individual patient data
 Comparable between countries
Need for a robust, standardised MIS
Web-based software
 Multilingual
 Data entry and automatic data
analysis and feedback at district, state
and country level
 Mapping of indicators to identify
trends

Features








User Friendly / Menu Driven / Multi - user
On Line Help
Exception Reports
Adequate system / Data Security
Back up / Restore option
Data transfer from the old to the new
system
Reports / Outputs both in Graphical and
tabular Form
User - Defined Components / Categories
MIS – The Indian Programme
Experience
PURPOSE
 Dissemination of Information
 Status of Eye Health
 Augmentation of Ophthalmic
Services
 Infrastructure support
 For Monitoring and Evaluation
Some Features of the MIS
Service Delivery Details
 Blindness Prevalence Tracking
 Expenditure Monitoring
 Infrastructure Monitoring
 Eye Care Facility Mapping

CATARACT SURGICAL RECORD
VILLAGE BLIND REGISTER
QUARTERLY REPORT FORMAT
QUARTERLY REPORT FORMAT
Points to Ponder!
• Learn from experiences of countries
that have introduced MIS
• Do not commit mistakes which have
been committed Ex: Frequent reviews
and no capacity!
• Use MIS to advocate and sustain
funding and resource commitments
• Build a generic model that allows
comparisons and compatibilities.
Thank You!