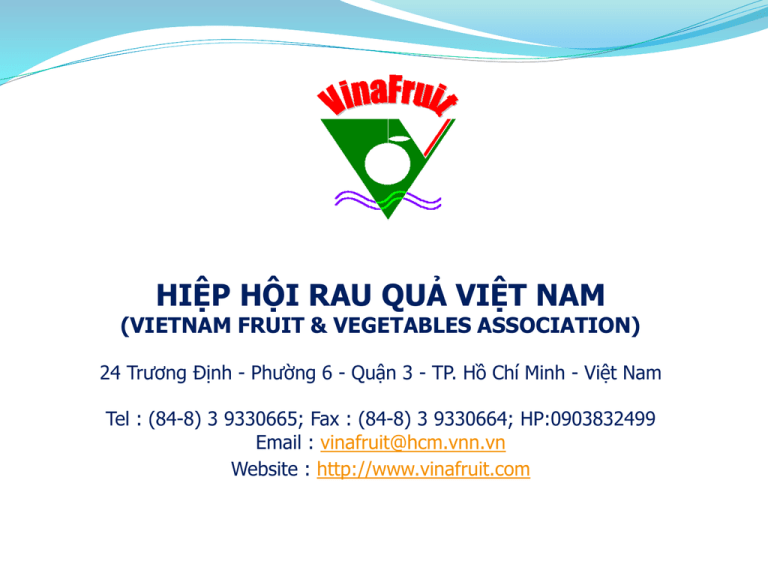 HIỆP HỘI RAU QUẢ VIỆT NAM
(VIETNAM FRUIT & VEGETABLES ASSOCIATION)
24 Trương Định - Phường 6 - Quận 3 - TP. Hồ Chí Minh - Việt Nam
Tel : (84-8) 3 9330665; Fax : (84-8) 3 9330664; HP:0903832499
Email : vinafruit@hcm.vnn.vn
Website : http://www.vinafruit.com
OVERVIEW OF CURRENT VIETNAMESE
FRUIT AND VEGETABLE EXPORT
Huynh Quang Dau
Vice Chairman of Vinafruit
 With favourable climate and soil conditions like 70% of the
population living on agriculture and fruit - vegetable farming
area reaching some 1.5 million hectares, Vietnam has the
potential for long-term sustainable development of fruit and
vegetable production and exportation once it has a national
development strategy.
I- Factors affecting fruit and vegetable export
development:
1. Pros
 - Rising demand on global markets.
 - Bilateral and multilateral trade agreements.
 - Competitiveness of Vietnam.
 - Right production and market strategies.
 - International standardisation and certification.
 - Added value in products.
 - Processing and post-harvest technology.
 - Agreements on plant protection.
I - Factors affecting fruit and vegetable export development:
2. Cons
 - Unfocused supply, limited frozen warehousing
system, and limited quality control
 - Food safety, origin, pesticide/herbicide residue,
intellectual property rights.
 - Impacts of global economic crisis, rising production
costs, USD/VND exchange rate.
 - Regulations on plant protection in some importing
countries, technical barriers.
 - Loss and damage.
According to foreign specialists,
Vietnam is the fifth largest producer of
fruit and vegetables in Asia.
II - TÌNH HÌNH XUẤT KHẨU
- Năm 2011 kim ngạch XK tiếp tục tăng, 10 tháng đầu
năm đạt 515 triệu USD, tăng 40,6 % so với cùng kỳ
(10 tháng đầu năm 2010 đạt 366 triệu USD) và đạt
109,5% kế hoạch năm 2011 (470 triệu USD).
- Dự kiến năm 2011 kim ngạch đạt khoảng 600 triệu
USD.
Fruit and vegetable export turnover of Vietnam on 5
major markets 10 months in 2011
1) Strengths:
 - Exporters have significantly invested for export
market expansion. To date, Vietnamese fruits and
vegetables have been present in 50 countries in the
world, with major shipments destined for China,
Japan, the United States, the Netherlands, Russia,
Taiwan, Germany, France, the United Kingdom,
Ukraine, Australia, Canada, South Korea,
Singapore and Thailand.
1) Strengths:
Most exporters are aware of the importance of
quality control and food safety. A number of big
export processors have been certified HACCP, ISO,
BRC, Kosher and Halal certificates, etc
1) Strengths:
 - Companies have accumulated trading experience
and practices in major markets like the European
Union, the United States and the Middle East.

- Vietnamese exported vegetables and fruits
are being diversified (individually quick-frozen IQF, fresh, canned, etc)
2) Weaknesses:
 - Export value growth is steady but the export of fruits and
vegetables still occupy a very small proportion of the
country's exports.

- Weaknesses of Vietnamese fruit and vegetable sector:
Fruits and vegetables are not a major export earner; thus, the
Government and concerned agencies do not have as much
care and support for it as rice, seafood, rubber, tea and
coffee. They lack investment for fruit and vegetable
reproduction. Vietnam does not have seedling centres while
seedling supply system is not very good, farmers have
limited knowledge in food safety and hygiene due to
shortage of guidance. In the meantime, these aspects are
very good in Thailand, Japan, China and other nations.
III- OBJECTIVES:
 Authorised by the Prime Minister, the Minister of
Agriculture and Rural Development signed Decision No.
52/2007/QD-BNN dated June 5, 2007 on ratification of the
fruit, vegetable, flower and ornamental plant development
plan to 2010, with vision to 2020, as follows.
1) Acreage and production:
 - Fruit trees: Acreage: 1 million hectares; output: 10 million
tonnes. Particularly, the area of staple fruit trees for export
is 255,000 hectares.
 - Vegetables: 700,000 hectares; output: 14 million tonnes.
Particularly, 100,000 hectares are set aside for safety and
high-tech production.
2) Export turnover:
 - Export revenue is targeted at US$1 billion in 2015
IV-RECOMMENDED SOLUTIONS TO EXPORT
 Main solutions recommended by ministries and
central agencies are centralised fruit production;
processing - preservation; science - technology farming extension; sales; and support policies.
Farmers will follow Global GAP production
practices and standards; enterprises are provided
preferential loans for renovating technology,
processing, preservation; supported to strengthen
links with other members of the Association, and
with farmers, etc.

Our Association puts forth some solutions as
follows
IV-RECOMMENDED SOLUTIONS TO EXPORT
 Leading standpoints
 To increase the value, export-driven fruits and
vegetables are necessarily treated in the following
order of priority: Fresh - frozen - canned - juiced and
dried.
 Develop both domestic and export markets at the
same time. The domestic market will serve as a
fulcrum for exportation in case of difficulties.
 Processing and preserving sector can handle all
products at peak harvesting time.
 Form centralised material zones for enterprises from
scattered farming areas owned by farmers, thus
ensuring stable sufficient supply for them.
IV-RECOMMENDED SOLUTIONS TO EXPORT
 Recommended solutions
 1 Have insurance for agricultural investment and long-term
sales contracts, particularly for products with relatively
stable markets, thus assuring enterprises and minimising
risks for them in the process of investing and building
material zones
 2 Have incentives for production and preservation of fruits
and vegetables, especially innovative energy-saving
technologies.
 3 Have incentives and supports for formation of more
export-oriented cooperatives and units on the basis of
linking interests of farmers and strengthening the linkage
of four stakeholders (State, scientists, farmers and
companies).
IV-RECOMMENDED SOLUTIONS TO EXPORT
 4, Organise training courses with the purpose of
raising awareness and skills in marketing, quality
control, food safety, farming and post-harvest
technologies, out-of-season farming techniques, etc.
for exporters, processors and farmers.
 5, Have policies and mechanisms to support farmers to
change to new crop varieties with higher yield and
quality
 6, Continue supporting trade promotion programmes
with the aim of expanding export markets. In domestic
markets, consumers will be directed to use Vietnamese
fruits and vegetables.
IV-RECOMMENDED SOLUTIONS TO EXPORT
 7- Request central government agencies to work with
the Vietnam Ship Agents and Brokers Association,
transporting companies to introduce programmes in
support of Vietnamese fruit and vegetable sector,
particularly apply lower fares for transporting
Vietnamese fruits and vegetables to key markets like
the European Union and the United States to enhance
competitiveness and increase export volume
IV-RECOMMENDED SOLUTIONS TO EXPORT
 The Vietnamese fruit and vegetable sector still faces
aforesaid difficulties and challenges but its production
potentials and prospects remain high. In couple with
abovementioned recommended solutions, the
Vietnam Fruit & Vegetables Association is determined
to work with all concerned authorities, farmers,
scientists and companies to unlock potentials,
promote advantages to realise the export objectives
from now till 2020 and make Vietnam become a major
exporter of fruits and vegetables in the region and the
the world.
Thank you very much.