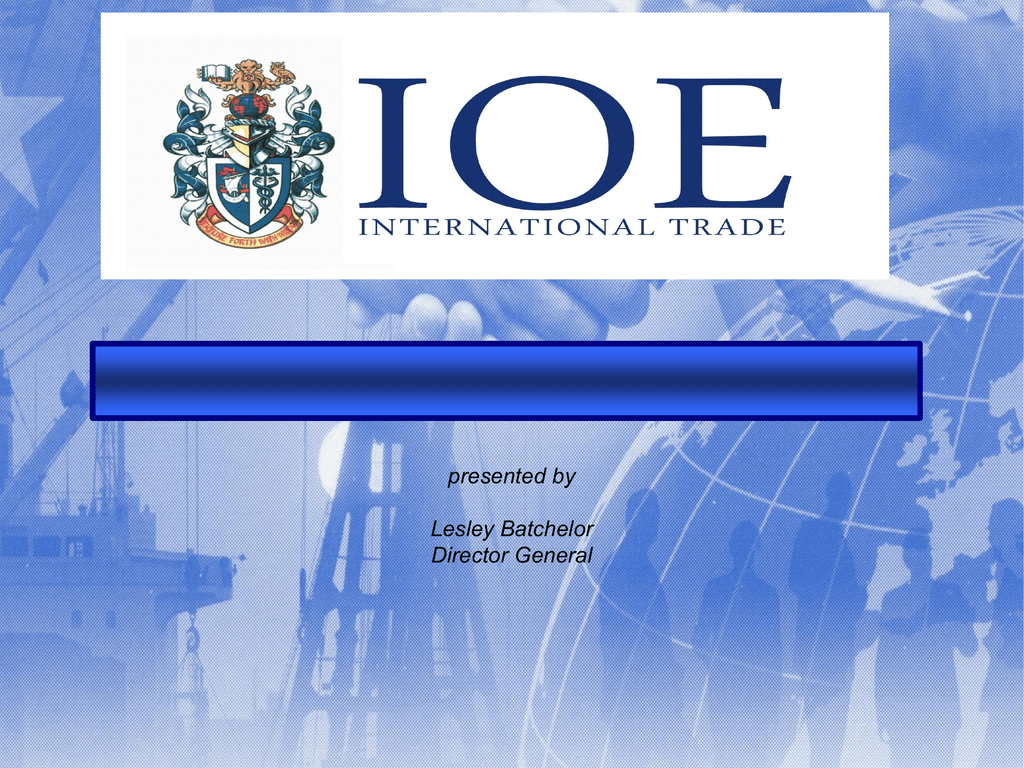 presented by
Lesley Batchelor
Director General
What is the IOE?
 Established in 1935 to :
Assist businesses in all aspects of international trade in
goods and services
Devise and maintain standards of best practice and
education competence
Lobby on behalf of our members
Membership organisation run by members for members
Full education programme
Professionalism recognised by suffixes ie MIEx Grad
Membership Organisation
Individual
-Qualifications/Suffixes
-CPD/Journals
YIT
CIT
CITA
ACIT
QESP
DIT
DWCC&R NEW
Foundation Degree
International
expansion franchises
Training courses /
Workshops
Corporate
- Training needs
analysis
- Risk
assessment
-Consultancy
-Recruitment
-Cultural/freight
Business
-Discounts
-Training
-Legal
-Insurance
-Advice Line
-Mentoring
Education with IOE International Trade
YIT – Young International Trader
) 14-19
CIT – Certificate of International Trade ) 16+
CITA – Certificate of International
Trade Advice – Specific to
those giving Trade Advice
ACIT – Advanced Certificate of
International of Trade
18+ Relevant experience
QESP – Qualified Export Specialist
Professional
International expansion franchises
DIT – Diploma of International Trade – 18+ ACIT or Exemptions
DWCC&R – Diploma of World Customs Compliance & Regulation 18+
Managerial Level
Foundation Degree –
Training courses /Workshops
Academic
• All academic education programmes are delivered online using an
advanced system of Blended Learning with full tutor support
• This system allows the student access to all the learning materials
online by using the Internet or they can be posted to them in hard copy
format
• Using these materials the student works with a subject specialist tutor
who is there to help by email or Skype with all questions
• As a student joins they will have an induction call with our Director of
Education who will be able to help find study buddies for the student
• This engages the student and allows them to share their experiences
with other students as in a college.
Academic
• The Institute of Export is the only Government
recognised OfQual Awarding Organisation
specifically working in International Trade
• The Institute is currently working with Anglia
Ruskin University of Cambridge, Plymouth, Leeds
and Manchester.
• Warwick university business school is looking at a
part-time residential Masters Degree to launch
2014
Quality Training Provision
 The IOE only uses experts to devise and deliver
training programmes
 Our trainers are tried and tested-(evaluation
sheets show time and again that we have the right people working with
us)
 Short courses are set at 3 levels
 Introductory level – intro to export, import getting paid,
market entry plans etc
 Intermediate – letters of credit, international
documentation, International Marketing & eBusiness,
selling internationally.
 And Management - a-z in export sales, a-z in export
management etc, Advanced letters of credit (financing an
export contract)
Bite Sized Chunks of Knowledge
• Using our excellent education materials a series of
useful Bite Sized Chunks of Knowledge have been
developed
• These can be accessed at any time through the
website and will take about 2 hours to complete
• Ensures that a specific area of knowledge is covered
to a full understanding ie Finance of international
trade, using agents or distributors, market selection,
compliance and trade tariffs
• An assessment can be chosen to ensure full
understanding and a higher award of CPD points
• Useful if a day out of the office is not an option!
Clients and Members
 General Dynamics, Nissan
 Edringtons, Parcelforce
 BAe Systems, Engineering Employers Federation
 Rolls Royce, Engineering Industries Association
 Maersk, Kuehne & Nagel
 RBS, Barclays, Lloyds and HSBC banks
 UKTI International Trade Advisor network
 Scottish Enterprise Scottish Government & Welsh
Assembly
Additional Information
OfQual Awarding Organisation offering education programmes that range
from the equivalent of a level 1 (16 years olds) to a BA in the
Professional Practice of International Trade. With a MA coming next year
through Warwick University. The institute already works closely with
Leeds, Manchester, Plymouth and Anglia Ruskin Universities.
Specialist bank programme Certified International Trade Advisor with take
up from HSBC, Lloyds, RBS & Barclays.
UKTI ITAs use our CPD programme and membership scheme to maintain
currency in subjects.
Scottish Enterprise & Welsh Assembly use Advanced Certificate in
International Trade as a mandatory qualification for all those face to face
with businesses.
Complex subjects that require constant maintenance to remain accurate.
Professional membership fees and profits support this work. This is not a
high volume market but very niche and, we believe, necessary.
Additional Information
Current membership covers Business and Individual
levels around 2200 (500 students, 200 Businesses
new membership provision and remaining individuals
are graduates and those with over 10 years
experience in export working in companies as wide
ranging as Nissan to Mothercare) truly representative
of the exporting community.
Our Membership covers a wide range of international
traders representing close to £2Billion and is truly
representative of the nations trading across all sectors
September 2013, launch of first Diploma in World Customs
Compliance and Regulation in association with an industry
wide steering group including Nissan, Tesco, BAEs, Addidas,
Sony, HMRC and BIS Export Controls. Allowing the Industry
to lead where the training is needed.
Additional Information
We are completely self funding and although saddled with a
auditors split of revenue that split our Foundation Degree
revenue over 24 months from Sept 2011 this impacting on
2012 figures – 2013 will make approx £45,000 profit
The Charities Commission website shows that the IOE always
ploughs all its finds straight back into its charitable remit which
is maintaining the qualifications standards and currency.
The way in which the qualification is delivered reflects the
understanding of how learning is being transformed to suit the
amount of time available and shows how quality can be built
into the programmes. Now established the numbers have
doubled in 2013 with a system that could withstand a much
higher critical mass before needed any further investment.
This has been a long journey……..