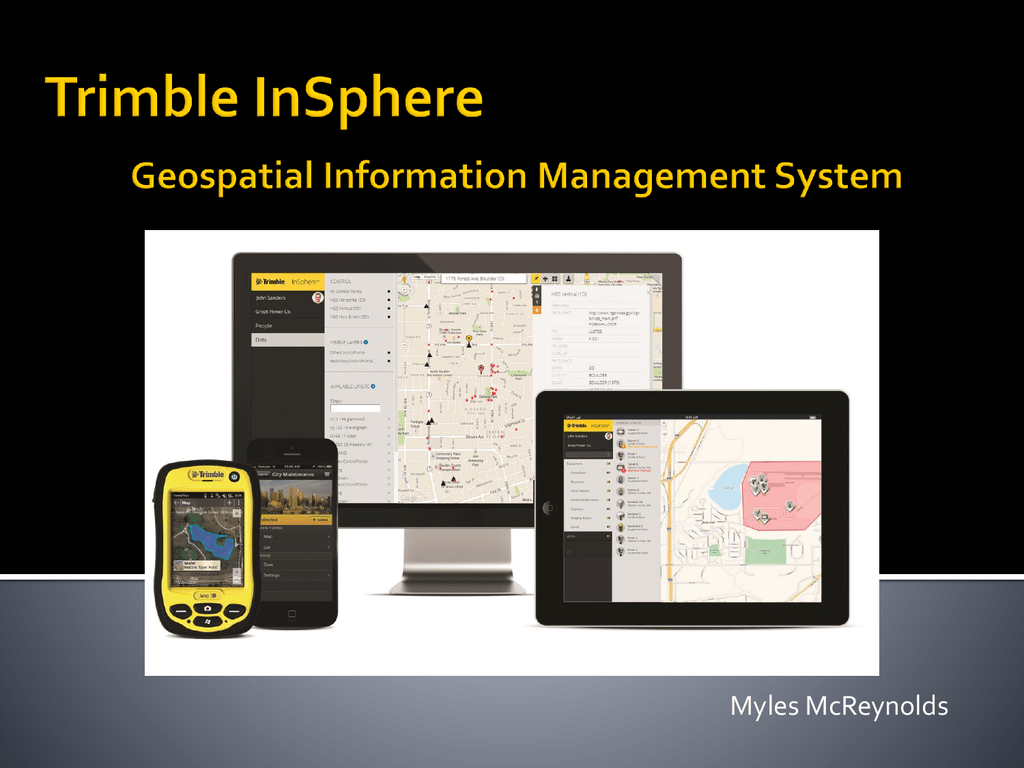 Myles McReynolds




Cloud-based software platform for central
management of geospatial applications, data
and services.
Gives you the tools you need to manage your
geospatial operations in one central place.
Simple and easy to use web platform
Access to multiple applications, including
Data Manager, Equipment Manager, and
TerraFlex


Manage all of your geospatial
information in one place
Save time and increase
productivity
 Quick search for information
 Re-use previous project data

Immediate access to data
 Entire Organization
Accessible anytime and
anywhere via a web browser or
mobile application
 View your data on a map
 View NGS control points and
datasheets
 Export control points to .csv and
send to field
 View your VCE, SHP, and KML
files together in one place
 Data is protected and safe

Centrally manage field
equipment
 Track inventory, location,
warranty, software, and
firmware information in
one place

 Expiration / Update alerts


Map and list views
Maximize utilization
 Don't waste your
equipment's potential
 Make the most of your
capital investment
Easily filter equipment
lists by type or location
to see devices that fit
your current needs
 Add equipment with
the click of a button
 Resource management
and planning tool

 Aid in purchase and
rental decision making

All of your information
is secure and protected





Entry level GIS field data collection
Centrally managed online
Import/Export Esri XML schema and data
Export to Google Earth
Replaces pen and paper workflows




Assign users to
specific projects
Create custom
forms with
attributes
Publish forms for
field use in real
time
Easy to use
collection interface
Sync automatically
with office
 Export to different
formats
 Get real time
corrections with
compatible
hardware





Trimble's Future
Multiple Applications
Cloud-based
InSphere FAQ's: http://www.trimbleinsphere.com/support/faqs

www.compasstoolsinc.com
 Product information and pricing
 Contact information
 Links to helpful support information
 FAQ's – mapping and survey
 Rental program information
 Training information
 Newsletters

For more information visit
www.trimble-insphere.com or ask a
CompassTools representative!
Questions?