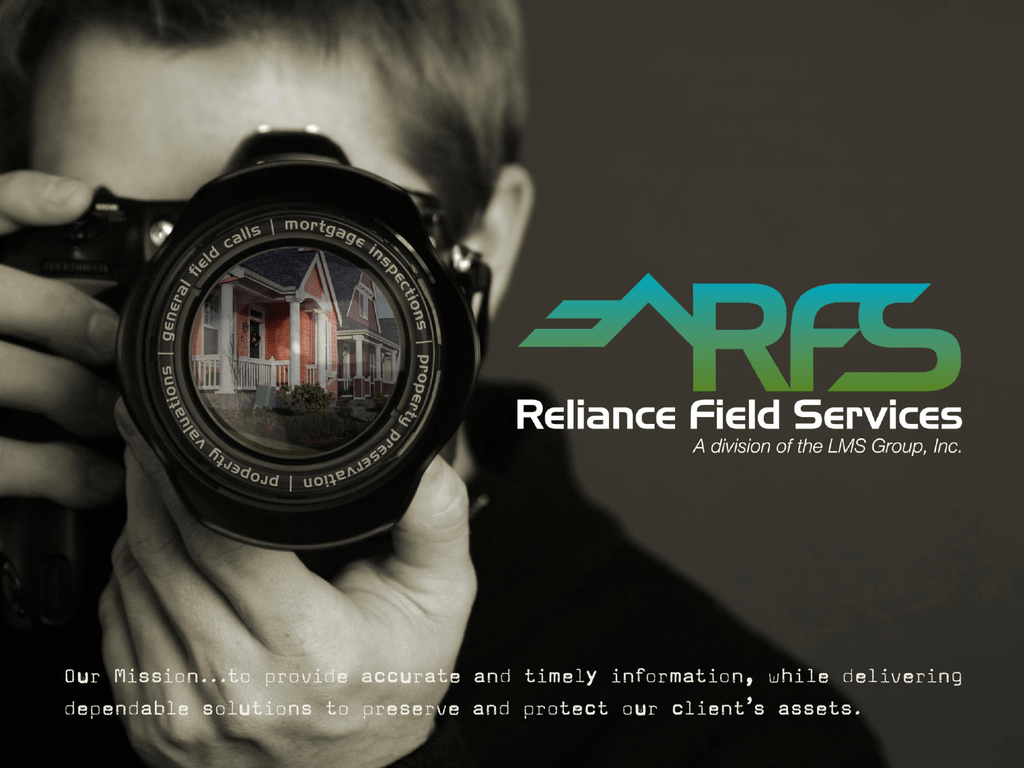 Who is Reliance Field Service?
Reliance Field Services (RFS) has three divisions to facilitate
the special needs of the mortgage industry.
•Property Inspections/Field Calls
•Property Preservation
•Evaluation Services
WHO IS RELIANCE FIELD SERVICES
• Founded 1995
• Minority Business Enterprise
• SAS 70 Certified
• Flexible Website Portal
• System Interfaces for Secure Seamless Data Transmission
• Dedicated Client Services Liaisons
• Customized Reporting & Analytics
• Accessible Management
NATIONAL FIELD CALLS
• Our field agents will perform loss mitigation programs,
delinquent interviews, occupancy inspections, drive-by
inspections, foreclosure inspections, reverse mortgage
inspections, interior inspections, damage inspections,
quality control
re-inspections, etc.
• Inspections conform with the Fannie Mae & Freddie Mac's
Guidelines
PROPERTY PRESERVATION/EVICTION/
REO MANAGEMENT/CODE ENFORCEMENT
• Our experienced staff and contractors will secure, re-key,
install coded lock boxes, board-ups, winterization, debris &
hazardous waste removal, lawn & pool maintenance,
janitorial, handyman repairs, and provide any required
specialized services.
• RFS offers registration of vacant properties with local
municipalities and provide restoration of utilities.
• We have perfected the processes required to ensure that
your properties are returned to the market quickly.
EVALUATION SERVICES
• Evaluation Services are performed by state licensed certified
appraisals and real estate brokers to ensure that our clients
receive the most accurate valuations.
• Our network can provide residential and commercial
appraisals, BPOs (Internal/External) and field reviews. These
valuations are based on assigning the order to a
knowledgeable professional within the area.
• Current market trends are considered, when providing these
valuations.
COMMITMENT
• In today's ever changing economic climate, we are
constantly enhancing our services to keep up with each one
of our client's needs.
• Our programs have been designed to have an immediate
impact on preserving our client's assets and improving
communication with your borrowers.
• Our experienced staff values our relationships and will strive
to provide accurate and timely information to our clients.
• Vendor Management has incorporated quality control
analytics to measure our sub-contractors completion of
projects.