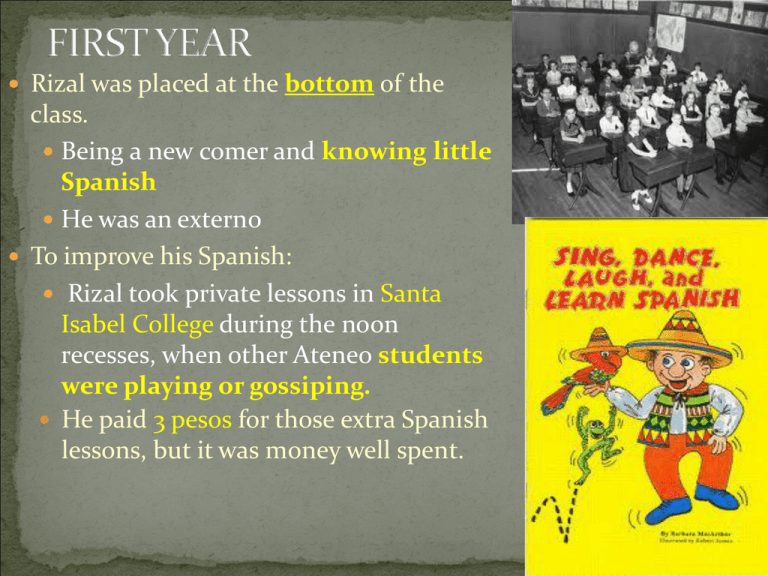  Rizal was placed at the bottom of the
class.
 Being a new comer and knowing little
Spanish
 He was an externo
 To improve his Spanish:
 Rizal took private lessons in Santa
Isabel College during the noon
recesses, when other Ateneo students
were playing or gossiping.
 He paid 3 pesos for those extra Spanish
lessons, but it was money well spent.
 He did not enjoy his
vacation because his
mother was in
prison.
 He visited his mother
and told her his
grades.
 PROPHECY OF MOTHER'S
RELEASE
 three month's time.
 she likened to Joseph the
Dreamer (interpreter of
dreams)
 First favorite novel:
 The Count of Monte Cristo by
Alexander Dumas
 sufferings of Edmond Dantes (the hero)
in prison, his escape from the
dungeon, his finding a buried
treasure on the island of Monte Cristo
 revenge on his enemies
 Travels in the Philippines' by Dr.
Feodor Jagor, Rizal was impressed:
 Jagor's observations: defects of
Spanish colonization
 His prophecy: someday Spain
would lose the Philippines
 America would come to succeed her
as colonizer.
 Won only
 one medal -- in Latin.
 He failed to win the
medal in Spanish
because:
 his spoken Spanish was
not fluently sonorous.
 Became an
 interno
 Rizal had the highest affection
and respect for Father
Sanchez
 whom he considered his best
professor
 He topped all his classmates in
all subjects
 won 5 medals at the end of
the school term
 At 16: received the degree of
Bachelor of Arts, with highest
honors.
 Commencement Day was a time
of bitter sweetness.
 Prayed to the Virgin:
 "when I should step into that
world, which inspired me with so
much terror, she would protect
me."
 Was a campus leader outside the




classroom
Secretary of a Marian Congregation
Member of the Academy of Spanish
Literature and the Academy of
Natural Sciences.
Aside from writing poetry, he
devoted his spare time to fine arts.
He studied painting and sculpture.
Gymnastics and fencing.
 Carved the image of the
Virgin Mary
 on a piece of Batikuling
(Philippine Hardwood)
= pocket knife.
 Fr. Lleonart, was
impressed:
 requested him to carve
for him an image of the
Sacred Heart of Jesus.
 Felix Roxas (contemporary of Rizal)
 Related Jose's resignation to pain
(patience) and forgiveness
 Jose was hit in the face by one of the
thrown books from two quarreling
students.
 He did not raise a cry of protest,
although his wounded face was
bleeding.
 Manuel Xeres Burgos:
 Rizal's predilection to help the
helpless at the risk of his own life.
 Jose courageously climbed the high
cathedral tower and retrieved the kite of
his board mate.
 "My first Inspiration"
 Dedicated to her mother on her birthday
 "Through Education, Our Motherland receives Light"
 significant role which education plays in the progress and
welfare of a nation
 Education knows how to tame barbarous nations --- from
savages create heroic fame
 "To the Child Jesus"
 A Celestial King would rather choose to be a shepherd for
his sheep than to be sovereign
 "To the Virgin Mary"
 Mary was her spiritual fortitude/ sustenance
 His anguish from death is set free because of his faith
with her
 After his graduation, Jose experience his first romance ---
"that painful experience which comes to nearly all
adolescents"
 Segunda Katigbak, a pretty 14 y.o. Batanguena from Lipa.
 His grandmother's guests urged him to draw Segunda's
portrait.
 Jose was blushing every time that she was looking at him.
 Their love was hopeless :
 Segunda was already engaged to be married to her townmate,
Manuel Luz.
 His first romance was ruined by his own shyness:
 He visited La Concordia to say goodbye
 She waved and smiled at him while her carriage passed by
him when her steamer docked in Binan.
 First course: Philosophy and
Letters. He enrolled in this
course for 2 reasons:
 His father liked it
 He was still "uncertain as to
what career to pursue"
 After a year: Jose received the
Ateneo Rector's advice to
study medicine
 Reason of Jose: to cure his
mother's growing
blindness
 During his first school term at
UST, Rizal also studied in
Ateneo
 At 17: he passed the final
examination in the
surveying course, but he
could not be granted the
title as surveyor because:
 he was below age.
 Although he was a
Thomasian, he frequently
visited Ateneo.
 "Miss L"
 The sweet memory of Segunda was still fresh in his
heart
 His father did not like the family of Ms. L
 Leonor Valenzuela ("Orang")
 Daughter of Capitan Juan and Capitan Sanday:
next-door neighbors of Dona Concha Leyva
(where Jose boarded)
 Jose taught Orang the secret of reading in the
invisible ink by heating it over a candle or
lamp
 Leonor Rivera
 In order to camouflage their intimate
relationship from their parents and friends,
Jose knew Leonor under the name of
"Taimis"
 Rizal beseeched the Filipino
youth to rise from lethargy
 It expressed the
nationalistic concept that
the Filipinos, and not the
foreigners:
 were the fair hope of the
fatherland.
 Prize: silver pen, feather-
shaped and decorated
with a gold ribbon.
 Artistic-Literary Lyceum opened
a contest to commemorate the 4th
centennial death of Cervantes,
 Spain's glorified man-of-letters
and famous author of Don
Quixote.
 The Spanish community in
Manila, howled in fury :
winning author was an Indio.
 Prize: a gold ring on which was
engraved the bust of Cervantes
 Rizal proved:
 the fallacy of the alleged
Spanish superiority over the
Filipinos
 The gods discuss the comparative
merits of these great writers
 They decide to give the trumpet
to Homer, lyre to Virgil, and the
laurel to Cervantes.
 PAKIL
 Vicenta Ybardolaza,
who skillfully played
the harp.
 PAGSANJAN
 It was the native town of
Leonor Valenzuela
 To see the Pagsanjan
Falls
 Hostility between Spanish &
Filipino students often exploded in
angry street rumbles.
 founded a secret society of Filipino
Students: Companerismo
(Comradeship)
 Members were called
"Companions of Jehu" --- after the
valiant Hebrew general who fought
the Armaeans and ruled the
Kingdom of Israel for 28 years.
 Led the members in street fights.
 The Dominican
professors were hostile
to him
 The Filipino students
were racially
discriminated
 Method of instruction
was obsolete and
repressive
 RIZAL'S SECRET MISSION
 To finish Medicine in
Spain
 Jose was to observe
keenly the life, culture,
and laws of the European
nations
 to prepare himself in
liberating his oppressed
people from Spanish
tyranny.
 Jose thought it was:
 ugly, with dirty little
inns and inhospitable
residents
 Because he happened to
stay upon his arrival at a
 dingy inn situated on an
unimpressive narrow
street in the town's most
ugly side.
 he backed out for two reasons:
 He was engaged to Leonor
Rivera
 His friend in the Propaganda
movement, Eduardo de Lete,
 was madly in love with
Consuelo
 had no wish to break their
friendship because of a
pretty girl.
 Rizal was impressed
 freely criticized the government
policies and the friars.
 His only Masonic writing was a lecture
titled: "Science, Virtue and Labor."
 Humanity cannot be redeemed
while reason is not free,
 while faith would want to impose
on facts, while whims are laws, and
while there are nations who
subjugate others.
 The harvests of rice and
sugarcane failed on account of
drought and locusts.
 The Manager of the Dominicanowned hacienda
 increased the rentals of lands
cultivated by the Rizal family.
 Dreadful pest killed most of
the turkeys.
 Because he was broke, he was
unable to take breakfast that day.
 victory of the Filipino artist in
the National Exposition of Fine
Arts in Madrid
 Artistic achievements
transcended geographical
frontiers and racial origins,
 for genius is universal --- "genius
knows no country, genius
sprouts everywhere
Las Virgenes Cristianas Expuestas al Populacho or The Christian Virgins Exposed to
the Populace
 Caused by the address of Dr.
Miguel Morayta, professor of
history, at the opening
ceremonies of the academic year
 freedom of science and
teacher -- such a liberal view was
condemned by the Bishops
 Two Filipinos were taken
prisoners. This is why Jose needs
to disguise himself three
times
 He was conferred the degree of
Licentiate in Medicine by the
Universidad Central de Madrid
 He did not bother to secure the
post-graduate degree of Doctor
in Medicine because :
 it was only for teaching
purposes.
 He knew that with his brown
color and asian racial ancestry no
friar-owned university or college
in the Philippines would accept
him in its faculty staff.