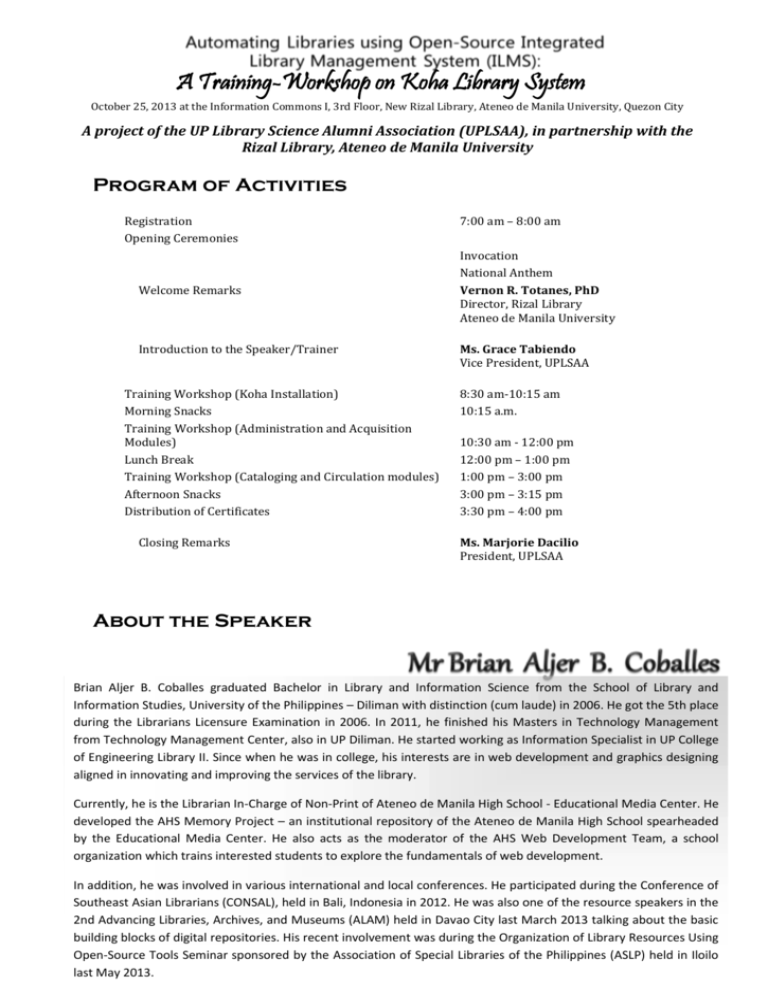 A Training-Workshop on Koha Library System
October 25, 2013 at the Information Commons I, 3rd Floor, New Rizal Library, Ateneo de Manila University, Quezon City
A project of the UP Library Science Alumni Association (UPLSAA), in partnership with the
Rizal Library, Ateneo de Manila University
Program of Activities
Registration
Opening Ceremonies
Welcome Remarks
Introduction to the Speaker/Trainer
Training Workshop (Koha Installation)
Morning Snacks
Training Workshop (Administration and Acquisition
Modules)
Lunch Break
Training Workshop (Cataloging and Circulation modules)
Afternoon Snacks
Distribution of Certificates
Closing Remarks
7:00 am – 8:00 am
Invocation
National Anthem
Vernon R. Totanes, PhD
Director, Rizal Library
Ateneo de Manila University
Ms. Grace Tabiendo
Vice President, UPLSAA
8:30 am-10:15 am
10:15 a.m.
10:30 am - 12:00 pm
12:00 pm – 1:00 pm
1:00 pm – 3:00 pm
3:00 pm – 3:15 pm
3:30 pm – 4:00 pm
Ms. Marjorie Dacilio
President, UPLSAA
About the Speaker
Brian Aljer B. Coballes graduated Bachelor in Library and Information Science from the School of Library and
Information Studies, University of the Philippines – Diliman with distinction (cum laude) in 2006. He got the 5th place
during the Librarians Licensure Examination in 2006. In 2011, he finished his Masters in Technology Management
from Technology Management Center, also in UP Diliman. He started working as Information Specialist in UP College
of Engineering Library II. Since when he was in college, his interests are in web development and graphics designing
aligned in innovating and improving the services of the library.
Currently, he is the Librarian In-Charge of Non-Print of Ateneo de Manila High School - Educational Media Center. He
developed the AHS Memory Project – an institutional repository of the Ateneo de Manila High School spearheaded
by the Educational Media Center. He also acts as the moderator of the AHS Web Development Team, a school
organization which trains interested students to explore the fundamentals of web development.
In addition, he was involved in various international and local conferences. He participated during the Conference of
Southeast Asian Librarians (CONSAL), held in Bali, Indonesia in 2012. He was also one of the resource speakers in the
2nd Advancing Libraries, Archives, and Museums (ALAM) held in Davao City last March 2013 talking about the basic
building blocks of digital repositories. His recent involvement was during the Organization of Library Resources Using
Open-Source Tools Seminar sponsored by the Association of Special Libraries of the Philippines (ASLP) held in Iloilo
last May 2013.